Nervecide
"Impermanence"
2013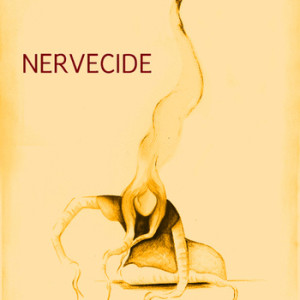 I can not stress more that an album cover communicates the same way that the music does. While there are exceptions a bad or improper cover communicates expectations to the listener. When I saw the cover for Impermanence I thought I was about to listen to an 80's new wave band like Erasure or worse. In the plus category Nervicide is the brain child of one band member Giorgio Benedetti.
While there is virtuosity in the playing and no shortage of guitar runs that remind me of Necrophagist, the tin clean sound becomes difficult to hear when the high string riffs are done in repetition. The rhythm tone is deeper, crunchier and more satisfying. There are some great drives in the song and the guitar harmonizing sound great in contrast to the single string action. Some of the song titles and melodic interludes make me think that there might be a secret Dream Theater influence and the technical death metal blast fest.
The vocals are deep and brutal but Giorgio shows that he has range and power. They are very complimentary to the crunch guitar tones.
There is some very listen-able music here, and a lot of talent, but as a whole I did not want replay the CD over. For a self produced CD this is high quality. If you like brutal progressive ambient death metal then check it out.
Tracklist:
1. Of Subterranean Rapture
2. Fractal Flood
3. Flashover
4. Fracturing Impulse
5. Impermanence pt.01
6. Impermanence pt.02
7. The Omnivore
8. Introvert Autopsy
9. The Thirst That Never Subsides
10. Infinito
https://www.facebook.com/Nervecide
Members:
Giorgio Benedetti – Everything
Rating: 7 out of 10
~Alaric Barca
alaricbarca.com