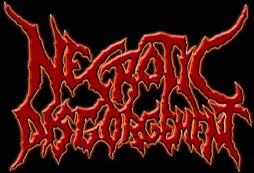 Necrotic Disgorgement
"Documentaries Of Dementia"
2013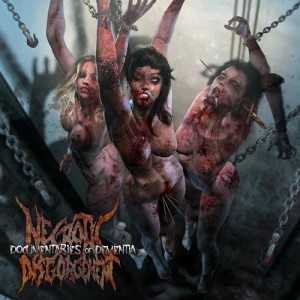 Sometimes you go to write a review and you know you could get in trouble if the wrong person read it. Sometimes a band gives you the kind of ammunition to provide such a platform. Is Necrotic Disgorgement one of those bands? I think so. With song titles like Pinchushion Pussy, Crackwhore Compost and Conceived For Incest, there is an open forum for speculation about misogyny and a psychotic disposition. To be fair to be aggressive in metal you need a target. When it comes to gender you only have two main choices and a couple in between that just might not be fair.
What Necrotic Disgorgement has going for them is palpable aggression, great guitar work and tone. Vocals perfect for the songs, that have brutality, not just filling the role with a gravelly voice. I genuinely believe these guys are pissed off about something, and that puts great emotion on a CD. These guys list working out as one or their pastimes. and I have to say I truly believe testosterone pays off, in Metal, in art, and in life.
If you love Brutal Technical Death Metal I think you should really check out Necrotic Disgorgement, I wont pick on the cover art, good design concept killed by computer art. There are a million forgotten album covers. Vince Locke, who does almost all of Cannibal Corpses art, uses fucking watercolor, and Butchered at Birth along with most of his covers have been in print on merchandise since 1990. Just want bands to take a chance, get an edge.
HIGHLY RECOMMEND
Tracklist:
1. Intronitiation
2. Pincushion Pussy
3. Conceived for Incest
4. Postmortem Fluid Evacuation
5. Crack Whore Compost
6. Anal Trauma
7. Icepick Ear Sodomy
8. Grotesque Skeletal Reconstruction
9. Defecation Delicacy
10. He Wears the Flesh
https://www.facebook.com/Necrotic.Disgorgement.official
Members:
Ben Deskins – Guitars/Vocals
Jason Trecazzi – Drums
Jimmy Javins – Vokills
Phil Good – Bass
Rating: 8 out of 10
~Alaric Barca
alaricbarca.com