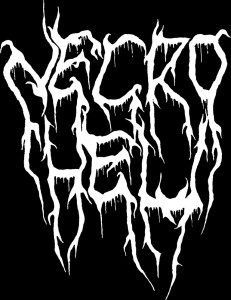 Necrohell formed in 2008 by Ungod (Insidius Infernus, SAD, Slaughtered Priest, Kvele, Nargothrond) and Sorg, just to play Old School Black Metal.
Both wanted to create Dark Art, inspired from an era that has been forgotten.
Worshipping bands like DARKTHRONE, and the old Norwegian scene in general, in 2009 their debut album "Under the Sign of A Pagan Winter" released from Dark Side Records. After that they release in 2010 a 7" "Where Solitude And Coldness Unite" and their second album "Carpathian Nights" released in 2011 from the same label. Along with last release, Necrohell declared, for second time, Band Of The Week by Fenriz of DARKTHRONE.
Now Necrohell join their forces with FLOGA Records and their new album will be release in October 2012
Our Art is A Fist
In the face of god
NEVER STOP THE MADNESS