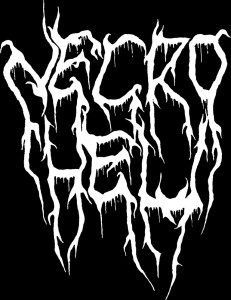 Summon: How did the band get started?
Sorg: We started the band in 2008, I knew Ungod quite a long time ago, and after some meetings we decided to form Necrohell.
Summon: What kind of music do you play?
Sorg: We play Old School Black Metal.
Summon: How has the fan response been?
Sorg: The fan response is quite good till now.
Summon: Where did the band name come from?
Sorg: We took the name from the 4-channel recorder that Darkthrone used to use for the recordings of their albums.
Summon: Introduce the band members and what they do in the band.
Sorg: Necrohell is Ungod and me. Ungod composes all the music, and plays all the instruments and I write the lyrics and perform the vocals.
Summon: Who writes the music? Lyrics?
Sorg: Already answered above.
Summon: And where do the lyric ideas come from?
Sorg: Lyrics come from things that we are against or we hate. I use metaphorical meanings mostly and metaphors. My lyrics are Dark and Unholy.
Summon: What is your view in Satanism and Occultism?
Ungod: Satanism is a form of religion and we are against all kinds of religions. Occultism on the other hand is not a bad thing to deal with. Knowledge is a powerful tool and knowledge of the "hidden", what dealing with the occult is all about, is an interesting thing!
Sorg: But since we are grow up in a Christian society and we know whats the crimes of Christianity we use words that are linked with Satan or Satanism just because they symbolize the Dark side and its Christianity's of all times enemy.
Summon: How many albums/CD's have you released?
Sorg: We have two albums CD/LP, and one 7" so far.
Summon: Tell me about some the songs on the latest CD? (edw mallon prepei na poume gia to Carpathian…..)
Ungod: Our upcoming CD comes with 8 tracks on the same root as the first two albums, the influence remains the same…Basically it's Darkthrone and the Norwegian scene in all its best that influences Necrohell's music. You could say that this album's tracks are on an upper level musically than the first albums due to the fact that the composition of the music is more complicated here than in the past, without loosing that 90's atmosphere though. And last but not least we must mention that Tom Kvålsvoll and Strype studios had done an amazing job in mixing and mastering of the album.
Sorg: Ungod has done an amazing job!!! And as Ungod said above Tom's job is more than fantastic!!!! I want to thank both of them
Summon: Do you have any side projects?
Sorg: I don't , Ungod has Sad, Slaughtered Priest and Kvele. Ungod also used to have Insidius Infernus and Nargothrond.
Summon: Who are some of your musical influences?
Ungod: As mentioned above our musical influences rises form the music of Darkthrone and the music of many great Norwegian bands as well.
Sorg: But we do not copy / paste these bands, we just manage have their atmosphere and felling.
Summon: Which current bands?
Ungod: Once again, Darkthrone! But also you can see the influences of old Satyricon, old Immortal, Isvind and many more…
Summon: What is the band like when you play live?
Sorg: We haven't play any live till now.
Summon: Have you guys ever played in another country?
Sorg: No.
Summon: How big of crowd shows up at shows usually?
Ungod: We have not performed live with Necrohell yet so we cannot answer that question.
Summon: How is the crowd response when you play?
Ungod: Still…nothing to say here!
Summon: What do you think of the US Black Metal/Death Metal scene?
Ungod: U.S. has an amazing and powerful scene. There are so many great bands that come from the U.S. , such as Sapthuran, Judas Iscariot, Abazagorath, Grafvolluth, Octagon, Open Grave, and many more!
Summon: What do you think of the Overseas scenes?
Ungod: Has been established throughout the world, and everywhere there are infinitely many good bands.
Summon: What are some of new favorite black metal/death metal bands?
Ungod: Some of my favourite bands are Kult, Old, Szarlem, Faagrim…the list is long.
Summon: When do you guys plan on writing any new material?
Sorg: We are about to finish our third album and it is going to be release in October from FLOGA Records.
Summon: What does the future hold for the band??
Ungod: After the release of our third album we are going to work on our fourth and then we might work on a split.
Sorg: Future seems to be grim and cold. We have the will to continue our path no matter what. Thanks for your interesting and your time.
Stay Necro
Sogr / Ungod
Our Moongod has Horns!!!
Contact them at:
https://www.facebook.com/Necrohell-148443385184184/timeline/
http://www.myspace.com/necrohellcult