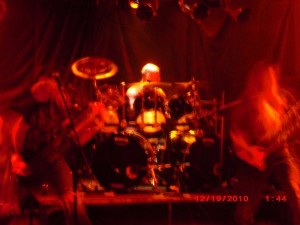 Summon: How did the band get started?
Rob: We actually were called Lordes Werre at the very beginning. Lordes Werre was my previous band. I found out that the band name and all my music had been stolen from me and had to exact my revenge. We kicked around names for a couple of weeks and came up with Necrodemon meaning the demon of death. It fit perfectly. Once we had the name we finished up our demo in the summer of 1999. The band actually formed in 1998 and we rehearsed in a dingy old basement.
Summon: What kind of music do you play?
Rob: Dark Death Metal with Black Metal and Thrash Metal mixed in. We call it "Ripping Black Death".
Summon: How has the band response been?
Rob: We are the type of band that either you love us or hate us. We get both!
Summon: Where did the band name come from?
Rob: Necrodemon means the Demon of Death. We love the band name. I was determined to have a band name with demon in it. This is the one that was chosen.
Summon: Introduce the band members
Rob: Rob Elliott – Guitars / Vocals Randy Hall – Drums and Percussion
Travis Rose – Bass / Backing Vocals
Summon: Who writes the music? Lyrics?
Rob: I write about 90% of the music and lyrics but other members have contributed over the years. Travis our new bassist has been helping a lot lately.
Summon: And where do the lyric ideas come from?
Rob: They come from all types of things. Ideas, books, movies, dreams, obsessions, and all the crazy thoughts of our dark minds.
Summon: How many albums/Cd's have you released?
Rob: We have done 3 full length albums and a couple of EP's. Though I admit "Reclamation of the Stygian Throne" is the only well known EP we have done. Everyone knows our albums and that EP.
Deadly Demo 1999: We recorded this in a basement to finally get some of our songs heard. I feel that this recording was perfect for the time. We had a lot of fun making this demo and had a lot of beer during the recording ha ha! It's as old school as it gets. I refuse to make it available on any format but casseHaunted Eons: This was our first full length. We recorded it at the same studio where Lordes Werre did all of their studio sessions. It's classic Necrodemon. It's very thrashy and Death Metal at the same time. We had a lot of fun covering "Evil Dead" by Death. Definitely not our best work but definitely the best start as the band could offer. "The Summoning" became a classic song. Allegiance to the End: Second full length album. This was probably the album that defined the Necrodemon sound and attitude. We became are own entity on this Cd. The band matured musically, lyrically, and definitely became more dark and evil. These songs also were the first Necrodemon tunes to have a character of their own. We started using thirds on this album as well. The solos were way more thought out this time. Vocally I did strong and proud on this release. Ice Fields of Hyperion: Third full length and first concept album. We focused in on the winter and the cold. From beginning to end, this album is frigid! Every song, lyric, riff, and sound effect was inspired by freezing weather conditions and all we could imagine for it. Northern Indiana gets very extreme in the winter and we let it influence us. And as a side note to all the people that talk shit about us: We did this because we wanted to and not to be like Immortal. We do not copy bands or styles we do what comes naturally. I added black metal style vocals on this release. Reclamation of the Stygian Throne: New EP. These songs define the new Necrodemon. We focused in on hate. This release shows Necrodemon's rage and aggression. During the writing period of these songs a lot of anger and vengeance was building up in the band. This disc surely is not for the meek or faint of heart. We are proud of it. When you listen to "Reclamation" you just want to break shit and kill people! It will make you head bang.
Summon: Tell me about some the songs on the latest CD?
Rob: We aimed for dark and angry metal and we feel we achieved it. It is full of hatred. The new songs came as the material always does for us, from the heart. We feel it, we write it. Lyrically and musically Necrodemon has ALWAYS wrote what comes naturally. Once again we stand proud and on our own doing what most bands don't dare to do.
Summon: Do you have any side projects?
Rob: Our bassist has a side project. It is a black metal solo project, and I am involved in a lot of outside projects. I actually do a lot of work on music outside of Necrodemon. But the band is my main focus.
Summon: Who are some of your musical influences?
Rob: So many! Morbid, Slayer, Hellhammer, Vio-Lence, Kreator, Decapitated, Vader, Immortal, Mayhem. We love old school thrash and death metal. We love 90's black metal. There are to many bands too list.
Summon: Which current bands?
Rob: There are to many bands too list.
Summon: What was the best band you played with?
Rob: Exodus. Definitely Exodus. They were cool as fuck to us and we hung out all weekend with playing a few shows in a row with them.
Summon: Have you guys ever played in another country?
Rob: No but we want to badly. We have only toured the States.
Summon: How big of crowd shows up at shows usually?
Rob: We usually do pretty well. I have no complaints.
Summon: How is the crowd response when you play?
Rob: They love us. We have a lot of energy and we get the people into the show.
Summon: What do you think of the US Black/Death Metal scene?
Rob: Love it. We live for METAL!
Summon: What do you think of the Norwegian and Swedish scenes?
Rob: Love it. We live for METAL!
Summon: What are some of new favorite black/death metal bands?
Rob: Immortal just because they simply rule, Immolation is and always will be bad ass, Vader has kicked our ass since 1992 demo days, Psychomancer because they are our best friends, we love playing shows with them and enjoy their music, and finally Angelcorpse if they really get back together because "The Inexorable" is….fuck I can't even put it into words! I would love to raise Euronymous and Dead from the grave and record their new album! Shit, I would sign Darkthrone and Satyricon as well.
Summon: When do you guys plan on writing any new material?
Rob: We are currently working on new material. We already have two new songs done and are are working on more.
Summon: What does the future hold for the band??
Rob: We all have goals for the band and personally. We all want the band to continue in the direction of getting betting and doing better. We all have personal goals to do better in life. All three of us would like to make Necrodemon our full time job. We all want our families to do well.
Contact them at:
http://www.metalcorefanzine.com/Necro/Home.html
https://www.facebook.com/Necrodemon-127346597307321/timeline/
https://myspace.com/necrodemon