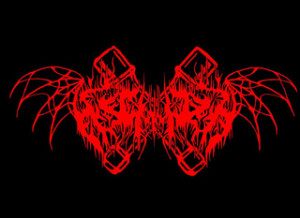 Summon: How did the band get started?
Zavael: NECHBEYTH is a manifestation of blasphemy and filth, formed in Millenia 2000 C.E.
Summon: What kind of music do you play?
Zavael: Black Metal, definitely…though I must admit that definition today is getting blurred, and contaminated with worthless rubbish masquerading as Black Metal. So, to be tarred with the same black brush is not that all good, with regards to this.
Summon: How has the band response been?
Zavael: We've been around since 2000 C.E and so far, response to our demos and live assaults has been good, with notable support from Asian and European maniacs.
Summon: Where did the band name come from?
Zavael: A corruption of the Egyptian Vulture Goddess, NECHBEYTH is the scourge to the cancerous tumor of mankind known as organized religion.
Summon: Introduce the band members
Zavael: Myself, ZAVAEL: Oratory Decimations and Dehumanization Directive
ISRAFIL: Zyklon Annihilations and Mass Atrocities
NARSAMVM: Artillery Blasts and Horns ov the Apocalypse
Summon: Who writes the music? Lyrics?
Zavael: Israfil writes all the satanic liturgies while I pen all curses.
Summon: And where do the lyric ideas come from?
Zavael: Martial philosophy and the Apex of superiority
Summon: What is your view in Satanism and Occultism?
Zavael: Still relevant and staple in blasphemous music like Black Metal. Occultism is definitely more interesting than the normally limited satanic vocabulary that most bands churn out album after album. Still, I guess beliefs are rather personal and have to stay individual.
Summon: How many albums/Cd's have you released?
Zavael: So far, 3 manifestations: Promotional Warhymns promo 2002 C.E, Total Battle Supremacy demo 2003 C.E, Christbludgeon single promo 2009 C.E, Blood.Axis.Domination debut album to be released sometime in last quarter of 2011 C.E.
Summon: Tell me about some the songs on the latest CD?
Zavael: Here is the some of the tracks on the upcoming Blood.Axis.Domination album:
ECHELONS OF THE ELITE
CHRISTBLUDGEON
SUPERIORITY APEX
PALINGENESIS ULTRA
BACTERIUM ANTICHRIST
KONTROL KOMMANDO
Summon: Do you have any side projects?
Zavael: No.
Summon: Who are some of your musical influences?
Zavael: ABHORER, CONQUEROR, REVENGE, BLACK WITCHERY, ARCHGOAT, INQUISITION, ORDER FROM CHAOS, BLASPHEMY, IMPIETY ETC
Summon: Which current bands?
Zavael: DIOCLETIAN, WITCHRIST, HERESIARCH, MEFITIC, ANTEDILUVIAN
Summon: What is the band like when you play live?
Zavael: I truly believe you must personally witness our live rituals to get a feel of what it is like. But what I can say is our stage desecrations inevitably involve leather, spikes, bullets, blood, face paints and plenty of inverted crucifixes all in the glory of the lord!
Summon: Do you have any type of stage props or special clothing?
Zavael: No.
Summon: What was the best band you played with?
Zavael: Amongst the bands we shared the stage with, I guess IMPIETY, SURRENDER OF DIVINITY and PURBAWISESA are the best demons we had the honor of playing with.
Summon: Have you guys ever played in another country?
Zavael: We desecrated Siam twice back in 2003, in Songkhla and Bangkok. We have plans to destroy SE Asia once the album is launched…
Summon: How big of crowd shows up at shows usually?
Zavael: Depends in which country, usually around 400-500 but normally around 200+ maniacs.
Summon: How is the crowd response when you play?
Zavael: Of course, having played here locally and in Siam, the maniacs in Siam are the most bestial and hellish supporters ever!
Summon: What do you think of the US Black Metal scene?
Zavael: Honestly, I'm not a big fan of USBM except of the few worthy bands like BLACK WITCHERY, THORNSPAWN, INQUISITION, PROFANATICA, JUDAS ISCARIOT ETC.
Summon: What do you think of the Norwegian and Swedish scenes?
Zavael: Once the leading luminary of the Black Metal World, I think there has been significantly reduced quality work from there. Worthy releases are few and far between. But having said that, I have always been a fan of the early works from Norwegian and Swedish Black Metal bands.
Summon: What are some of new favorite black metal bands?
Zavael: DIOCLETIAN, WITCHRIST, HERESIARCH, MEFITIC, ANTEDILUVIAN
Summon: Any plans on writing any new material?
Zavael: Currently we are focusing on the release of BLOOD.AXIS.DOMINATION. We do however have material for a next release, probably an EP or split.
Contact them at:
https://www.facebook.com/Nechbeyth-252249221473284/timeline/?ref=ts
http://superiorityapex.bandcamp.com