Summon: How did the band get started?
Shahyd: It was when after our performance at Maelstrom 2014 as Sacred Legacy. Our drummer Ammaday had an injury and would recover after 1 year or so. Basically, we're like grounded hehe, since we'll be working on new album of Sacred Legacy 'Generation of Chaos' after he recovers, and there is lots of idle time in our hands. One day, Me and Iku hit the studio and started jamming up, and we progressed a lot in new materials which is really different than we anticipated and it sounds beast! It was then we decided to make it as a side-project and named it 'Mystic Wonders'.
Summon: What kind of music do you play?
Shahyd: Very melodic for sure hahaha. Influenced with neo-classical, thrash, progressive and death, black genres infused with melodic vibes into it, the music we play is unique. From another person's perspective, guess we'd recognize it as melodic blackened death metal. Most of the time, when i give out a melodic riff or solo part, Iku would give out a blackened death riff to blend in with it and vice versa. Honestly, we can't decide for ourselves on where our music would be categorized, so its up to the listeners to place in where we stand. Initially we just say we're playing Melodic Death Metal as we started out as that years back but now for sure, as everything, our music also evolves.
Summon: How has the fan response been?
Iku: Very unexpected. When we as Sacred Legacy released our 3rd album 'Legacy Begins' it was a huge success and definitely got attention of both local and international audience. It was like our best achievement in Sacred Legacy so far, and with the change of our front-man, so did the Sacred Legacy's way of music and it made a huge impact on a fan base, positively of course, with more brutal riffs and technical arrangements. We got a huge boost. But now we released the album of Mystic Wonders, it went viral and got exposed way better than we thought. Heck, It definitely will do better than the Legacy Begins album. Because we now got the audience of both Sacred and a new audience for Mystic Wonders which made a huge difference in our fan base and got bigger than before.
Summon: Where did the band name come from?
Band: We make a lot of materials/songs when we jam. In fact, I think we record 2 or 3 songs a day, enough to make an album a week hahahaha. but most of them we discarded and we handpicked a few songs that really stands out worthy of keeping in albums. Among them there are titles in the songs which are pretty epic, and one of the song that was in the shelf is called 'Mystic Wonders'. Its a power Metal song we composed and planned to use it for another project to work with Modey. When we discussed for the name, we decided to use it because it sounds great and really relates to what we play as well. Shahyd came up with that name on around 2009. So actually, the name Mystic Wonders has been there for about 3-4 years now hehe.
Summon: Introduce the band members and what they do in the band.
Shahyd Legacy: (Sacred Legacy, Mystic Wonders, Shahyd Legacy Solo Project) There's actually no need for a long introduction for this dude. He is the no.1 Maldivian guitar virtuoso playing out the leads and solos in Mystic Wonders and gives out the magic of our sound in his art of shredding.
Iku: (Sacred Legacy, Mystic Wonders, Disruptia, Ovnivium, Unholy Rising) is the leading riff master in the Maldivian metal scene. With his vast knowledge in all of the musical genres, he can come up with any style of riffs in an instant. as for the vocals came out as a surprise for all the fans and specially to his friends. they didn't expect such a brutal voice from him hahahahaha…(Iku Says)
Kattaray: (Ex-Dittorhead, Ex-Fasy Live, Ex-Clove) This guy has been around in the Maldivian metal scene since the beginning. and has been playing bass with a lot of bands that is well known in the Maldives and has jammed with stygian shores, grotesque, leviathan and some bands of the commercial scene, Iku still believes when Kattaray was born, he got out with a bass guitar in his hands haha! You'll find his bad-ass grooves in this album.
Modey: (Ex-Revival) He can scream till your migraine explodes. His power metal vocal melodies makes him one of a kind here. Just the vocal he did for the track Maiden's Tear in Mystic Wonders album 'Prophecy of The Chosen' became one of the most popular among the tracks in the album. Though he may have sing one track for this album but for sure there will be lots more on the next album ahead on-board for the vocals with Iku, and the journey with Mystic Wonders ahead.
Mukey: (Tormenta, Ex-Sacred Legacy, Ex-Locura) Plays the beats and adds more brutality to our sound. Influenced by the fathers of thrash metal like, Slayer, Sepultura, Pantera, Metallica, Megadeth and etc etc.. He adds his influences to his drumming with his own creativity and uniqueness. Mukey is very well known in the metal scene here mainly as the Vocalist of Tormenta. He works partially with commercial bands as well.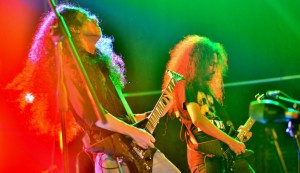 Summon: Who writes the music? Lyrics?
Band: For Music, Shahyd and Iku does the songwriting and stuffs. And we jam, everyone contributes their ideas, concepts or anything in their mind while we're in practice sessions.
Summon: And where do the lyric ideas come from?
Iku: It all just needs an idea, or a concept, and the words just starts to overwhelm in my mind and I just have to keep on writing hehe. It's mostly dark and story like. Based on both fiction and non fiction, though I prefer writing stuffs based on reality and masking it by making it indirect and making sure it can relate to anyone that reads it. I enjoy composing fantasy lyrics, Maiden's Tear was my first approach in composing a lyric for a power metal genre. Lyrics in the album consists of about Violence, corruption, politics, and some different lyrics intended to raise awareness on different aspects.
Summon: What is your view in Satanism and Occultism?
Band: We're not that familiar of Satanism and Occultism of the world today. We don't even know if it exists or not.
Summon: How many albums/CD's have you released?
Band: 9th of December 2014, under the flag of Mystic Wonders we released our first album entitled 'Prophecy of The Chosen'. We will be releasing another album next year, album title and date of release to be announced!
Summon: Tell me about some the songs on the latest CD?
Band: Prophecy of The Chosen isn't a concept album, but it stands to a certain theme. Some of the songs talks about violence, human suffering and such. I enjoyed composing the lyrics for Purgatory. It tells of one can how much that one can imagine when the person is six feet under, uncertain of what will happen next and the hereafter. Violation is about violence and raising awareness based on an incident of a woman raped and accused as adultery. Maiden's Tear is about war, written in a fantasy mix. Another lyric that I composed in a fantasy theme is River of Time. It's an about a vampire wanting to end its immortality.
Summon: Do you have any side projects?
Shahyd: Actually, we started off this project as a side-project. But shit got serious and we now give our full dedication to this band now and to keep on continuing with this solid line-up. Me and Iku has other side-projects going on. I have my own solo project and so does Iku, he'll be releasing his album entitled 'Prismatic' next year. Iku plays with other several bands as well like, Unholy Rising, Ovnivium, Disruptia and also gets involved in the commercial scene with his friends. Mukay also works with commercial scene as well.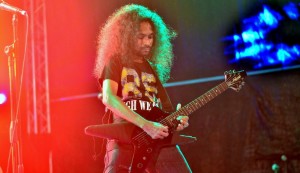 Summon: Who are some of your musical influences?
Shahyd: Yngwie Malmsteen, Micheal Angelo Batio, Andy Timmons, Micheal Romeo, Andy James, Marty Friedman, Steve Vai, Joe Satriani, John Petrucci, Jason Becker, Japanese J-Rock guitarist Syu, Takiyoshi Ohimura, Shahyd's playing style are influenced from all these great artists combined.
Belphegor, Behemoth, Limbonic Art, Devil Doll, Decapitated, Dark Funeral, Mayhem, Bathory, Shade Empire, Nightwish, Torchbearer, Watain, Fleshgod Apocalypse, Nobuo Uematsu, Arch Enemy, Metallica, Megadeth, Carach Angren, Dimmu Borgir, Eternal Tears of Sorrow is safe to assume that its a few that's listed for Iku's Influence.
Kattaray's influences comes from Cliff Burton, Steve Harris, Billy Sheehan, Alex Webster, Steve DiGiorgio, Geezer Butler, Jaco Pastorius, Frank Bello, John Myung, Tom Araya, Robert Trujillo, Metallica, Megadeath, Anthrax, Slayer, Testament, Death, Iron Maiden, Dream Theatre, Symphony X, Opeth, Rush, Primus, Mars Volta, Tool, A Perfect Circle, Rob Zombie, My Dying Bride, Anathema, Dark Tranquility, Cynic, Pestilence, Obscura, Necrophagist, Ministry, Carcass, Napalm Death.
Dragonforce, Iced Earth, Dio, Black Sabbath, Ensiferum, Hammerfall, Rhapsody Of Fire, Dream Theatre, Symphony X, Galneryus, Dream Evil, Rob Halford, Judas Priest, Iron Maiden, all in all, If its power metal, Its Modey's Inspiration.
Mukay likes old school thrash and other genres similar to it. Sepultura, Lamb of God, Testament, Metallica, Megadeth, Slayer, Threat Signal.
Summon: Which current bands?
Band: Currently the new found influences we got from bands are Machina, Periphery, Fleshgod Apocalypse, Conquering Dystopia, The Agonist, Bloodshot Dawn.
Summon: What is the band like when you play live?
Shahyd: When we play, our performance is very well synchronized and we go with the flow. In short, We go nuts.
Iku: We love to interact with the crowd especially on stage. For me, it's a different feeling when on stage other than listening to, or when we practice. It's magical and we feel a deep connection sharing our music to the audience.
Summon: Have you guys ever played in another country?
Band: We haven't played in another country yet under the line-up of Mystic Wonders. We're planning to tour next year. Definitely a European tour or Asian tour will happen. We get a lot of opportunities to play abroad but most of the time due to visa issues and funds, it's really hard.
Summon: How big of a crowd shows up at concerts usually?
Band: Not much, as the Maldivian metal scene is very small and facing hardcore oppression, it's as if it's slowly dying. We're struggling. But we don't give up nor does our fan base which is large compared to within the scene. We hope to one day reunite all metal-heads over and reclaim our lost glory and grow ever stronger in the local metal scene.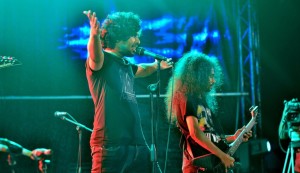 Summon: How is the crowd response when you play?
Band: We get awesome responses from the crowd. We're very grateful for their support. We often hear our names chant from the crowd when we're in backstage preparing to get on stage. It's exciting for both sides, for us and for the crowd. That's when every time it hits our head that THIS, this is what keeps us going, our drive in creating new music, sharing it to them and it's a great feeling to know that people finds inspiration in our materials.
Summon: What do you think of the US black/death metal scene?
Band: US went through a lot of evolution relating to the Black/Death metal scene. We still like the old school stuffs there. It's awesome, US has a lot of bands and we enjoy discovering new bands and listen to their materials every time.
Summon: What do you think of the overseas scene?
Band: It's much better than the local scene over here, its expanding and a lot of bands overseas are getting well known. Among them is Indonesia and India's metal scene, they're growing stronger and very solid. Also even foreign countries turns there attention to the scenes here.
Summon: What are some of the new favorite black metal/death metal bands?
Band: Machina is an instant favorite. It's rare to discover new bands in these times and becomes a favorite just by checking out the first 5 seconds of them. There aren't new favorites so far but we hope to find some in future.
Summon: When do you guys plan on writing new materials?
Band: We recorded a new song last night hahaha. We never stop on composing. We may have just recently released our album, but we already started on new materials for the second album and it sounds kick ass so far hehe. Next album will be darker and we intend on making a concept album. There will be new surprises in the album as well which we will later reveal.
Summon: What the does the future hold for the band?
Band: As far as things are now here, the future for metal bands in Maldives is uncertain and unclear. Because the possibilities in making the music career for the metal bands in music industry is very limited. And metal is oppressed to the core here. Even metal music in some venues that used to happen isn't allowed any more. And getting sponsors or funds is a major struggle. Due to all of this, a lot of metal bands disbanded and looked for other options to carry on with the music career. A few bands survives in this state. We won't give up,, and we'll strive on making metal scene stronger and contribute to it however we can. The metal crowd, our fan base, friends, and family supports us. And we also get support from abroad as well. Looking back and thinking about it, Our future is certain for something at least, it's that we won't stop on what we're doing, albums will be released, shows will be played and we'll have a fun journey together and even if we face a downhill, we ensure you, we'll get back up and keep moving forward, under the flag of METAL!!
Contact them at:
https://mysticwonders.bandcamp.com/releases
https://www.facebook.com/mysticwondersofficial
https://www.facebook.com/legacystudiosofficial
https://www.soundcloud.com/sacredlegacy