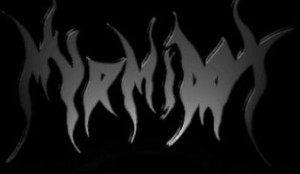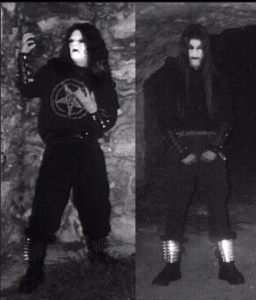 Summon: Okay so tell me a little history on Myrmidon…
Shade: Myrmidon was born is late '97 by myself and Buer. In the summer of '98 our good friend Nunrape joined our horde and then left to the army a week before we were scheduled to go into the studio. We went in and recorded without him and it took us 3 different visits to the studio to record. In January we finished, Febuary '99 we released the demo which is now known as "Divine Blasphemy". Since then we've taken our time with new material which we're still composing…or decomposing.
Summon: Where did you get the band name from?
Shade: Buer came up with the band name…from where I do not know. I thought it fit us well so I agreed.
Summon: What type of music do you play?
Shade: We play blasphemous black metal.
Summon: So you guys are pure evil then?
Shade: Our music reflects pure blasphemy, pure evil, pure darkness, pure sorrow…impurity.
Summon: Are you guys into the occult then? Do any rituals or anything?
Shade: We're not strictly into the occult though, we do little research for song material and what not. We get down to more of the evil and blasphemy of our music. Our rituals are our musical creations.
Summon: So your song lyrics are pure blasphemy then…. kool! Tell me about some of the songs on the demo?
Shade: Well… Blasphemous Torture for example…the title says it all. "Torture, Black Immoral Torture… Butcher them of their trinity", Its more down to the bone, straight forward lyrics. Somber Destiny is about an individual who is swallowed into the darkness by lifes misfortune. Total isolation, sorrow…black nothingness. One note… Mystical Mooneye, the lyrics to this song will change sometime in the future because we feel it doesnt suit us very well. Maybe even the title will change.
Summon: Do you guys plan to record anytime soon?
Shade: January 2000 hopefully. We're going to try to release the demo around the same time we did with the first demo… Febuary. The material is looking great.
Summon: How many songs do you have so far?
Shade: 3 complete songs so far…working on a 4th, maybe a 5th but we're not sure about that yet.
Summon: Okay so tell me about your live shows.
Shade: Being that we're a two member band…we have yet to perform a live show. The way we see it…we probably wont play live for a while, until we have a 3rd member, which will be in the distant future if you ask me.
Summon: When you guys do play live do you plan on wearing corpse paint?
Shade: Absolutely…we're not a band who just wants to be remembered because of an image. Our concentration is on making our music…the image is an added necessity.
Summon: And what are some of your influences?
Shade: Depends if you're talking about personal influences or not. As a band we're influenced by early Morbid Angel and Deicide bottom line. Bands out now as well…Maniac Butcher, Horna, Forsth etc.
Summon: Your influenced by death metal bands so what made you guys become a black metal band?
Shade: I say those 2 bands because they are what started us in the underground metal movement back in '90. We we're 11-12 yrs old when those bands started coming out with their 1st albums. Altars of Madness, Blessed Are the Sick, Deicide S/T, Legion…those albums are our birth marks in this music, we'll never deny that when asked. In other words, we were 11-12 year old little shits when we bought those albums.
Summon: Yes that is true. So what is your opinion on death metal now?
Shade: Death metal now…I really don't pay attention to it because, I'm not really interested in the gore of it all. The music is more technical than ever which only means that the level of musicianship is high…which is definitely a good thing. But my heart is still with the older stuff…early MA, Deicide, Morgoth, Unleashed, Hypocrisy, Pestilence…all the older material from those bands. But… even still, Immolation, Incantation, even Morbid Angel still kick ass. Diabolic, Centurian, Anasarca…still killer death metal out there…just not really into the horror, gore metal much.
Summon: What do you think of the US Black Metal scene?
Shade: USBM scene I think needs to be acknowledged more so than ever because there are great bands…Blood Storm, Crimson Moon, Draconis, Lunar Reign (whom you know), Thornspawn, Khisanth, Judas Iscariot, Krieg, etc.
Summon: Yes I believe that too, that's why we gotta spread it more… So how we set up a BIG BLACK METAL FEST in Florida?
Shade: I think it can be done…of course there will be leaches and sheep there than need to be displayed up on the walls…hanging.
Summon: Yes true. Okay so who writes the music and lyrics?
Shade: Myself and Buer do, though we're not great lyricists. We do get help by our longtime friend. He has written 2 sets up lyrics which will be used on "Hornblas"…our next demo.
Summon: What do you see for the future of Myrmidon besides you guys coming here to Florida and play the Black Metal Fest with Lunar Reign?
Shade: Haha…I wish we could play shows, I wish we could travel, I wish we could set up a show with Lunar Reign but we're very busy individuals. Our rehearsal times aren't the greatest either…We dont rehearse as much as most bands do, because we're so busy with our everyday lives. It's a scary thought when I ponder about having a 3rd member because that's a 3rd schedule we must work around. But perhaps someday…in the future obviously, we'll get to share a stage with such warriors as Lunar Reign.
Summon: Thank for the interview….
Shade: Thank you for the opportunity…hails a thousand times!!!
Contact them at:
Myrmidon
PO Box 23657
San Antonio, TX 78223
Myrmidon666@hotmail.com
http://Myrmidons.tripod.com