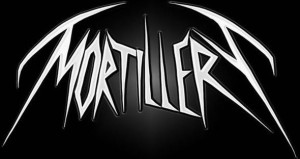 Mortillery
"Origin Of Extinction"
2013
The band Mortillery started back in 2008 and have just finished their second full length recording titled "Origin Of Extinction" out on Napalm Records. These guys (and girls) hail from the Canadian town of Edmonton and with Kevin Gaudet on drums, Alexander Scott and Alex Gutierrez on guitars, Miranda Wolfe on bass, and Cara McCutchen on vocals, they are set to give you a lesson on roots of thrash metal 101.
You almost can't even tell that it's a woman screaming those high intensity vocals, but it is and behind a wall of punk metal reminiscent of bay area thrash giants such as early Anthrax and "Kill Em All" era Metallica. As for Cara's vocal delivery imagine Sebastian Bach meets Rob Halford of Judas Priest. I was definitely taken in by their throwback sound as soon as I put the disc on. It was like being transported back in time to when I first discovered really heavy music in the mid 80s.
I like these guys for the same reasons I like Municipal Waste, they aren't bowing down to any current trends in music but sticking to an old school, raw, high energy sound that has a classic rock yet speed metal feel to it.
The first track on "Origin Of Extinction" titled 'Battle March' is an instrumental and it really sets the tone for the rest of the CD with their uncompromising in your face thrash hard delivery. The production is excellent and if your a fan of early bay area thrash you will love their sound and be bobbing your head in no time. The musicianship is tight and the girl behind the mic can really belt it out, the only draw back being that there are no real stand out songs here. They are all along the same vein and tempo so don't be expecting too many surprises.
But that being said, with song titles like 'Creature Possessor', 'Feed The Fire', and 'Sunday Morning Slasher', this band is full on 100 percent high energy metal. It really rocks hard from start to finish and every band member stands out musically. So if you were like me and grew up with Anthrax posters on your wall and listened to Judas Priest on vinyl, check these guys out for some brand new songs done in an old school throwback style.
Tracklist:
Disc 1:
1. F.O.A.D.
2. Maniac
3. Cease to Exist
4. Creature Possessor
5. Seen in Death
6. Feed the Fires
7. The Hunter's Lair
Disc 2:
1. F.O.A.D
2. Maniac
3. Sunday Morning Slasher
4. Evil Invaders (Razor cover)
5. Madhouse (Anthrax cover)
6. Angel Witch (Angel Witch cover)
7. I Am Destruction
https://www.facebook.com/Mortillery
Members:
Cara McCutchen – Lead Vocals
Alex Gutierrez – Guitars
Kevin Gaudet – Drums
Miranda Wolfe – Bass
Kent Quinlan – Lead Guitars
Rating: 8 out of 10
~Soul Torn Down