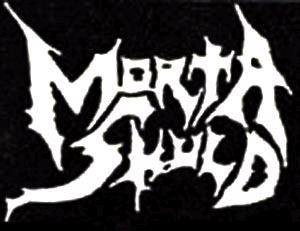 Summon: How did the band get started? How did you meet and how long have you been together?
Dave: Well Jason the bass player and I met back in 89′ and had a few bands together, before forming Morta Skuld. In 1990 we met the other Jason (guitarist) and in late 91′ met Kent the drummer to finalize the line-up we've been together since.
Summon: How would you describe your music?
Dave: Kinda groove death metal with a lot of brutal mid temp riffs.
Summon: What are your biggest musical influences?
Dave: My musical influences I would have to say are Morbid Angel, Carcass, Death and mostly recently Meshugga.
Summon: Who if, if any do you consider the bands idols?
Dave: I can only speak for myself but as for who I idolize probably Chuck from Death, Nick from Paradise Lost and Karl of Bolt Thrower (R.I.P.) that come to mind.
Summon: What made you want to be in the band? And if you weren't in the band what would you want to be doing now?
Dave: I wanted to express myself myself and tell people my views of life and how I felt society has become so fucked. But mostly cause my family said it couldn't be done. I think I'd like to be in or involved with a record label or recording studio something with music.
Summon: What are some of your favorite bands that are really popular today?
Dave: Carcass, Death, Morbid Angel, Paradise Lost, Forbidden, Broken Hope, Oppressor.
Summon: How many demos/albums do you have? Tell me about them.
Dave: We have done 3 demos and now to date 3 albums released in Europe not US but hopefully soon, you can get stuff from us if you write.
Summon: If you could play with any band who would it be and why?
Dave: I couldn't say cause we have played almost most of the bands you can play with, but it would probably be Paradise Lost in Europe or Napalm Death in the states.
Summon: Who writes the majority of the music?
Dave: Jason O'Connell the other guitar player, I'd say probably 80% and then the rest of us add our little stuff in here and there.
Summon: Who has been the favorite band you've played with? Why?
Dave: I would say Morbid Angel because those guys fuckin' kill especially with Eric in the band. I love watching them and it was a great show.
Summon: Where did you get the band name from?
Dave: From Greek Mythology.
Summon: Describe what the band is like live?
Dave: I really cant cause when I see us I'm my own worse critic and I get like I could have done that better or I was sloppy or whatever.
Summon: If you are gonna do any kind of video what would be in it?
Dave: I have no clue, I'm looking touring first then worry about video.
Summon: Are there any tour plans made, if so tell me about them?
Dave: Hopefully soon in 96′.
Summon: Where do you think the band will be in 20 years from now?
Dave: I'm hoping a lot bigger and more popular than we are now. At least live on playing and least afford some of the things I need for myself and my daughter.
Contact them at:
Morta Skuld
P.O. Box 37413
Milwaukee, WI 53237