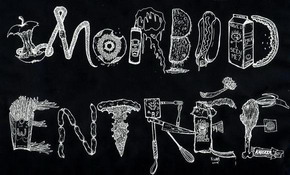 Summon: How did the band get started? How did you meet and how long have you been together?
Evan: The band has been in existence for about two years now. Our vocalist, drummer and I (Evan- guitar) used to play in a band called "Doomsday Project" that was more thrash-core type shit. We broke up in 95′ and we left to form a more extreme group, hence "Morbid Entree" was born. We acquired our bassist, Mike in mid 1996. He was a former drummer in the Washington, D.C. Based band "Terrorism".
Summon: How would you describe your music?
Evan: I guess you can say our older stuff was moshy Death/Grind, but out newer shit is mote a mixture of extreme music (Black Metal, Hardcore, Death, Grindcore, etc…). We do throw in one or two surprised, though.
Summon: What are your biggest musical influences?
Evan: As far as other bands go I'd have to say Internal Bleeding, Korn, Dissection, Ossuary (PA), Anal Cunt, Madball, Grave, Cradle Of Filth, Arckanum, Brujeria, Fury Of Five, shit there! Just too many to mention!
Summon: Who if, if any do you consider the bands idols?
Evan: Hmmm… I really don't think we have any! There's really no on I can think of that we'd want to emulate. Howard Stern comes close, though!
Summon: What made you want to be in the band? And if you weren't in the band what would you want to be doing now?
Evan: Basically, I just wanted to create music that would invoke a reaction to myself and others. It's also because I really enjoy this friggin' music so much! If I don't have the band I'd be looking for another! I expect to be playing music until I'm a maggot cadaver, maybe even after that.
Summon: What are some of your favorite bands that are really popular today?
Evan: The only popular band that I'm really into at the moment is "Korn" because they;re so god damn crushing! I am getting kinda sick of them because our drummer can't stop playing their tapes in his car!
Summon: How many demos/albums do you have? Tell me about them.
Evan: We have 3 demo's thus far. The first two were when we weren't taking our music very seriously, so we never released them to the underground. They were kinda in the "Mortician" vein, but not nearly as tight. Our most recent tape "Smorgasgore" has been doing really well in the underground. A lot of people seem to dig it.
Summon: If you could play with any band who would it be and why?
Evan: This would probably differ for each band member. "Korn" is definitely up there because they draw a huge crowd. "Internal Bleeding" would also be cool. We were supposed to play with them last December, but their drummer sprained his leg and they couldn't make it down.
Summon: Who writes the majority of the music?
Evan: We all write for our own instruments. Our drummer occasionally write a riff or helps me out. He also happens to be pretty amazing classical guitarist.
Summon: Who has been the favorite band you've played with? Why?
Evan: There was a fuckin' killer band called "Ossuary" we played with. They could really get the crowd going. I'm not sure if their still around though because their guitarist moved to Florida. I know it's a huge state, but if anyone out there knows a guy named Eric Armusik please tell him to get in touch with me!
Summon: Where did you get the band name from?
Evan: We stole it from a band that we killed!
Summon: Describe what the band is like live?
Evan: We we used to do a bunch of crazy shit like use stage props and throw food but I guess we were becoming a Gwar clone so we dropped it. Now we basically just get really into the music and jump around like retards on crack. We could care less id the crowd's moving (they usually are though).
Summon: If you are gonna do any kind of video what would be in it?
Evan: We're actually starting pre-production on a home video, but I'd rather not disclose any info early. Sorry!
Summon: Are there any tour plans made, if so tell me about them?
Evan: At the moment were trying to get as many shows as possible in this area. This fall we may play some gigs in New York and Illinois, maybe Washington D.C. Too. If any bands/zines want to hook us up a show drop me a line.
Summon: Where do you think the band will be in 20 years from now?
Evan: Well at that point we'll either be fuckin' spectacular or really shitty because we'd all be deaf and have arthritis!
"Many thanks for the interview! We wish you Demonic blessings for your zine/newsletter and other endeavors! Everyone get in touch for more info or go pick up our tapes $5, T-shirts, stickers, whatever later….."
Contact them at:
Morbid Entree
347 Mattison Ave.
Ambler, PA 19002