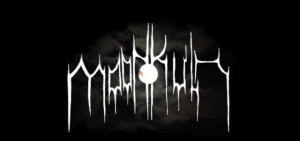 Moonkult
"Profane Nightmare of Seers"
2013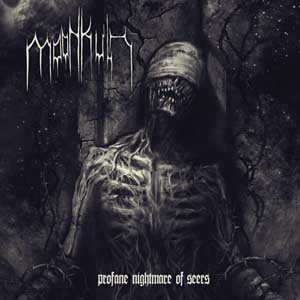 YES! Finnish Black Metal never fails when it comes dark, filthy and downright blasphemous bands and MoonKult are no exception the rule.
The haunting front cover alone tells you straight away you are in for an ear bleeding session and right off the bat they deliver.
The vocals are cavernous and masterful, the blast beats come thick and fast and are quite pummeling.
The production has the right amount of filth to it, by no means is it lo-fi but it serves the music well indeed.
There is a lot of 90's influence going on here, think of any Black Metal band you heard on the No Fashion Records roster and you are pretty much there.
This might not be as easy to find as upon research there was a limited amount pressed and that being 500 copies on the ever respectable and one of my personal favorite record labels, Misanthropic Art.
This definitely is for fans of bands like Hell Militia and earlier Endstille, if you can find a copy on ebay or elsewhere it well sit well in your CD collection amongst those aforementioned bands.
Highly recommended and another gem for the Finnish Black Metal Horde \m/
Tracklist:
1. Destined to Wander
2. The Great Purge
3. Demigod Seer of Black Flames
4. Curse and Blessing of Foresight
5. Nether of Time and Space
6. Storming Avalanche of Hate
7. Behind Vortex of Lightnings
8. Beyond to Infinities
https://www.facebook.com/Moonkultband
http://www.metal-archives.com/bands/Moonkult/3540347461
Members:
Niflungr – Bass
Moonlord Akhkharu – Vocals/Guitars/Bass/Programming
Riku Polameri – Drums
Rating: 9 out of 10
~Death Metal Andy