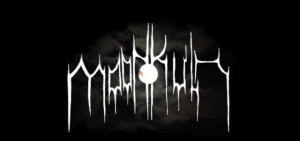 Black Metal band Moonkult was founded by Moonlord Akhkharu in August 2011 in Hyvinkää, Finland.

A demo called "Tears of Seers" was self released in June 2012 and it was recorded entirely by Moonlord Akhkharu.

R.I.P (aka Riku Polameri) joined Moonkult as a session drummer in autumn 2012.
Niflungr joined Moonkult as a session bassist in winter 2012, but is now a full member of Moonkult.
Debut full-length album "Profane Nightmare of Seers" was recorded in autumn/winter 2012 and was mixed by Grim666 in winter 2012.

This album was released by Misanthropic Art Productions and Fallen-Angels Productions in 20th of April 2013 (limited to 500 copies) and cover art was done by Rafael Tavares.

At the same time Fallen-Angels Productions released both the demo and full-length on cassette (limited to 30 copies for each).
Line-Up
Moonlord Akhkharu –  Vocals, Guitars
Niflungr (Azaghal, Wyrd(live), Niflhel) – Bass
R.I.P (Malicious, Vapour, Yggr) – Session Drums