Monsterworks
"Overhaul"
2014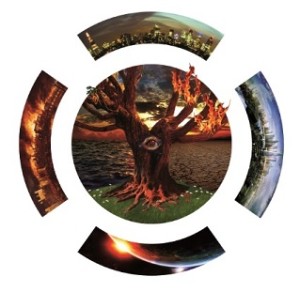 Monsterworks continues to release this year with Overhaul. The sound is quite more mellow than the last album. This indeed seems like an Overhaul in sound pointing towards a much more progressive sound than before. The lyrics are cosmic and the vocals are soaring screams throughout with other vocal elements such as growls mixed in. Clean singing is also very prominent on this album. The music itself is great, albeit a little slow for my taste but still very well executed. Lots of thought was put into each song and the whole album flows perfectly. This band continues to produce quality material.
Tracklist:
1. Educate the Masses
2. To Do What Must Be Done
3. Overhaul
4. Trial of the Sentient
5. Penultimate
6. Resolution
https://www.facebook.com/monsterworks
Members:
Hugo- Bass
James- Drums
Jono- Vocals, Guitar
Marcus- Guitars (lead)
Rating: 9 out of 10
~Krondor
Monsterworks
"Universe"
2014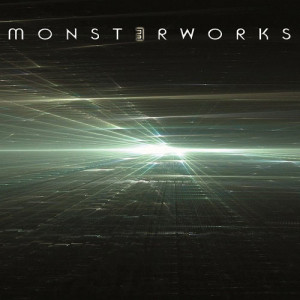 Monsterworks, an apt name for this band, has been making music nonstop since the nineties and seems to do only that. Their latest release, Universe is a storm of ideas and different elements blended together quite nicely. Clean sound and technicality really shine on this album as the band reaches into different metal sub-genres to craft each song. Many reach out beyond that to other forms of music which really appeals to someone looking for something different. The band doesn't do it haphazardly either. Everything is placed very nicely in the album and each song shines through clearly.


Lots of progressive elements are very clear throughout the album and many times I found myself getting lost in each song in a very good way. The vocals range greatly and that's admirable for someone to pull off.
Tracklist:
1. Universe
2. Grandiose
3. Voyager
4. The Bridge
5. Extropy
6. Heat Death
7. Outside Time
https://www.facebook.com/monsterworks
Members:
Hugo- Bass
James- Drums
Jono- Vocals, Guitar
Marcus- Guitars (lead)
Rating: 10 out of 10
~Krondor
Monsterworks
"Earth"
2013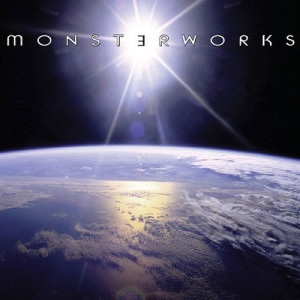 So here I am sat with another album from Monsterworks , having reviewed their previous effort I was expecting more of the same from the Kiwis….I was half right but i do have to say this is one beautifully put together album indeed. The guitars still have that Grunge-esque sound to them in my opinion but this is a little gem of an album.
The myriad of styles are still there ranging from death/progressive/traditional heavy metal but its more focused and flows way better than their previous effort.
It goes to show that if you judged every band by its name then we probably wouldn't listen to half of the stuff we do but i digress…..this really is a step up from their " Album of Man " opus, there has to be bigger and better things on the horizon for these guys.
Recommended for those who can appreciate great guitar work, prog metal stylings with a razor sharp edge to it. Sit back and enjoy \m/
Tracklist:
1. From Dust and Gravity
2. Late Heavy Bombardment
3. Last Universal Ancestor
4. Oxygenation
5. Powered by Fate
6. Bookended by Extinction
7. Aeon of Man
8. Earth
9. Vaporized
10. Trick of the Light
http://www.metal-archives.com/bands/Monsterworks/2896
https://www.facebook.com/monsterworks
Members:
Hugo: bass
James: drums
Jono Blade: vocals/guitars
Marcus: lead guitars
Rating: 9 out of 10
~Death Metal Andy
Monsterworks
"Album of Man"
2013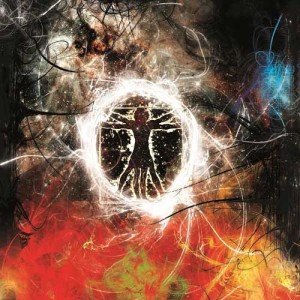 Monsterworks. Now upon reading that band name what would you expect? Something in the vein of The Misfits? Maybe a Monster Magnet style band? Wrong.
What we have here is a band that weaves elements of progressive/death/traditional heavy metal with some stellar acoustic sections with an almost grunge-esque guitar sound to boot (I said the G word….sorry haha).
Confused? Or is this sheer brilliance? Well its a bit of both really…..I am all for bands mixing it up and really pushing the envelope and making something really fresh and exciting because that's what music is meant to be about right? Well its not a blast fest that's for sure but I will say this is excellently played and executed but the main gripe I have is the vocals. Second song in and you would swear their singer had turned into a more gruff sounding Dee Snider, but on the whole the vocals are standard mid / high register deathly growls ( think of a Jeff Walker style rasp but not as great!!br0ken!!
A grower of an album for sure if you can deal with the mish mash of styles and can appreciate the level of musicianship that on show here.
Tracklist:
1. The Creation Dream
2. It's Alive (The Philosophical Baby)
3. Unconditional Lie
4. All Suns Die
5. Known
6. Harden to Art
7. Taste of Doom
8. Being Human
9. Free Will
10. Air (We Have Come So Far)
http://www.metal-archives.com/bands/Monsterworks/2896
https://www.facebook.com/monsterworks
Members:
Hugo: Bass
James: Drums
Jono Blade: Vocals/Guitars
Marcus: Lead Guitars
Rating: 7 out of 10
~Death Metal Andy
Monsterworks
"Man :: Intrinsic"
2012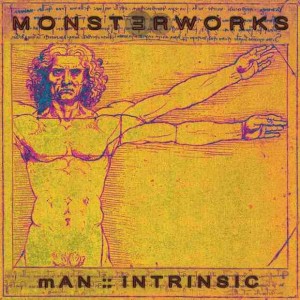 So I already discussed a bit about the New Zealand based group Monsterworks. A great band more grounded in hard rock than extreme metal. The band released Two EP's in 2012 and Man :: Intrinsic is the second one put out that year. It is in every way the match of Man :: Instincts, but I would say probably a little better because there is a little more creative song writing here. That is not to say both of last years were not creative and interesting, but I feel this one captures little more of what this band can do. This time around, singer Jono Blade keeps his great intense singing but adds some equally great clean singing. The band can slow things down and take their music in softer and more somber directions. Adding these progressive elements to their sound gives the band another layer of artistic ability to show off. The standout song on this EP is the son called Air. It is an over seven minute voyage that swings the listener back and forth and shows just what this band can do. What a ride, and it never becomes stale. I always wanted to hear what was coming next. Each part of the song flowed and it was punctuated by some incredibility inventive musicianship. I knew this band had some something interesting up their sleeve and these two EP's prove me right. The way this band combines their two music styles is fresh and original. I hope these guys have a brilliant new monster record in the works.
Tracklist:
1. Unconditional Lie
2. Taste of Doom
3. Air (We Have Come So Far)
https://www.facebook.com/monsterworks
Members:
Jon: Vocals/Guitars
Hugo: Bass
James: Drums
Marcus: Lead Guitars
Rating: 7.5 out of 10
~Kris
Monsterworks
"Man :: Instincts"
2012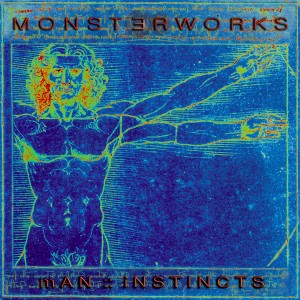 Monsterworks is an intensely exciting group coming to us all the way from New Zealand, and these four guys have put together a very unique band that probably qualifies as hard rock more than extreme metal. They are certainly an experienced group, putting out six full-length albums since 2000, and in 2012 they have released two three song EP's. In July of last year we got Man :: Instincts, a clever collection of three interesting songs that seem to be cut from the hard rock cloth, but still contain the feelings and emotions of black metal. This is hard rock with a black metal singer that works surprisingly well. The black metal aspects of his singing are toned down so he matches with the music better, but it is an intriguing combination that works better than I thought it would. The songs themselves are well constructed and well written, constantly moving and changing, and showing that they can remain engaging throughout punctuated by some great musicianship and brilliant guitar work. I would say this is a fun EP. It is obvious that Monsterworks have some clever ideas up their sleeves.
Tracklist:
1. The Creation Dream
2. All Suns Die
3. Free Will
https://www.facebook.com/monsterworks
Members:
Jon: Vocals/Guitars
Hugo: Bass
James: Drums
Marcus: Lead Guitars
Rating: 7.5 out of 10
~Kris