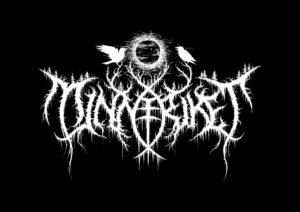 Minneriket is the 2014 brainchild of Norway's Stein Akslen (V0id&Khaos, Blodsgard, Vakslen). Minneriket started as a necessary return to fundamental Black Metal. Akslen felt the need to strip off the polished layers of today's modern Black Metal to reveal its raw, bleak and uncomfortable core and bring back the primal feeling of a time before man became tamed. The resulting birth of the knife-edged Minneriket is a conspiracy of thought-provoking lyrics which are delivered with tortured vocals and dangerous, dissonant instrumentation.
Discography:
-"Vargtimen" by Minneriket, June 21st 2015.
-"Jærtegn" by Minneriket, August 26, 2016
-"Stjerner, speil og svartbøker…" by Minneriket, October 31st, 2016
Other releases:
-"Apatheia – Suburban Anxiety" by V0id&Khaos, October 2011 -"AlieNation" by V0id&Khaos, August 2012 -"Aletheia – Cogito ergo doleo" by V0id&Khaos, November 2012.
-"Orion vs Osiris: Interstellar Forces Mix" by V0id&Khaos, November 2014
-"Ataraxia –Nordic Noir" by V0id&Khaos, June 2016
– "Solve Et Coagula" by Blodsgard, January 2011
-"Monument" by Blodsgard, September 30th 2013.
-"Crucifucked" by Vakslen, December 21st 2013.
Minneriket "Stjerner, speil og svartebøker…" private advance listening of complete album
https://soundcloud.com/minneriket/sets/stjerner-speil-og-svarteboker/s-DWYvg
Minneriket BandCamp https://minneriket.bandcamp.com/
Minneriket FaceBook https://www.facebook.com/minneriket/
V0id&Khaos Bandcamp https://v0idkhaos.bandcamp.com/
Blodsgard home page https:/www.blodsgard.com
Vakslen Bandcamp https://vakslen.bandcamp.com/