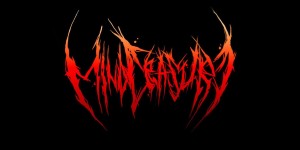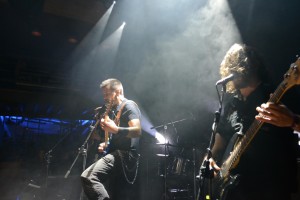 Summon: How did the band get started?
Lampros: We started jamming  around 2002, but Mind Erasure get together at 2007.
Summon: What kind of music do you play?
Lampros: We often refer to Blackened Death metal, but this is only to give a genre to our music. To by honest it is just extreme metal, an alchemy of the music we grow up with and the music we enjoy to play.
Summon: How has the fan response been?
Lampros: The fan response was and still is very good. even better than we could hope!
Summon: Where did the band name come from?
Lampros: When we started playing together there was always discussions about government brainwash and manipulation, religion and psychotic conditions. It refers to all our concerns about today's society, how we see it and how it affects as and the people around us.
Summon: Introduce the band members and what they do in the band.
Lampros: Guitar/Vocals
Peter: Bass/Vocals
Dimitris: Guitars
Aris: Drums
Summon: Who writes the music? Lyrics?
Lampros: Usually Dimitris and I bring some riffs on the rehearsals and we work on them together. As about the lyrics Peter and I write together.
Summon: And where do the lyric ideas come from?
Lampros: Epic battles, violence, Psychotic syndromes and twisted minds.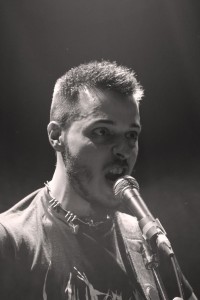 Summon: What is your view in Satanism and Occultism?
Lampros: I will speak for my self, I am against any organized religion, I believe that every person is its own god faith is something really personal and should not by affected or effect any other human being around. I have read about many religions but not too much, just to get an idea about them. But, I found the work of Anton Lavey very interesting, some aspects of it were so true. This is only what I think, I believe that every person should make its own spiritual quest. Also it is a huge crime for my to brainwash children with religious bullshit when they are too young to judge or have an opinion, baptism should stop.
Summon: How many albums/CD's have you released?
Lampros: We have released a 3 track promo at the end of 2013, and we are about to release a single, hopefully at first of May.
Summon: Tell me about some the songs on the latest CD?
Lampros: The Song is called Unsullied, and its about some bloodthirsty warriors.
Summon: Do you have any side projects?
Lampros: Yes! Dimitris is playing the bass on a grind/death band called Sadistic Purification, and Aris also plays drums in a thrash/groove band.
Summon: Who are some of your musical influences?
Lampros: Mostly black and death metal bands, like Impaled Nazarene, Behemoth and Bolt Thrower.
Summon: Which current bands?
Lampros: We all like to expand the range of the bands we are listen too. Thankfully the web is keeping us up to date with new bands and new releases!
Summon: What is the band like when you play live?
Lampros: From what I have heard from our fans and other people that have listen to us playing, we emit anger and power and out vocals is like a beast roaring!
Summon: Have you guys ever played in another country?
Lampros: Unfortunately no…
Summon: How big of crowd shows up at shows usually?
Lampros: We came from a relative medium island of Greece, the metal fans here are not so many, so usually there are 80-130 people listening to us playing.
Summon: How is the crowd response when you play?
Lampros: Like a boiling mug, at the beginning they are a little quiet, but after the first riffs they explode!
Summon: What do you think of the US Black Metal/Death Metal scene?
Lampros: I personally prefer the American Death metal over black metal. There are too many notable bands, if I start naming this interview will never end.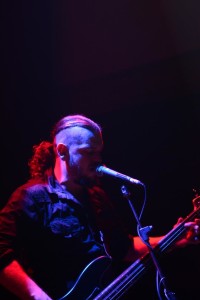 Summon: What do you think of the Overseas scenes?
Lampros: Dimitris and I love  Norwegian Black metal and Swedish Death. And we were always inspired from our countries scene which nowadays expands and have give some excellent albums.
Summon: What are some of new favorite black metal/death metal bands?
Lampros: Immortal, Behemoth, Impaled Nazarene, Hate, Rotting Christ, Amon Amarth, Varathrone, and so many others.
Summon: When do you guys plan on writing any new material?
Lampros: We work on new material already. Our plan is to make a new relish, after the single, at the end of 2015.
Summon: What does the future hold for the band??
Lampros: We would like to play in some cities around Greece and join the line up in festivals. Also we will work on new songs and hopefully we will release a full length album soon.
Contact them at:
https://soundcloud.com/mind-erasure
http://www.last.fm/music/Mind+Erasure/Mind+Erasure
http://minderasure.bandcamp.com/
https://www.facebook.com/MindErasure
http://www.reverbnation.com/minderasure
https://www.youtube.com/channel/UCSmCzxsTTIfdcbewyOTHR7Q
http://minderasure.stereokiller.com/
@Mind_Erasure  (twitter)