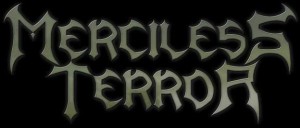 Lineup (2013):
Dale Linsdell – Vocals
Luke Tasker – Guitars
Dan Oldcorn – Bass
Mike Brush – Drums
Death/Thrash Aggressors hailing from Nottingham, UK. Formed in April 2009, the band takes influence from the likes of: Slayer, Malevolent Creation, (early) Sepultura & Bolt Thrower. Creating a powerful blend of Crushing Death Metal with a delivery of relentless Thrash Metal battery!
In 2011 the critically acclaimed debut E.P 'Perpetual Devastation' was released onto the world, which was mastered by James Murphy. Since its release the Quartet have undergone several line-up changes, to finally form a solid and ferocious unit. Merciless Terror are an unstoppable force that has already laid waste to audiences internationally from UK/IRE & Europe to the likes of Scandinavia, and even Japan.
Along their trail of Terror they have also tore it up with the likes of Bolt Thrower, Benediction, Maleovlent Creation, Bonded By Blood, Desecration, Cerbral Bore and many more! The band has recently recorded their New Full-length Album 'Vile Extinction' which will be released August 2013 worldwide via Devils Clause Records!
The Reign of Terror has just begun…
VILE EXTINCTION TRACK LISTING:
1. Omnicide
2. Doctrine of Malevolence
3. Circle If Contempt
4. Enraptured
5. Baptized By Blood
6. Hateful Abomination
7. Process of Eradication
8. World Desolation
9. Imminent Death
10. Dystopic Visions
11. Existence Denied
Discography
Deeds Of Inhumanity – Demo 2009 (Self-release)
Perpetual Devastation – E.P 2011 (Bad News Records)
Shattered Existence – Single 2012 (Bad News Records)
Eternal Decay – E.P 2012 (Self-release/ Japanese Release Only)
Vile Extinction – LP 2013 (Devils Clause Records, Worldwide)
Shattered Existence Official Music Video
http://www.youtube.com/watch?v=uM9bdrME6sw
Links:
Facebook: https://www.facebook.com/MercilessTerror
Website: www.mercilessterror.com