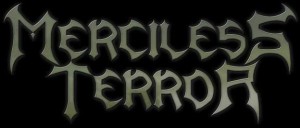 Summon: How did the band get started?
Dan: The band was originally started up by Dale and our original drummer in 2009. The band went through several incarnations before settling into the sound that we have now.

Summon: What kind of music do you play?
Dan: Predominantly Death/Thrash, though we have dabbled with sounds and ideas to make things a little bit more interesting.

Summon: How has the fan response been?
Dan: We've been gigging and touring since 2009 around the world and have been pretty well received in most places. Obviously we can't and don't appeal to everyone, which is fine by me, but generally we've had a lot of good responses to our shows and music.

Summon: Where did the band name come from?
Dan: I joined the band later on but the name comes from Merciless Death's 'Realm of Terror'

Summon: Introduce the band members and what they do in the band.
Dale – Vocals
Dan Oldcorn– Bass
Mike – Drums
Luke – Guitar (our newest recruit)

Summon: Who writes the music? Lyrics?
Dan: Lyric wise Dale tends to deal with pretty much most of the writing though we all chip in with ideas when needed. As for the music 99% was written mainly by our original guitarist Dave Siddons, with the odd riff and arrangement from the rest of us.

Summon: And where do the lyric ideas come from?
Dan: Our lyrics are about post-apocalyptic worlds with different themes and ideas running through that concept.

Summon: What is your view in Satanism and Occultism?
Dan: I have nothing against either two topics, however they're pretty limiting for us, as to what you can write about. With the post-apocalyptic concept, we can pretty much make up anything we want but have it played out in that concept…If we want to deal with a certain topic lyric wise, we can incorporate them into our themes and add a different spin on it.

Summon: How many albums/CD's have you released?
Dan: We've so far released a demo, 2 E.P's and a single. Our debut album 'Vile Extinction' will be released in October 2013.

Summon: Tell me about some the songs on the latest CD?
Dan: It's pretty much Merciless Terror. There's nothing too different on this record than what we've done in the past. The performances on it however have gotten a lot better, and we made sure this time to focus on the production and make everything a lot tighter.

Summon: Do you have any side projects?
Dan: Dale and myself started a band up a few years ago called 'Eviscerate Carnage' but I left after the E.P was released.

Summon: Who are some of your musical influences?
Dan: Too many to mention unfortunately, though bass wise some guys I look up to are; Nick Schendzielos, Evan Brewer, Alex Webster (of course), Justin Chancellor, Derek Engemann. Ironically most of them are finger players whereas I'm not, but it doesn't matter as long as the bass lines are interesting.

Summon: What is the band like when you play live?
Dan: Your best coming to see us and making your own mind up, though I'd like to think we put on a good and intense show.

Summon: Have you guys ever played in another country?
Dan: We've gigged and toured in a number of different countries around Europe and branched out to places like Finland and Japan. We're heading to Russia in September to support Hour of Penance.

Summon: How big of crowd shows up at shows usually?
Dan: It varies gig by gig…I couldn't give a definite answer.

Summon: How is the crowd response when you play?
Dan: Again it varies from each show, it all depends on the people watching and how much energy there is between the band and crowd

Summon: When do you guys plan on writing any new material?
Dan: Our debut albums drop in October but there's nothing in the pipeline after that. We're excited to start writing with Luke, but we'll take it as it comes.

Summon: What does the future hold for the band??
Dan: We'll be mainly rehearsing our new set for the upcoming gigs and tours in the next couple of months and prepare for our album release in October. We'll be keeping busy towards the end of the year and the start of next so keep your eyes peeled! 
Contact them at:
https://www.facebook.com/MercilessTerror
https://myspace.com/mercilessterror
http://www.reverbnation.com/mercilessterror