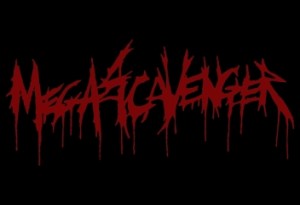 Megascavenger
"At the Plateaus of Leng"
2014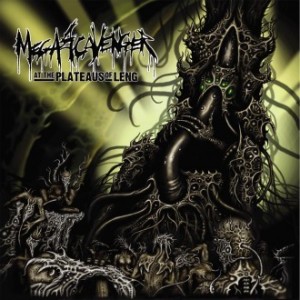 I recently reviewed the 2012 release from Megascavenger which was an ode to Old School Swedish Metal and the foul stench from those glory days were ever present on that release.
Fast forward 2 years and as you can still submerge yourself in THAT sound and Rogga Johannson of Paganizer/Ribspreader fame can sure write a riff that's face melting at 10 paces but what we have here is a more melodic affair, sure the brutality is still there in places its just not as pummeling as their earlier release.
The production is what you would expect it to be and its crushing to say the least, but i felt like there was something missing from this album as i listened to it, i think that towards the mid point of the album it all seems a little formulaic and that filler songs were starting to creep in on the album.
If I had to be honest i was listening to Swedish Death mongers Deranged prior to this (I am a sucker for this stuff) and this paled in comparison but this was very enjoyable in its own right. If you love bands like Grave, Asphyx etc then this is for you.
Oh btw….go buy all the Paganizer/Ribspreader albums!!!
Tracklist:
1. At the Plateaus of Leng
2. The Festered Earth
3. And Then the Death Sets In
4. The Mucus Man
5. Like Comets Burn the Ether
6. When Death Kills the Silence
7. The Hand of Bereavment
8. Back to the Ancient
9. Night of the Grand Obscenity
https://www.facebook.com/megascavenger
Members:
Brynjar Helgetun – Drums
Rogga Johansson – Guitars/Vocals/Bass
Rating: 7 out of 10
~Death Metal Andy
Megascavenger
"Descent Of Yuggoth"
2012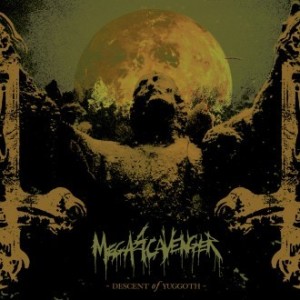 Ok….from the opening riffs of this colossus of an album I had a sneaky feeling I had heard THAT sound somewhere before….then the vocals kick in…..yep I recognized them too….so who the hell is in charge of the bludgeoning that's assaulting my eardrums?
Ladies and Gentleman its the one and only Rogga Johannson. For the uninitiated Rogga is the mastermind behind such great Swede Death Metal acts such as Paganizer, Bone Gnawer, Ribspreader to name a few.
This is a brutal slab of Metal, with the old school Swedish sound, buzzsaw guitars, pulsing bass, in your face drums and brutal as fuck vocals.
I for one have a tonne of Rogga's material, he simply is Death Metal through and through.
On this he has acquired guest appearances from Dan Swano, Jonas Lindblood and even a solo from Pestilence main man Patrick Mameli.
One to pick up and obliterate your eardrums to, if you like the aforementioned bands and bands such as Asphyx, Autopsy and Grave then you are going to have a blast with this.
Swedish Death Metal strikes again \m/\m/\m/
Tracklist:
1. Nihilisticon
2. Descent of Yuggoth
3. Smokescreen Armageddon
4. Catapulted Through Aeons
5. Void of Damnation
6. Funerals and Ceremonies
7. Death Obsessed
8. No Haven for the Sane
9. To Revel with Vermin
https://www.facebook.com/megascavenger
Members:
Brynjar Helgetun – Drums
Rogga Johansson – Guitars/Vocals/Bass
Rating: 8 out of 10
~Death Metal Andy