Medebor
"A Taste of Insanity"
2012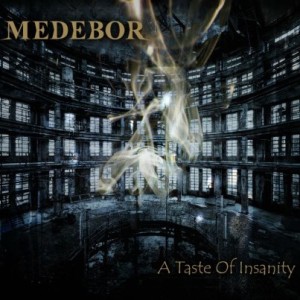 Medebor is a death / doom band from Poland. They mix the melancholic sound of early Katatonia with a bigger sound and cleaner production.
This being their second album, I would expect them to have a good idea of what they're trying to achieve here. And there's no mystery. The nine years in between albums comes through in the songwriting and sound. The music is well executed, the vocals have a great range from low growls, to higher screams and even gritty yells with some more melodic clean singing thrown in too. The variety in vocals projects a good amount of depth in the album emphasizing certain points and keeping the listener attentive. The musicianship is on point here, with each instrument providing a voice to the overall sound of the album. The bass lines in the first track were a nice surprise.

Throughout the album, the songwriting stays pretty consistent with changes from more mainstream sounding metal to a deeper and darker dark doom sound. The production is clean and big, but not as dark and gritty as some earlier gothic death/doom bands.
Tracklist:
1. A Kind of Chaos
2. The Last Horizon's Awakening
3. Torment of Silence
4. Requiem for the Days of Lost
5. Farewell
6. Sorrow, My Infinity
7. Asleep in Snow
8. Bleak Memories
https://www.facebook.com/medebor.metal
Members:
Jarosław Pieczonka – Guitars
Andrzej Bucikiewicz – Vocals
Michał Kijewski – Bass
Maciej Boroś – Guitars
Arkadiusz "Simply" Lewandowski – Drums
Rating: 8 out of 10
~Krondor