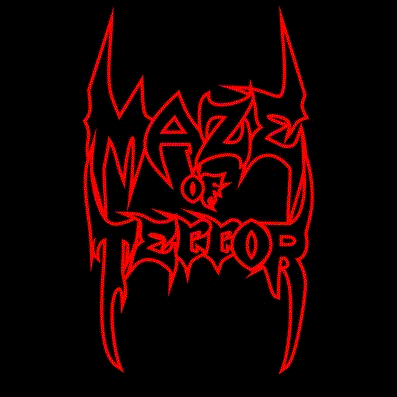 Summon: How did the band get started?
Hammer: Thanks for this Lines. The band was born from the idea of ​​Leviathan and Hammer. After completing previous projects, we decided to form Maze of terror. This occurred in late 2011, started writing since 2012 the first problem was getting guitarist. Today we have a stable formation with which we are working to record this year.
Summon: What kind of music do you play?
Hammer: Thrash metal with much influence in the South American thrash.
Summon: How has the fan response been?
Hammer: The response has been very successful, the EP is well accepted by people and always support the presentations, that motivates you to keep fighting in this.
Summon: Where did the band name come from?
Hammer: For months, and when we had the songs compounds. Me and leviathan, hassle a name for the band, search a unique name something that has not been used and that also tells what the band wants to show with his music. Leviathan had in mind "Maze of Terror" to what would give the meaning of the human brain, a brain desquisiado becomes a labyrinth from which no escape. In every room, every passage, every possible find out all your fears and fears which lead you to madness or death.
Summon: Introduce the band members and what they do in the band.
Leviathan: bass/voice
Criminal mind: guitars
Hammer: Drums
Summon: Who writes the music? Lyrics?
Hammer: Both the music and the lyrics, Leviathan and I work this. We believe in teamwork, he shows me an idea and work, in terms of some of the letters do together, other Leviathan and other me.
Summon: And where do the lyric ideas come from?
Hammer: There are many things you have in mind, how we think gives us a vision of the reality we live and express in our letters. We also like to create stories, besides that we like to talk about madness and the mysteries of the human mind, which gives you many options for creating letters.
Summon: What is your view in Satanism and Occultism?
Hammer: First of all a lot of respect, but we are not part of these practices. We are respectful of paganism, Satanism and the occult, are interesting topics that hide great mysteries.
Summon: How many albums/CD's have you released?
Hammer: So far we have the EP Skullcrusher, we are working to launch this year a new production.
Summon: Tell me about some the songs on the latest CD?
Hammer: Skullcrusher EP features five songs, some are"Rivals" which tells the battles of two warriors who fight to death, "Hatred and repression" talks about a people struggling to find freedom.
Summon: Do you have any side projects?
Hammer: We are dedicated entirely to Maze of Terror, by the moment not plan to work any other projects.
Summon: Who are some of your musical influences?
Hammer: Much thrash eighties, also the old school death metal and many South American metal.
Summon: Which current bands?
Hammer: There are currently great bands as: Armored Assassin or far scape that we really like, Peruvian bands I would like to mention that we like a lot and who are relatively new as Cobra and Purgatorio.
Summon: What is the band like when you play live?
Hammer: Well I think this question, the public will might respond better. We went up to the stage to give the best of us, we vote all the fury in every song, and we try that the public feel. What we want to express our music.
Summon: Have you guys ever played in another country?
Hammer: By 2012 we had a tour of Bolivia, with 5 dates in the cities of La Paz (2 dates), Cochabamba (opening for whiplash), Oruro, Sucre, El Alto.
Summon: How big of crowd shows up at shows usually?
Hammer: Unfortunately the Peruvian scene is a bit fall in support for local bands. Sometimes there are only one hundred attendees, but still both maze of terror like the other bands. Give herself completely.
Summon: How is the crowd response when you play?
Hammer: The support is felt in the public, are killed in the concerts and have good reviews for the band, that's very good.
Summon: What do you think of the US Black Metal/Death Metal scene?
Hammer: Really do not know many black bands from USA, with respect to death metal is obvious the country that reference the genre, with so many great bands that influenced and continue to influence all world scenes.
Summon: What do you think of the Overseas scenes?
Hammer: There are many scenes very well established, with great bands and great public as Argentina, Brazil, Chile and Colombia … The South American scene has grown tremendously and of course there are scenes consolidated since the eighties as the American scene, English or German to name a few.
Summon: What are some of new favorite black metal/death metal bands?
Hammer: From what I've known, I like Exkoriate a German black metal band, or Terrorsaw an Italian death thrash metal band in my country I would tell you Agonize death metal, or Kaypacha Black metal band.
Summon: When do you guys plan on writing any new material?
Hammer: If, right now we are composing the themes for our new production, we expect this year come out.
Summon: What does the future hold for the band??
Hammer: I'm not thinking about the future, I live my present, and the band goes good. We are a strong formation, we have presentations and acceptance on the part of the people. We set goals, one goal is to get a new production this year and you work at it. I think we will continue in this because the possibilities never end. The desire to do metal do not depletes, that is something that we love and will not leave it.
Thanks for this interview!!!
Contact them at:
https://www.facebook.com/mazeofterrorthrash
http://www.youtube.com/watch?v=V6CVl7y4izs
http://www.reverbnation.com/mazeofterror