Maxdmyz
Alchemical Metal
4 Track E.P
Renegade Records
Imperative PR
Release Date: 17th April 2017
By: Pagan Hel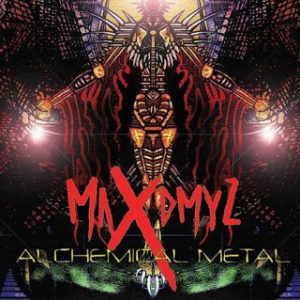 Maxdmyz – London, South East
Links:
https://www.facebook.com/maxdmyz
Genre: Alchemical Metal
Biography:
"The sound of Maxdmyz has always been built upon the principle of absolute freedom. They follow no orders, defy all expectations and respect no rules but their own. Armed with their palette of endless colours these sonic rebels have produced music as eclectic as it is explosive. They have poured emotion into a heart of steel, crafting a music machine driven by love, hate, rage and joy, sadness, regret and hope. This band can deliver a hammer blow with an iron fist, bewitch your body into a pulsing dance or simply obliterate you in a wall of cyber noise. All of this and more can be found on their latest release, the beguiling, untameable, impossible to cage Alchemical Metal.
Alchemical Metal takes every element of the Maxdmyz live show that has enthralled crowds from London to New York and blends them into a quicksilver potion of magical intensity. The voice of front man Twister leads you into a labyrinth of sound, a maze of spine-shattering blast beats, convulsing bass, shimmering synths and riffs like a war machine. You'll be enchanted and broken, raised up to dizzying heights of euphoria and crushed into the dirt of bitter, black despair. From a reason to live to down in the dirt, via hell…
How do you categorise a band like Maxdmyz? What genre tag do you tie to them? The truth is, that they simply will not be put in anyone else's box and the only name that fits is one of their own making – Alchemical Metal; the collision of science and sorcery, the transformation of the mundane to the magical, base metal into gold. It's time to try a new drug, take the path less travelled, leap into the dark and watch an array of colours explode around you. Live hard, live fast and feel every moment to the max. Alchemical Metal is here to take you on a new ride. Take a deep breath and hold on tight!"
~~~~~~~~~~
So now down to the nitty gritty and see if it cuts the mark… Well, it isn't what I expected. It doesn't make me feel the band don't follow orders, simply because of the vocals, which sound very tamed, but it is early days yet. Maxdmyz has been likened with bands such as Rammstein, White Zombie, Ministry and Sisters of Mercy, and for me, I do not see this likeness whatsoever! The music Maxdmyz does sound rather urgent in the attack at times but All to Hell is nothing to get wild about – sadly!
Reason to Live – again isn't what I was expecting, although sounding at the start a little more hardcore than the first track but it smooths out to reveal a very tame core that doesn't really penetrate the audial membrane with any great wow factor!
Ex Deo – sounds rather eerie, ambient and squeaky within incidental noises that flourish in abundance, and turn harsh and mesmerising so hopefully, this track will redeem them? However, sadly not – for me, it is the vocals that keep the band grounded and restrained. They need to go 'off the rails' if they don't want to follow the rules and be the bad guys! This is quite mainstream for me anyway!
Down in the Dirt – sees the tide ebbing and flowing to some quality bass licks and electric riffs but even though the vocals change their range to low key it just doesn't poke me into action despite the flurry of guitar riffs that spew out a melodic brew. It isn't anything new and not as exciting as it could be.
Sometimes you get disappointed and other times you get restless and can't sit still for the enveloping waves of music that hit you with extreme velocity and power. This EP, however, has the strength of a newborn baby and doesn't create anything in the way of waves, not even a ripple in a pond.
I expected so much more, with them being likened to some harsh sounding bands, maybe they are four different bands with the same name but Maxdmyz sound like none of them.
4/10
Track List:
All to Hell
Reason to Live
Ex Deo
Down in the Dirt
Line-up:
Twister – Vocals/FX
A'Zedd – Bass
Roger – Guitar/FX/Programming
Jamie – Drums/FX/Programming
Vortex – Keys/Programming