"Hideous Rot"
2013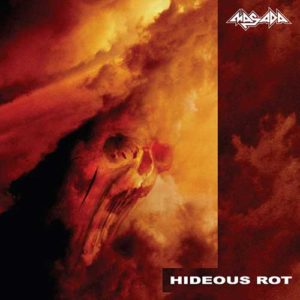 Steeped in the Old School type of Death Metal from the early Nineties we have Masada, who hailing from Philly have none other on this recording Craig Smilowski the former drummer of Immolationa and of course Rellik and Goreaphobia.
If you are expecting a ground breaking death metal record then you are out of luck but you do get a nice little slab of Death / Massacre style riffage but with a more growly approach to the vocals, which in where the problem lies for me. Don't get me wrong they are done well but they seem a little overkill for whats going on musically. The production itself isn't bad per se but could have been a little more honed and thicker.
Now with this being a Deathgasm records release I was pretty excited because they have always been a good quality label, but this falls a little short in the quality department.
First song is a total barnstormer and reminds you of early period Death, second track is an instrumental ad I'm not sure what the fuck is going on, you hear groans and orgasms and pan pipes…maybe its edgy and I don't get it…
After the weirdness its just bog standard death metal by numbers for the discerning Death Metal collector.
Tracklist:
1. Hideous Cerebral Pulp
2. Fluteotherapy
3. Exist to Rot
4. Suffer Mental Decay
5. Toxic Unreality
https://www.reverbnation.com/masadadasam
Members:
Chris Milewski – Guitars
Cazz "The Black Lorde of Crucifixion" Grant – Vocals/Drums
Rating: 6 out of 10
~DeathMetalAndy