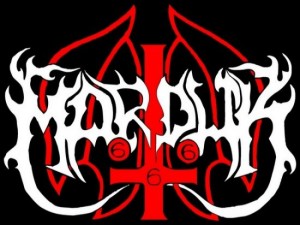 Marduk
"Frontschwein"
2105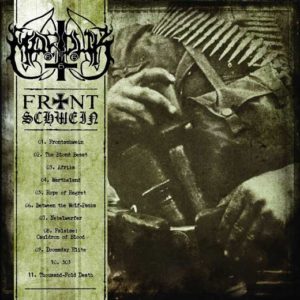 So I'm going to be totally upfront from the get go… I'm a huge Marduk fan and have been for many years so this is going to be one of those reviews where I just cream myself over the new Marduk disc….so without further or do here we go!
Now everyone has their fave period of this band, I personally loved the Legion era of Marduk, I loved his vocals so when there was a change in personnel I was a little bit skeptical about who would fill those shoes, and boy does Mortuus beyond fill them.
The last few Marduk albums has seen them very much come into their own, its not blasting for blasting sake anymore like the good old days, there is a clear vision here and its very much organized chaos.
The Swedes know how to let the foot off of the gas and let the riffs breathe, for example look at the progression of Belgium's very own Enthroned, look at how they have become more focused in their songwriting and how they have honed their sound to their advantage.
I love the production on this, the usual signature guitar sound is there, the buzzsaw bass guitar is ever present and the snarling vocals top it all off.
Killer songs such as " Afrika ", " Falaise – Cauldron Of Blood "" are pure Marduk in excelsis This sits well among all previous Marduk releases and you'll be playing this for a long time to come, go buy \m/ 
Tracklist:
1. Frontschwein
2. The Blond Beast
3. Afrika
4. Wartheland
5. Rope of Regret
6. Between the Wolf-Packs
7. Nebelwerfer
8. Falaise-Cauldron of Blood
9. Doomsday Elite
10. 503
11. Thousand-Fold Death
12. Warschau III Necropolis
https://www.facebook.com/Mardukofficial/
Members:
Morgan – Guitars
Mortuus _ Vocals
Devo – Bass
Widigs – Drums
Rating: 10 out of 10
~DeathMetalAndy
Marduk
"Serpent Sermon"
2012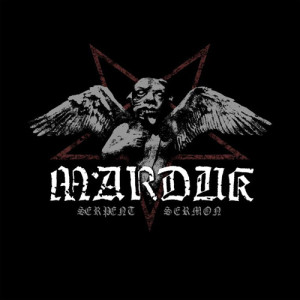 Formed in 1990, Sweden's own Marduk has been a steadfast and important band in the world of black metal. Staying consistent with their KVLT black metal and striving toward achieving a sound synonymous with the finest bands the genre. Guitarist Morgan "Evil" Steinmeyer Håkansson claimed Marduk to be "most blasphemous band in the world". Whether that remains true or not there is no denying that they are one of the finest bands the to rise out of the black metal scene; and the bands twelfth full-length album, 2012's "Serpent Sermon", further proves that fact true. This is an intensely satisfying record that does everything right while keeping its sound grounded in pure classic black metal. Marduk has an uncanny ability to craft songs with just the right amounts of trebly, shredding guitars, blast beats, raspy singing, and thick black metal atmosphere while never sacrificing musical integrity. This is true black metal with a bit more of a full body sound. This album has been perfectly recorded and mixed. Century Media Records perhaps having a hand in giving this record extremely high production values. There is fury and feeling in each perfectly constructed song, along with some emotionally deep and heavy slower tempo songs like "Temple of Decay" this record is not afraid to change its direction a tad when it needs to, but always keeps the attitude. This is simply a tremendous album. Clocking in at nearly an hour long this record will carve dark imagery into your imagination and leave you at its mercy. This album pushes pure black metal to the limits and makes it look easy. This is simply one of the finest black metal records of the last decade, hands down.
Tracklist:
1. Serpent Sermon
2. Messianic Pestilence
3. Souls for Belial
4. Into Second Death
5. Temple of Decay
6. Damnation's Gold
7. Hail Mary (Piss-Soaked Gemuflexion)
8. M.A.M.M.O.N.
9. Gospel of the Worm
10. World of Blades
https://www.facebook.com/Mardukofficial
Members:
Morgan – Guitars
Devo – Guitars
Mortuus – Vocals
Fredrik Widigs – Drums
Rating: 9 out of 10
~Kris
Marduk
"Panzer Division Marduk"
1999, Osmose Productions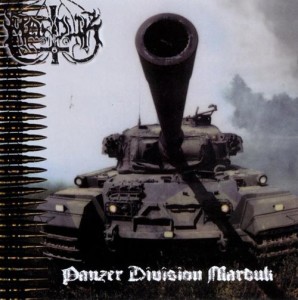 The most devastating Marduk release to date. An obviously deviant release from Marduk's "norm", "Panzer Division Marduk" delves more into a ballistic firing of blasphemous musical terror than on their previous releases. Their subject matter does not abandon its satanic/anti-christian roots(in fact, "Panzer Division…" is pretty much a slap in the face of subtle imagery with songs like "Christraping Black Metal" and "Fistfucking God's Planet"), but Marduk has no doubt chosen to undertake a more war-driven expression similar to talents such as the mighty Bolt Thrower and Niden Division(Niden Div. 187). The band has taken steps to speed up their music for this CD and it shows. Their drummer's endurance is incredible. I have never seen this band live, but if he could dish out a 45 minute set up-to-speed, I would be impressed. The songs flow together extremely well, and they are chock full of sinister guitar riffs that Marduk is so well known for. If you are in the mood for a heated battle, beginning to end, this CD is for you; Marduk doesn't fuck around.
Tracklist:
1. Panzer Division Marduk
2. Baptism by Fire
3. Christrapping Black Metal
4. Scorched Earth
5. Beast of Prey
6. Blooddawn
7. 502
8. Fistfucking God's Planet
https://www.facebook.com/Mardukofficial
Members:
Morgan – Guitars
B. War – Bass
Fredrik Andersson – Drums
Legion – Vocals
Rating: 8 out of 10
~Feceus