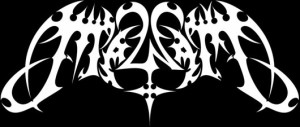 Malnatt
"Principia Discordia"
2012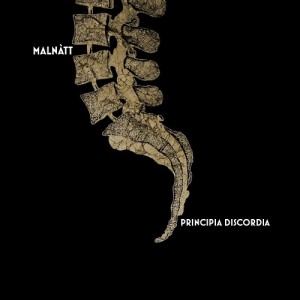 Italy – A country that produces many things we use on a daily basis. Most people would guess that the country grinds out some of the most tasteful wines, grapes to make those wines and even a large variety of some very slick, beautiful cars. All of these things are very true about the glorious country that I would love to visit but they also are the birthplace of Malnàtt, a melodic black metal outfit that might just shock you at first listen. With their enormous over-sized skull heads and the fact that the Italian language, at least to me, might just be once of the scariest things in existence today, these guys really do pack a punch that you will remember.
"Principia Discordia", the fifth full length from these Italian bred misfits is no exception. While the majority of the record is filled with black metal elements such as very deep filled fuzz from the guitars that remind you of a haunted forest overwhelmed by fog and blasting drums that will never bore your ears, it still has a very fun element to it. Malnàtt really does remind me of certain other "fun" metal bands such as Gwar and Ghost. Honestly, I'm not a huge fan of Ghost, rather boring to me but it seems like the fellas in Malnàtt have really figured it out that you can play very intense black metal but still have fun with it.
This brings me back to the music Malnàtt is producing. The chords that are played on certain tracks are beyond memorable. So much to the fact that when you re-listen to the record a couple of days later, you remember exactly what is coming next. Normally, at least for me, I don't like to see what is coming next but with "Principia Discordia", I couldn't see it any other way. Maybe it's the fact that Italy seems to have it down to a precise second on what they should play and when.
On top of all of that, the record does have one HUGE creepy part that I have to skip nearly every time I listen to it. "Intramezzo Erisiano", the fifth track on the record, is filled with sounds of a baby sort of crying out for help. Midway through the instrumental track, you begin to hear what sounds like a revolver searching for the bullets inside of it's chamber. Little did I know that it was just a carousel for the baby being spun around so the little, sweet thing could go to sleep. Either way, it's freaky and I'll admit that I skip it every time I blast this record.
Calling this record a perfect attempt at glamorizing melodic black metal is not what I am reaching out to say but if you enjoy a mixture of very groovy, memorable riffs with the same creepy vibes you might get with a raw black metal release, "Principia Discordia" might just be the record you are looking for.
Pros: Very enjoyable, perfect length where I didn't get bored, very fun and memorable but still heavy as shit.
Cons: Creepy babies crying.
Tracklist:
1. Manifesto nichilista
2. L'amor sen va
3. Il canto dell'odio
4. Iper pagano
5. Intramezzo Erisiano
6. Nel di dei morti
7. Don Matteo
8. Ave Discordia
9. Ho sceso dandoti il braccio
10. Ulver no stalgia
11. Il sentiero dei nidi di Ragnarok
https://www.facebook.com/malnattbologna
Members:
Porz – Vocals
Bigat – Guitars
Aldamera – Bass
Lerd – Drums
Rating: 8 out of 10
~Nicholas Williams