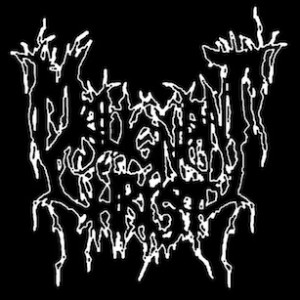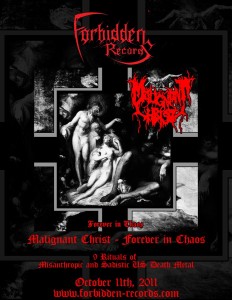 Summon:  How did the band get started?
Brandon:  Malignant Christ was started in March of 2007 by former guitarist Lena Johnson and myself handling both guitar and vocals as a heavily satanic band influenced a lot by "Altars of Madness" by Morbid Angel and specifically early Deicide. We've changed as we've matured since those early days to where now I think we're a lot more fleshed out and cerebral and just in general well thought out and a better band all around as would be natural with the passing of time and maturation of a musical project. Over the years we've had a lot of members come and go including Lee LeTourneau who played bass for us for about 2 years before he amicably parted ways with Joey taking over his bass duties. Joey Richesin, who currently plays bass, was originally brought in as a vocalist before I stepped back up to do our vocals as well as play guitar.
Summon:  What kind of music do you play?
Brandon:  We play pure, sadistic, and misanthropic death metal.
Summon:  How has the fan response been?
Brandon:  It has been great thus far; we've had a lot of positive feedback from fans all over the world for our new album, "Forever in Chaos". We're getting attention from places like Chile, Russia, France, Germany, and other places all over the world as well as right here in the states and all of it has been very positive. We're very proud of how the album is doing and how Malignant Christ is growing and getting better known and recognized in the underground.
Summon:  Where did the band name come from?
Brandon:  If I can remember correctly I was listening to Napalm Death one day and they have a song called "Malignant Trait" and I just dropped the "trait" and added "Christ" because I felt it sounded better for a band name.
Summon:  Introduce the band members:
Brandon:  Right now Malignant Christ is made up of myself (Brandon Von) on vocals and guitar and Joey Richesin on vocals and bass. We use drum machines for our percussion. We're always interested in potentially getting a second guitar player but we're not in any kind of rush to do so, although, if the right person came along we would definitely interested.
Summon:  Who writes the music? Lyrics?
Brandon:  I write most of the music but both Joey and I come up with riffs, we also both write the lyrics even though most of the lyrics on "Forever in Chaos" are mine with the exception of "Shrine of the Dismembered" which Joey wrote. Although I program our drums we both come up with what the drums and what not should be to go along with the rest of the music.
Summon:  And where do the lyric ideas come from?
Brandon:  We're influenced a lot by movies and books that both of us are into as well as real life events for some of the songs. Most of our lyrics are horror fantasy stuff with a lot of bizarre sexuality, occult themes, and just general darkness thrown in. I guess it just all comes from our imaginations, its like writing short horror stories.
Summon:  How many albums/CD's have you released?
Brandon:  Well our latest release is entitled "Forever in Chaos". It's available now on Forbidden Records worldwide and it's our debut full length. We released an EP last year on Inverted Cross Records called "Shrine of the Dismembered" that has 3 songs on it, 2 of which were rerecorded for the album. We also released a 4-song demo back in 2009 a split single with Demoniacal Possession. All 4 songs from the demo appear on the album.
Summon:  Do you have any side projects?
Brandon:  Joey is currently also the live vocalist for another Knoxville area death metal band called Cannibal Rites that also includes members from Your Kid's on Fire and Elder of the Apocalypse. I play in another death metal band called Vomited Soul that was originally my main project but over the years has been replaced by Malignant Christ. Malignant Christ is the main priority band for both of us.
Summon:  Who are some of your musical influences?
Brandon:  Morbid Angel, Immolation, Incantation, Sinister, Oppressor (from Chicago), Monstrosity, Disincarnate, and Broken Hope as well as stuff like Mortal Decay's demos and first album, the first Hate Eternal album, Internecine, and the first Suffocation album. We're also into a lot of obscure bands like Decrepit, Afterlife, Purtenance, Molested, and Morpheus Descends because both of us are music collectors. Also a few bands from around our area like Besieged have been an influence on us.
Summon:  Which current bands?
Brandon:  I wouldn't really say anyone current is influencing us but we are fans of a lot of bands like Disma, Godless Rising, Drawn and Quartered, Mortuous, Elders of the Apocalypse, Black Ritual, Cernunnos!, and far too many more to name.
Summon:  What is the band like when you play live?
Brandon:  We try to put our souls into our performances. We're very intense.
Summon:  Do you have any type of stage props or special clothing?
Brandon:  We used to go out in bullets and spikes but I don't know if we will keep doing that because it's just more comfortable for us to go out in jeans. I do, however, like to have a lot of candles on my amplifier and use a lot of smoke. We also sometimes have like gore props and body parts and skulls and stuff on stage as well.
Summon:  What was the best band you played with?
Brandon:  Probably Mangled Atrocity from Kentucky, a brutal death metal band. Keith is a total gentleman and he puts on a pretty brutal show.
Summon:  Have you guys ever played in another country?
Brandon:  No not yet, but we're hoping to. We've been getting a lot of feedback from Europe and Latin America so as soon as we can afford it we're going to try to get some stuff in those places.
Summon:  How big of crowd shows up at shows usually?
Brandon:  It depends on where we play. Kentucky, Virginia, Ohio, and North Carolina as well as Nashville, TN are great places to play but our hometown of Knoxville sucks. There just isn't a scene for real extreme music there, plus whenever we do play the people don't get into it which prevents us from getting into it.
Summon:  How is the crowd response when you play?
Brandon:  Again, that depends on where we play. We've had shows where we've had stage divers and just ultra sick mosh pits, like in Ohio and Virginia. That stuff is what we feed off of and it's great when it's like that because that fuels the band's performance to be more violent and more intense. And then we've had shows (specifically in our hometown) where people just stand there and stare at us and don't know what to make of it because we aren't all breakdowns and groove riffs and lame ass southern metal.
Summon:  What do you think of the US Black/Death Metal scene?
Brandon:  I think it's very healthy, it's a good time to be part of it because it's having somewhat of a groundswell with great bands all over the country just bashing out what they love.
Summon:  What do you think of the overseas scenes?
Brandon:  Europe is probably always going to be king but the South Pacific has a lot of killer bands as well and seems to really be on the rise.
Summon:  What are some of new favorite Black/Death Metal bands?
Brandon:  Cernunnos!, Ophuichus, Kephalus, The Ziggurat, Mangled Atrocity, Mortuous, Death Shroud, Living Decay, Elders of the Apocalypse, Your Kid's on Fire, Created to Kill, Coathanger Abortion, there's almost too many to name!
Summon:  When do you guys plan on writing any new material?
Brandon:  We've already began writing our second album.
Summon:  What does the future hold for the band??
Brandon:  Hopefully just top continue on the rise and eventually be more well known. Our immediate plans are to probably release a new EP in the next year and you will definitely be seeing a 2nd album from Malignant Christ in the next 2-2 ½ years!
Contact them at:
https://www.facebook.com/malignantchrist
http://www.myspace.com/malignantchrist