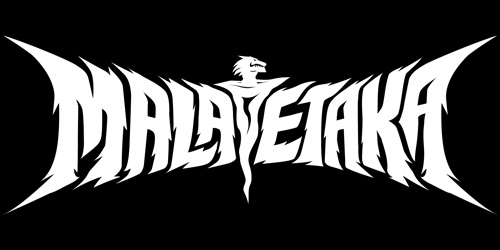 The word Mala-pe-ta-ka, literally means disaster. Its origin, from Sanskrit pronounced as mahā-pātaka, defines it as "the resultant actions of greatly sinful activities"
The band started in late 2009 with both guitarists Ashok and Abu who wanted to form a one of a kind metal band, which would bring elements of death & destruction to the metal scene today.
By end of 2009 the line up was complete and they were joined by Alias on bass, boon on vocals and Azmer on drums. With multi-cultured members, Sarawakian/Chinese, Malay and Indian joining forces, MALAPETAKA was born.
However while their musical style as a band was developing and progressing through time, in 2010 Abu had to leave the band due to career commitments and other interests. The band had then remained as a 4-piece ever-since as the hunt for a suitable replacement continued.
The members continued to practice and covered some old-skool songs from bands like SLAYER, KREATOR, IRON MAIDEN, METALLICA, TERRORIZER and NAPALM DEATH. Guitarist, Ashok was handed the duty to compose songs and taking death & thrash metal as inspiration from the mentioned bands, further inspired him to infuse some of our very own Malaysian/eastern influences which is well known for its diverse arts and culture.
After 2 years of jamming and practicing cover songs, they finally decided to come up with their own materials. And by January 2013 a 3 song demo was recorded. During that time as well, MALAPETAKA was invited to perform for their very first time in front of a crowd at a local gig in Ampang, KL. They played 4 new songs (3 of them which is from the DEMO) and 2 cover song from KREATOR & CANNIBAL CORPSE. The response from the crowd was tremendous, and it was a really exhilarating experience for them.
MALAPETAKA is currently working hard on more epically destructive and aggressive songs to complete a demo by mid 2013. The band is also looking forward to play more venues and seek opportunities to advance further in this path.