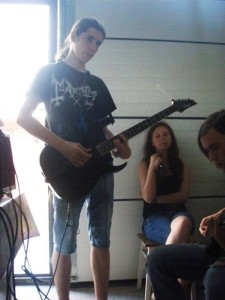 Summon: How did the band get started?
Petrică: Well, in Nov 2013 me (Marin 'Virus' Petrică) and Bouroș 'Redox' Radu, while having a beer decided it's a good idea to start a band. A week later we started the rehearsals, playing Enter Sandman – Metallica.
Summon: What kind of music do you play?
Petrică: Thrash/Death Metal.
Summon: How has the fan response been?
Petrică: So far so good, people are telling us they like what we do and how it sounds like. But, without a drummer, we cannot make ourselves known more than in Tulcea.
Summon: Where did the band name come from?
Petrică: We were having a beer (with Redox and our first rhythm guitarist, Gryffin) and started thinking of a band name (we had a song composed and no name). Gryffin proposed Garage (because we play in one). We (me and Redox) didn't like it so we started changing letters in it. We got to Magral, don't ask me how, but it sounds good and it represents us.
Summon: Introduce the band members and what they do in the band.
Petrică: Marin 'Virus' Petrică at solo guitar/backing vocals, Radu 'Redox' Bouroș at bass/vocals and Gabriel 'Moro' Moroianu at rhythm guitar.
Summon: Who writes the music? Lyrics?
Petrică: Redox writes the lyrics and I usually come with the instrumental part. When put 'on the table' there is a brainstorm and we edit them to our liking. The final product gets to be heard by everybody.
Summon: And where do the lyric ideas come from?
Redox: 'They come from the idea of mystery and darkness. I try to imagine myself being there and write what I see.'
Summon: What is your view in Satanism and Occultism?
Petrică: We are convinced atheists and everything from the Occult domain is just another scary story for kids.
Summon: How many albums/CD's have you released?
Petrică: Hehe… None. We have released 3 songs though, and we plan releasing an album with the name 'The Story …Begins'.
Summon: Tell me about some the songs on the latest CD?
Petrică: My personal favorite is The Story. Lyrically, it's about the planet's origins in Norseman mythology. In the final part it's about a battle between Vikings.
Summon: Do you have any side projects?
Petrică: No. None of us are in any side projects. All of us are fully dedicated to Magral.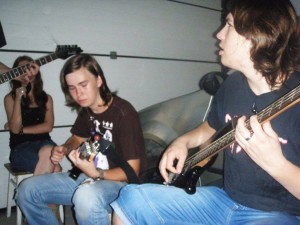 Summon: Who are some of your musical influences?
Petrică: Oh, okay. Here we go: Death, Onslaught, Annihilator, Amon Amarth, Slayer, Testament, Pantera, Lamb of God, Kreator, Dethklok, Iron Maiden and many more.
Summon: What is the band like when you play live?
Petrică: We didn't play live yet. We don't have a drummer and we can't really play in a concert.
Summon: What do you think of the US Black Metal/Death Metal scene?
Petrică: I don't really know. I have mixed feelings about this. The only one that listens to black metal from our band is Moro and Redox and I are listening to Death and Thrash. Death Metal from around the world has become more technical in the past years, and we love it.
Summon: What do you think of the Overseas scenes?
Petrică: Overseas as in Europe? They are great. Like in Sweden (Sabaton, Amon Amarth), Germany (Kreator) etc.
Summon: What are some of new favorite black metal/death metal bands?
Petrică: Again, only Death Metal: Beyond Creation, Quo Vadis, Before the Dawn, Dethklok.
Summon: When do you guys plan on writing any new material?
Petrică: We are currently working on a new song, and after that we have some ideas that deserve some attention. All in all, we're busy.
Summon: What does the future hold for the band??
Petrică: As soon as we'll find a decent drummer, we will start concerting. We also signed a contract where our songs will be posted on ~40 platforms, so business be good hahaha…
Contact them at:
https://www.facebook.com/Magralband
https://www.youtube.com/channel/UCFoVSqSWvTFLhcs2po2Q89A