Lunatic Hooker
Embracing the Filth
Black Bow Records
Imperative PR
Release Date: 17th April 2017
By: Pagan Hel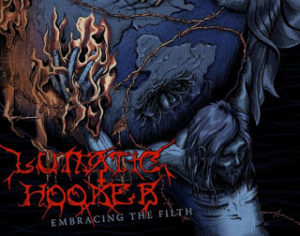 Lunatic Hooker – South West London, UK
Links:
https://www.facebook.com/LunaticHooker/
Genre: Grind Core/Death Metal/Sludge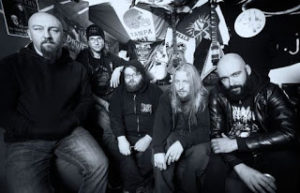 Biography:
"UK purveyors of HM-2 powered Grindcore meets southern-fried sludge!"
~~~~~~~~~~
Have you ever been run over by a runaway train? Have you ever had a close shave with a pneumatic drill? Have you ever been underneath a lump of concrete as it fell 3000 feet? No, well buckle up because this album is going to feel like you have experienced all three in rapid succession, and that's just the first track "My God is bigger than yours" Moving on to "Beard Feared" something my mother feared but not me, the hairier the better in my opinion. The track is not to be feared either although it is a very messy romp with a naturally big appetite and equal attitude. "The Pen is Mightier than the Sword" I suppose it is if you poke someone in the eye with it! However, this track will take the enamel off your teeth and skin you alive. The flaring compelling sound washes over the audial and sucks the life from you with ardent steps of thunderous metal. "Unearthed Dead Children" Holds a fuzzy groove that penetrates on all levels and scathes the ears with a bruising. It gnarliness is prevalent and menacingly flirts with its listeners. "Embracing the Filth" is an outstanding track that happens to be the title of the band's album. The plentiful gurgles splurge out and swamp the audial with maniacal ferocity.  "Blood Eagle" the sampled male melancholic voice sounds like he is telling a bedtime story when in fact it isn't pleasant at all as he goes into gory details. The music kicks in and fires up with bubbling imagination that rips through the flesh like a well-sharpened knife! "Fucks all" the rambunctious slurry of rhythmic beats call out in monotone splendour and devour with persistent gnawing teeth. One definitely, emotionally charged track. "Cult Chaos" grows with increasing menace and malice and challenges the listener to a duel of sorts, with the ears battling to listen to make sense of their surroundings and the music forcing its forthright compelling cruelty on them. "Transformation Walrus" with contrast equal to contagion this track produces a scathing vocal slurry that swamps like black treacle, it's messy and grumbles with ever increasing magnitude. "See the Light" I think it is a given that this album won't win any awards for being pink, fluffy and sweet but it may well win awards for its fearsome and cataclysmic spin on society. The ravenous grooves are powerful and delicious. The speed is ever so exciting at which it is played and encompasses the soul. "Spain in the Neck" a great title indeed, simply bounces from the speaker units and does battle as it smoulders with malicious intent to attempt to eat the cerebral cortex with its fantastic array of rhythms and grizzly vocal extravaganza. "Sarlac" resorts back to a sampled voice that suggests that the person is not going to last very long. It is a slower tempo track holding a lot of ambience and dark soul that feeds with its own devilish accompaniment.
Once sampling this grizzly adventurous album of grindcore, death metal and sludge I guarantee you will never be the same again! It is a powerful album from start to finish with dark corners that the listener will find themselves wanting to explore no matter what the consequence and as a result will find themselves at the heart of chaotic temptation!
 9/10
My God Is Bigger than Yours
Beard Feared
The Pen Is Mightier than the Sword
Unearthed Dead Children
Embracing the Filth
Blood Eagle
Fucks All
Cult Chaos
Transformation Walrus
See the Light
Spain in the Neck
Sarlac
Tracklist:
My God Is Bigger than Yours
Beard Feared
The Pen Is Mightier than the Sword
Unearthed Dead Children
Embracing the Filth
Blood Eagle
Fucks All
Cult Chaos
Transformation Walrus
See the Light
Spain in the Neck
Line-up:
George – Vocals
Duncan – Vocals & Bass
Ross – Guitars
Kaz – Guitars
Rafa – Drums