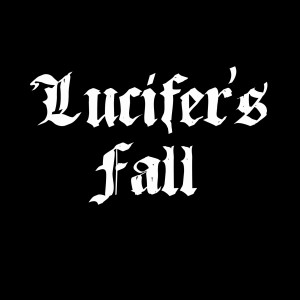 Summon: How did the band get started?
Deceiver: The band started as a solo project in 2013. After a few months I brought Unknown Unnamed in on drums and Mother Superior in on Guitar/Vocals and I went to Bass and Vocals.
Summon: What kind of music do you play?
Deceiver: A mix of traditional DOOM and HEAVY METAL.
Summon: How has the fan response been?
Deceiver: The fan response so far has been fantastic. We have built up quite a small but dedicated following. Reviews have generally been pretty good and our fans like what we do and sometimes even try to help us out a bit by going beyond just buying a CD or tape.
Summon: Where did the band name come from?
Deceiver: The band name comes from the illustration by Gustave Dore of Lucifer Falling. I really like the illustration and it fitted with the feel of the band. Suitably epic and dark. I used the original artwork for the self-titled self-released album. When Hammerheart re-released it they came up with their own version of the concept.
Summon: Introduce the band members and what they do in the band.
Deceiver: Deceiver (vocals), The Invocator (Lead Guitar), Cursed Priestess (Bass), Unknown Unnamed (Drums) and Mother Superior (Rhythm Guitar/Backing Vocals).
Summon: Who writes the music? Lyrics?
Deceiver: Most of the music and lyrics are written by myself. The Mother Superior has contributed one complete song (music and lyrics). The Invocator and Cursed Priestess have so far contributed bits and pieces of music. I feel that the longer the band continues the more the other members will contribute.
Summon: And where do the lyric ideas come from?
Deceiver: The lyric ideas come from a number of places. I like writing about darker subjects obviously. Sometimes I write tongue in cheek other times not. A couple of songs have Lovecraftian themes. I have also written songs based on each member of the band as a bit of fun.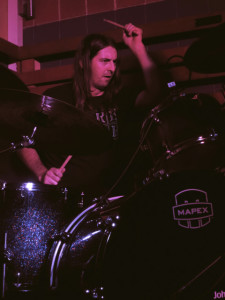 Summon: What is your view in Satanism and Occultism?
Deceiver: I enjoy the subjects of Satanism and Occultism more for the darkness and horror factor than anything else. I am void of all religion but I enjoy the subject of the eternal battle between good and evil. I also often use Satanism as a metaphor for other topics. Due to the large amount of hypocrisy and hatred present I find organized religion a useful target in my lyrics also.
Mother Superior: Same as any other belief or religion, interesting, but ultimately a load of bollocks.. Cool imagery though.
Cursed Priestess: Hail Satan!
The Invocator: It makes for a good read, and the symbolism/imagery associated with it is particularly interesting too but for me that's where it begins and ends and isn't something I want to pursue, as with all religion.
Summon: How many albums/CD's have you released?
Deceiver: Lucifer's Fall has only released one self-titled CD so far. Hammerheart re-released it on CD and vinyl in 2015. My other band Rote Mare has released 5 CD's. Our latest EP Fuck You We're Lucifer's Fall is currently download only.
Summon: Tell me about some the songs on the latest CD?
Deceiver: I'll talk about our EP download release which just came out. There are three songs. The first one Lost is a 14 minute doom epic in the style of Reverend Bizarre and Saint Vitus more uptempo moments. It's a Lovecraftian lyric about being trapped in a dream underworld while the earthly body sleeps. The intro music was co-written by Cursed Priestess. The second song is called Salvation and is about the evils and pointlessness of organized religion and the influence of the priesthood. This is a doomy slow Saint Vitus type track with a more uptempo Judas Priest type ending. The third song is a fun track titled Fuck You We're Lucifer's Fall. It's a punkish Motorhead type song with a lyric telling those people who are not into us…….Fuck You!
Summon: Do you have any side projects?
Deceiver: I have another band which has been around since 2005 called Rote Mare. It's a doom metal band with a large Celtic Frost influence containing both harsh and clean vocals. It's currently on hiatus but will most likely reappear at some point in the future. I have another solo project called Zlórtcht which has barely got going yet. It's more of a do whatever the fuck I feel like type thing.
Mother Superior: Puritan, rock n roll psych worshiping at the altar of Phil Lynott.
Cursed Priestess: A hard rock outfit which The Mother Superior and The Invocator are also part of called Puritan.
The Invocator: I have a hard rock band called Puritan with both the Mother Superior and Cursed Priestess that's now released two EP's that vastly different from Lucifer's Fall, more along the lines of bands like UFO, Thin Lizzy etc with a bit of a psychedelic twist.
Summon: Who are some of your musical influences?
Deceiver: My biggest influences for Lucifer's Fall are Doom and Heavy Metal from the 80's (Cirith Ungol, Angel Witch, Trouble, Candlemass, Pentagram, Saint Vitus, Iron Maiden, Mercyful Fate) along with 70's rock and metal (Judas Priest, Motorhead, Thin Lizzy, Deep Purple, Black Sabbath).
Mother Superior: Rev biz, Warning, Lamp of Thoth..
Cursed Priestess: From a young age Thin Lizzy and Lita Ford have probably been my biggest influences.
The Invocator: They're countless but for riff writing I don't go past Tony Iommi, Phil Lynott, Ritchie Blackmore etc and for lead writing Michael Schenker, James Murphy, Gary Moore, etc.
Summon: Which current bands?
Deceiver: The main current or recent influences are traditional doom bands like Reverend Bizarre, The Lamp Of Thoth/Arkham Witch, Dawn Of Winter, Lord Vicar and many others.
Mother Superior: Ummmmm, Arkham Witch, Lord Vicar..
Cursed Priestess: Magic Circle, Pallbearer, Orchid…
The Invocator: I'm not really influenced by any of the newer bands that have come about recently, that's not to say they're not good or that I don't enjoy them but I've always turned to the old Gods for inspiration/direction.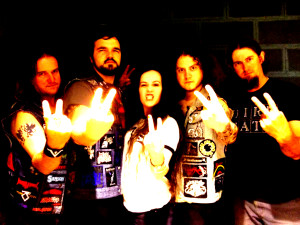 Summon: What is the band like when you play live? Have you guys ever played in another country? How big of crowd shows up at shows usually? How is the crowd response when you play?
Deceiver: We haven't played live yet but have been rehearsing for a while. We are pretty much ready.
Summon: What do you think of the US Black Metal/Death Metal scene?
Deceiver: I don't know a lot about it really. I like a few bands here and there but I'm more into Doom and Traditional Metal.
The Invocator: There's still older bands releasing great material, Absu, Autopsy and Incantation for example, and more recent bands like Blood Incantation and Negative Plane that I can only assume the scene is alive and well over there.
Summon: What do you think of the Overseas scenes?
Deceiver: At the moment I think there are lots and lots of shit bands and lots and lots of fantastic bands you just have to know where to look. In a way the metal scene is stronger than ever for choice but at the same time it's very difficult for bands to make any money out of playing and recording. You have to do it for the love of it. Thankfully many musicians do.
Mother Superior: Would love to be a part of the European scene. So much good doom crushing the continent..
The Invocator: I couldn't comment as I'm not a part of it. Unfortunately in the Australian metal scene the worthy bands rarely get the exposure they deserve as it's saturated with mediocrity.
Summon: What are some of new favorite black metal/death metal bands?
Deceiver: In that area the few new or not so new bands I'm into are more blackened Thrash. Some Australian bands I like are Hellbringer, Innsmouth, Cauldron Black Ram, Diabolical Demon Director and Mongrel's Cross.
Cursed Priestess: Not exactly new bands, but Urfaust, Midnight and Inquisition had some recent releases that were cool.
The Invocator: Blood Incantation's latest EP was really good, StarGazer released an absolutely killer LP last year too. MGLA, Impetuous Ritual, Dead Congregation, Midnight and Negative Plane are all recent bands that have released some killer material in the last few years.
Summon: When do you guys plan on writing any new material?
Deceiver: We have the next album II: Cursed & Damned fully written and ready to record. We plan on recording in May 2016 with a release date early in 2017. We also will be putting out an EP of leftovers at some point titled Cursed Remains.
Summon: What does the future hold for the band??
Deceiver: The future looks good. We are about to shuffle the line up a bit as our rhythm guitarist (Mother Superior) is moving interstate. We are currently rehearsing for the new album. After that is recorded mid-year we will start looking for gigs.
Contact them at:
https://www.facebook.com/LucifersFallDoom
http://lucifersfall.bandcamp.com/
https://www.youtube.com/channel/UCk1UoDpKMmth2C-L7RHaL9Q