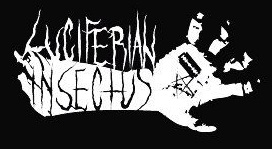 Luciferian Insectus Biography-
The name Luciferian Insectus was later formed in Los Angeles.. The root name of my project was named "Enemy ov Nazarene". I started this project in 2011 in West Palm Beach, Florida. I was mainly doing it as a weekend jam science. I put it out a little in FL and realized it took a hook to the air, so to speak.
Later on my efforts motivated me to take it to the next level. I came upon DC Rehersal Studios in W.P.B., FL and hooked up with Don, the owner, and broadened my horizons on "one man metal projects". I recorded my first "demo" of my new one man metal project and put it out. I played a couple of shows in FL and took my act to LA. I played a couple of times at the Whiskey A Go Go on Sunset.
That is where the new name of "Luciferian Insectus" took its spotlight.
Left LA and went to Germany to start. those movements took me to Amsterdam where I hooked up with my brothers in that city. First I met my first contact Alex, who then referred me to Speed Slaughter Productions in Amsterdam.
Played a few shows in the Red Light District. And had two of my albums released through these great people. First release in that city was "The Sacrafice Continues" on tape, and then later that year released through Speed Slaughter on CD. From there did some Music videos and live footage with my good friends Micha and Hugo. And I have to say, that for my first videos ever, it came out great. Original and alive. I would gladly work with these two any time for I consider them my "Amsterdam Crew". I have just released my new album "The Beckoning Call" on CD through Speed Slaughter Productions and is currently available. I am currently working on my next CD and I have to say, it is coming along nicely. I look forward to putting out many great albums in the future to come for all the metal community to enjoy. Proost!
-Luciferian Insectus