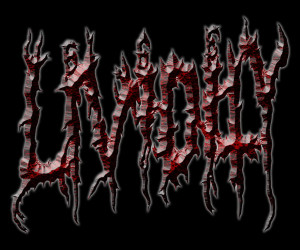 Summon: How did the band get started? How did you meet and how long have you been together?
Mike: The was established when I joined. Their bassist/vocalist quit and they asked me to join and play bass. Guitarist Matt Bishop has taken over the lead vocals. I've known Dave Kibler for some time and drummer Tommy David used to play with me in Dreaded Infection which also featured Slough member Rich Diamond.
Summon: How would you describe your music?
Mike: Sick, twisted, meat grinding Death Metal!!
Summon: What are your biggest musical influences?
Mike: Anything with emotion and brutality!! I love the 80's stuff like Testament, Metallica, Megadeth etc… Also bands like Black Sabbath and Free. Today I love Internal Bleeding, Dying Fetus, Fleshgrind, Gutted etc…
Summon: Who if, if any do you consider the bands idols?
Mike: BEER! And BEER!!
Summon: What made you want to be in the band? And if you weren't in the band what would you want to be doing now?
Mike: Lividity is 100% dedicated!! They all love the music!! I love to play grinding brutal music. So hey… who else would I play with. If I wasn't playing with them I guess i would join a country/western band!!
Summon: What are some of your favorite bands that are really popular today?
Mike: Immolation, Broken Hope, Cannibal Corpse, Internal Bleeding, Tool, Rage Against the Machine, Machine head and Live. Oh yeah and No Doubt. Boy she'd look on the end of my —————!!
Summon: How many demos/albums do you have? Tell me about them.
Mike: They have two demos, write Dave Kibler for them. Rejoice in Morbidity and another. Look for a new CD in July on, hell we don't know who will release it, but we have it down to 3 labels now!!
Summon: If you could play with any band who would it be and why?
Mike: ENVOGUE, guess that's how you spell it. Good lookin' chicks. I would love to play with all them!!
Summon: Who writes the majority of the music?
Mike: Dave Kibler writes most of the riffs and the band finishes the song. Matt and Tommy write the lyrics and I write the dirty letter to nursing homes.
Summon: Who has been the favorite band you've played with? Why?
Mike: Internal Bleeding and Monstrosity! Now that was when I played with Avatar. Also Avernus and Corpsevomit from Chicago!!
Summon: Where did you get the band name from?
Mike: Dave Kibler came up with it. He had help from an old friend of his.
Summon: Describe what the band is like live?
Mike: Rude, loud and grinding fuckin' brutality.
Summon: If you are gonna do any kind of video what would be in it?
Mike: Lots of naked women and guts/blood!! We also would have beer. Lots of beer!! We hope for an endorsement from NATURAL LIGHT soon!!
Summon: Are there any tour plans made, if so tell me about them?
Mike: We hope to do a lot of festivals this summer. We are booked to play Milwaukee Metalfest and the Champaign Deathfest in July!!
Summon: Where do you think the band will be in 20 years from now?
Mike: Dead or at least in need of a liver transplant. Thanks for the interview and remember "It'd not
about SATAN, it's about Sex!" words to live by!!
Contact them at:
Lividity
1026 W. Marietta
Decatur, IL 62522