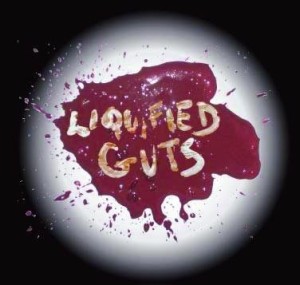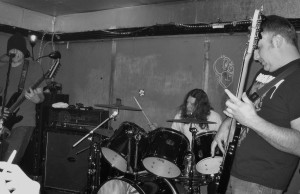 Summon: How did the band get started?
Jim: The band was formed in 2004 after another local band I was playing guitar for fell apart. I invited the drummer, Doug (Schrecengost) to try and begin something together in order to do music we both loved (death metal, grindcore). We started writing and invited Mark (Palmieri, bass) and soon after, Trish (Muszynski, guitar) joined us. Shortly after that I decided to try vocals, and we began playing shows! This line up lasted until 2007… we disbanded briefly until Justin (bass) started jamming with me that Fall, and he brought a drummer also named Jim who ultimately couldn't stick around. Austin (Bowen, drums) came along in May 2008. Finally, Jared (drums) joined after Austin left a year ago… all this time we grew into our own style, and continued to play many shows and write many songs!
Summon: What kind of music do you play?
Justin: Everything is pretty old school-sounding I'd say. The traditional death metal is there for sure but there's some doom, hardcore punk, black metal, thrash…. To save time I usually just say grindcore, with us being such a melting pot. And particularly since our lyrics are more light-hearted and irreverent, than death or gore.
Jared: I've heard Jim say Food Metal…. so I'll go with that!… I think we combine a lot of different styles of metal into what we do. Each of us are influenced by a lot of different bands, and that's always good when writing music… so to answer the question- death/grind/thrash/doom/sludge…
Summon: How has the fan response been?
Justin: Pretty great. It's humbling to find people who are into what you are doing. We manage to get a few more people turned on to us every show, it seems.
Summon: Where did the band name come from?
Jim: After watching the movie Outbreak with Morgan Freeman I remembered a scene where a patient was said to have his internal organs liquefied… that stuck with me as an email address and such, until we were wondering what to call ourselves, and we all decided that Liquified Guts would be perfect!
Summon: Introduce the band members and what they do in the band.
Jim: I am Jim, I play guitar and do all of the vocals since the band began. Justin plays bass since 2007 and remains the rhythm for us. Jared plays drums since 2012 and keeps us moving fast…
Summon: Who writes the music? Lyrics?
Justin: We all pitch in with music and songs, and Jim writes the majority of the lyrics. Jared also plays guitar, so he writes songs as well. Occasionally I'll want to say something lyrically that doesn't fit with my other bands. Something more rooted in frustration. Jim can convey anger easily, even though he is the least angry person I know. So I'll have him vent it for me.
Jim: Early on I wrote most of the music and lyrics. When Justin and Austin joined they began writing instantly which solidified things, and took a huge burden off my shoulders. In turn that allowed me to grow with the lyric writing and as the voice of the band. I still write most of the lyrical content. Sometimes we all collaborate to make a song, or sometimes Justin or I will just bring finished songs to the table. 
Summon: And where do the lyric ideas come from?
Jim: Lyrically we tend to coin phrases that make us laugh and I begin with that as a song title. Then I begin the task of forming that idea into something I can write about which is usually social unawareness, and other awkward situations people run into as they go about their lives. We typically never write about religion, politics, or any form of violence. We always try to go for funny or weird ideas, often making light of the cliches in the metal and other music scenes… after all, we are a band that loves to play, and are not afraid to express joy as we do so! Plus, lyrically I personally believe we set ourselves apart from most of the pack in the aspect that we are metal yet happy about it all. There are enough mean, evil, and murderous metal bands out there. Besides, I would never be able to write an angry song for I am a happy guy!
Summon: What is your view in Satanism and Occultism?
Justin: We don't really have any. We've always been so left of center and goofy, I think if we tried going in that direction for a song it would come across as really forced and contrived. Certainly to anyone who knows us, it would seem pretty transparent right away.
Jim: I always found it hard to identify with such topics, and tend to ignore the lyrical content for most of the bands I enjoy, personally. 
Summon: How many albums/CD's have you released? 
Justin: 2 so far. A 3-song EP in 2010 titled "No Sleep", and a full length in 2012, called "Sour Cream And Phibes"'. The original lineup self-recorded a few demos that they'd pass out at shows as well. We have a new 6 song EP getting mastered now.
Summon: Tell me about some the songs on the latest CD?
Justin (on Sour Cream and Phibes): The songs on Phibes are pretty varied within themselves. They were all written with previous drummer, Austin Bowen. Jim would come in with some riffs, and he and Austin would work on the structure. I'd give some input with that, and we'd try everyone's ideas and find what worked. I'd add another part where needed. A lot of the songs you might notice flow with similar style and tempo changes.
Jared (on the unreleased EP): I think the new EP has some cool songs on it… "The Cleansing of the Eww" we've been playing live. Musically it is a driving song, mid to fast paced riffs. Lyrically it is about washing your hands, which is a funny yet serious subject… Jim has a lot of great ideas!!!  "Simple Machine" is another one… Justin came up with the riffs for that one, and Jim wrote the lyrics… Some fast paced riffs with some jerky kind of primal riffs in the middle, back to some old school cymbal choke riffs, into some muted guitar/blast beat ending… fun stuff.  Another song, "Deadbeat Soul (Just Roasting Away)" was something I wrote years ago. The guys asked if I had a song for the album, so I played them some stuff I recorded myself, and we learned that one… it has some odd timing stuff throughout the song with no chorus, and I got to do dual vox with Jim!
Summon: Do you have any side projects?
Jared: I've played drums in Morgue Mart for several years now…. it's more hardcore political driven punk… I also play guitar and sing in Parking Lot Whiskey.. more death/thrash/punk/zombie metal…..
Justin: I've always been in a few different bands at once. I play guitar in a doom/heavy rock band called Molasses Barge, and have another in the works called Monolith Wielder. Guitar in a rock/post-punk style band called Rogue Signals, and also bass in a reunited crossover thrash/punk band from the late 80s called Travesty. 
Summon: Who are some of your musical influences?
Jim: I always loved bands like Carcass, Napalm Death, Cattle Decapitation, Insect Warfare, Rotten Sound, I basically stick to anything grindcore!
Justin: I was real into hardcore punk when I started on bass, and I still take a lot of influence from that. Joe Losurdo from Life Sentence, Ross Lomas from GBH, Phil from the Subhumans… I still incorporate a lot of the attack and riffs I picked up on from those guys. Wayne Tyas, who was in the Exploited in the mid-80s, is another one. 
Jared: As far as drum influences in my life there are many… a gentleman named Don "Peepson" Jerhico was the first. He played in a band with my father when I was 9 and they practiced at our house.. I was like 'man I wanna play drums after seeing them practice'. He helped me get my start!! Other influences were Tommy Lee, Dave Lombardo, Lars Ulrich, Charlie Benante, Neil Peart, Dennis "the menace" Ritchie, there are so many to name… I always say if it makes the hairs on your arm stand up it's a good influence.
Summon: What is the band like when you play live?
Justin: Relaxed, but I think we're pretty intense while we are playing each song. I hope we're fun. I think with the name "Liquified Guts" people are expecting a very serious, gore-themed, meat-headed thing. With Jim on stage joking with crowd, often telling them what the next song is about, it eases the mood. If you can get people laughing and enjoying themselves before you even play them a song, that's a big help. 
Jared: Jim likes to talk to the crowd… he does some "dancing", and slugs back some chocolate milk. Justin is whipping his head to every beat, and telling Jim to turn up between songs… I'm trying to dance also but I can't cause I'm sitting down..
Summon: Have you guys ever played in another country?
Justin: We have not.
Summon: How big of a crowd shows up at shows usually?
Justin: With metal shows, on a great night here, you'll get 75-100ppl or more. Pittsburgh is very much a sports-first town. A lot of the crowd are people in other bands. All we have is each other here. So you'll get diehard metalheads mixed with crust punks and hipsters and whoever at shows, while other people are watching hockey, football, or baseball. Really, anything over 50ppl and you're doing something right. It's a bit over-saturated with venues, and bands, here. So, often times it's not a question of if you're playing opposite your friends band's show, it's how many, and how close to your show theirs is. Crowds end up getting split. I usually bounce around to few shows on the same night, myself.
Summon: How is the crowd response when you play?
Jared: The response seems to always be good..  We like to talk to the crowd and make jokes and have fun… We are serious about our music, but I think the humor in the music/ lyrics attracts the crowd and makes for a fun show!!!
Summon: What do you think of the US Black Metal/Death Metal scene?
Jim: The scene has it's ups and downs like any other. I believe there will always be an outlet for this music with many sub-genres thriving and constantly changing, with influences drawn from every other genre or form of music… whether it reaches a broad audience or not this music we play and love will always survive and grow as time goes by. New generations will further the ideas and types of metal through infinity.
Summon: What do you think of the Overseas scenes? 
Justin: I don't know them well enough to say, really. I will say that my friends who tour in Europe can not say enough good things about the crowds and hospitality there. 
Summon: What are some of your new favorite black metal/death metal bands?
Justin: I'll plug some of our fellow Pittsburgh bands here if that's okay- Definitely worth checking out: Dendritic Arbor, Abysme, Complete Failure, United By Hate, Wrought Iron, Anthophobic, Bear Skull, Victims Of Contagion, No Reason To Live, Grisly Amputation… damn, I know I'm forgetting a few right now… also, Argus, and Lady Beast are great traditional sounding heavy metal bands here. Pittsburgh has a bit of everything, genre-wise. 
Summon: When do you guys plan on writing any new material?
Jared: We started writing new songs as soon as I joined a year ago. We recorded a 6 song EP earlier this year and are in the mastering stage now… We recorded it @ the war room with Matt Schor in the north side of Pittsburgh.. We are already working on and playing new songs for another full length for next year!!
Summon: What does the future hold for the band??
Justin: More shows. More writing. More recording. We'll have a 6 song EP coming out early on in 2014, and should have enough material to record another full-length later in the year. Thanks so much for having this interview with us! 
Contact them at:
http://liquifiedguts.bandcamp.com/
https://www.facebook.com/liquifiedgutspgh
https://www.facebook.com/liquified.guts
http://www.metal-archives.com/bands/Liquified_Guts/3540340512