Lava Invocator
Mörk
7 Track Album
Satanath Records (Rus) & More Hate Productions (Rus)
Release Date: 27th March 2017
By: Pagan Hel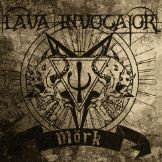 Lava Invocator – Ukraine
Links:
https://www.facebook.com/lavainvocator
Genre: Black Metal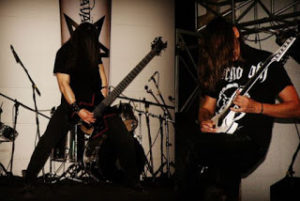 Biography:
"LAVA INVOCATOR is a mystical black metal formation from Ukraine, the idea of which originated in the small Swedish town of Lund, near Malmö… Dark storm clouds over the Öresund strait, black rocks, high forests and whispers of mysticism mixed in an infernal whirlwind of emotions – so originated the concept of the band.
The band was founded in 2015 by members of another Ukrainian black metal band DEF / LIGHT, after which the team immediately began partaking in concert activities. Infrequent, but with powerful and atmospheric performances, the band quickly won the minds of the circle of audiences, the red-hot lava was deeply ingested and filled among the souls of metal heads. The sound of LAVA INVOCATOR is a dense and verified alloy of iron and steel – tough and uncompromising, and at the same time melodic and atmospheric.
"Mörk" (from Swedish – "Dark") is the debut work of the band. With the 07 nefarious tracks, the generated music of this album walk the pathway of the traditional black metal, inspired by such icons of the genre such as Dissection, Mayhem, Dark Funeral, Ulver, Darkthrone, etc.  The presence of both malicious ferocity and dismal aura of black metal can be described!"
~~~~~~~~~~
Having been to Sweden I find it difficult to imagine that Black Metal could form in any part of it as it is so countrified, beautiful, clean and fresh looking. How could anything so dark and black form in such a Country, I ask myself? Iceland or Finland maybe but Sweden? However, Lava Invocator obviously found a dark place which prompted them into action somehow. I can see how death metal sprouted from Sweden because of the Vikings but black metal, not a clue!
The start of this black metal album is again not what I was expecting as it is eerie, ambient and actually classic in flavour with strange connotations of scary evil as the music plays out. Empyrium Et Nihil is more in keeping with the black metal theme and produces a raspy evil vocal that screeches in cinque with some rather dark and doom ridden passages despite being fast paced. Gestapofallos is another fast paced regimented track that seeps evil through its bones. The grizzly pace is helped along with a magnificent bass hook. Black Dawn has a slow opening that is tempered with a levelled riff and strong drum beat. It quickly gathers its pace and slows once the rasping grating vocals come into play. Dark Thunder Sky turns back to a more classical feel and soars before a mighty thunderous boom hits and the vocals rampage. It's seething, raw and yet beautiful all at once. Totenkampf is rather disturbing, haunting and in keeping with its black metal roots. Mörk meaning dark is rather bewitching and eerie with an evil sigh and whispering voice surrounded by a haunting choral of voices – it certainly sends chills down the dorsal fins for sure!
Quite a good mixture of tracks that range from classical to classic but most definitely blacker than black!
8.5/10
Track List:
Awaken
Empyrium Et Nihil
Gestapofallos
Black Dawn
Dark Thunder Sky
Totenkampf
Mörk
Line-up:
Ingvaar – Guitar
Silent – Bass
Yggr – Drums