Krysthla
*The Minor Mystery of Death Official Video
New single from Peace of our Time (which is to be released 7th April 2017)
Stampede PR
*Release Date 3rd April 2017
By: Pagan Hel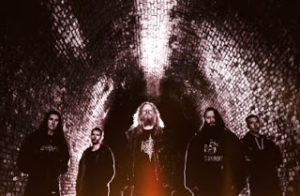 Krysthla – Wellingborough, Northants
Links:
https://www.facebook.com/krysthla
Genre: Part Extreme, Part Technical, Part Progressive, Part Metal
Biography:
"Guitarist Neil Hudson says of the track: "The Minor Mystery Of Death is about embracing the end. Death is an absolute certainty and we're living lives that seem like they're going to last forever until it's too late and your mortality is thrust into your hands. "We're very precious towards our lives but don't actually live them."
Peace in Our Time was influenced by Krysthla's 2016 European tour with Decapitated – with Hudson revealing that one experience on the road will live with him forever:
"On the Greek border, I saw a refugee girl stood on the other side of the motorway while we were parked up getting fuel. She saw us looking over at the thousands of grubby tents cooking the inhabitants in the scorching heat and fixed her eyes on me for a few seconds. "I gave her a nod. She jumped over the barrier and ran over the motorway to the garage, dodging traffic on her way. She walked over, looked me straight in the eye, said something in Syrian and gave me a high five and hugged my leg. "I left a bit of me behind that day. We sobbed in the van as we left. It was utterly heart breaking to hear the hum of bodies murmuring in the boiling sun." Hudson adds: "The album is influenced heavily, and almost solely by the fact I am a father. With so much unrest and violence in the world, it's easy to turn your back and pretend none of it has an impact on your life. "Or somehow because it's a long way from home it's someone else's problem. War does not sleep. War does not stop. It doesn't choose who dies and who lives. But the people who light the fire and fan the flames do!"
~~~~~~~~~~
Death is such a bitter sweet thing. There is death all around us just as there are births, births signify a new beginning and oddly enough so does death. Where we move to a different plane of existence is anyone's guess, however, after experiencing an OOBE (Out of Body Experience) I cannot shake off the idea of this higher existence and believe that one does move on to pastures new, but can also keep an eye on what is happening in the here and now. Just as with death in life there is death in music and none so fierce and poignant than Krysthla. Death metal has been with us for around 30 years or so, quite hard to imagine but it started in the mid 80's and comes with various sub-genres attached to it like Tech death, Melo Death, Death Core and Death Grind to name but a few.
It is serious music that reaches out and swipes with an intensity all its own. With each new band bringing their own slant on death Metal it has really grown and so there is something for everyone to enjoy.
Krysthla leaves no stone unturned, no ground fertile, no sky clear, they devour and demolish as they go along but leave a thought provoking pattern behind them. The vocals by Adi enhance the track while the guitars grip instinctively. It is emotionally scarring and offers us an antagonistic character which is displayed within the confines of the black and white disturbing video.
It certainly brings out the sincerity of the track and makes you think of your own mortality. Life is fragile, in the blink of an eye, it is gone. The moments we hold dear are just fleeting but this video will poke at the conscience and last for a long time to come.
9/10
Line-up:
Adi Mayes – Vocals
Neil Hudson – Guitars
Carl Davis – Bass
Noel Davis – Guitars
Wayne Minney – Drums
Krysthla
Peace in our Time
8 Track Album
PHD
Stampede Press UK
Release Date: 7th April 2017
By: Pagan Hel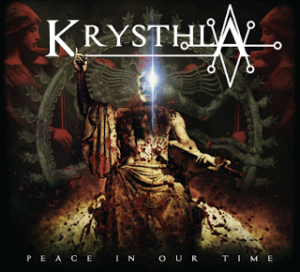 Krysthla – Wellingborough, Northants
Links:
https://www.facebook.com/krysthla
KRYSTHLA LIVE
26th March – LEICESTER, The Firebug
9th April – COVENTRY, MACCOV @The Arches
21st April – BOLTON, The Alma
22nd April – WARRINGTON, The Brewhouse
28th April – CARDIFF, Fuel
5th May – HIGH WYCOMBE, Phoenix
6th May – WORTHING. Bar 42
7th May – BOURNEMOUTH, The Anvil
12th May – INVERNESS, Mad Hatters
13th May – DUNDEE, Beat Generator
14th May – EDINBURGH, Bannermans
26th May – NORTHAMPTON, King Billy Rock Bar
27th May – LONDON, The Devonshire Arms
28th May – LEICESTER, Uprising Aftermath @ The Firebug
3rd June – KETTERING – The Prince
24th June – NORWICH, B2
1st July – MILTON KEYNES, Craufurd Arms
More dates to be announced.
Genre: Part Extreme, Part Technical, Part Progressive, Part Metal
Biography:
"Titled 'Peace in our Time', this new studio offering from Krysthla sees the British five-piece producing something extremely special. Part metal, part extreme, part technical, part progressive… Aurally this is a metal fan's nirvana. There's an abundance of aggression on offer, and yet the power of the band is amplified even more with melodic tinges and lighter musical landscapes, which never detract from the powerhouse delivery Krysthla is renowned for!"
~~~~~~~~~~
Wow! I think I am in shock as I recognised the Krysthla name but did not realise that is was around August 2015 just over a month before the release of 'A War of Souls and Desires' that I wrote a review for the band through RAMzine, and now another 8 track album is due to materialise on the 7th April 2017.
The Minor Mystery of Death is a solid opening track that brings some fantastic melodies to the forefront as well as some mighty riffs that fuel-charge the vocal dynamics. Krysthla were always a band to capture as well as create attention that is pretty obvious from their last album, however, they have indeed turned it up a few notches this time and added a little extra potent ingredients. 'Yawm al-Qiyamah' takes off with a raucous intent on repeating itself a few times before exploding into a turbulent adventure and wreaking havoc with more than a few unruly riffs and extreme vocal intensity. 'Depths' is the track the band have taken from the album and released as a single. It is a very different track than the previous two tracks already listened to. This is most definitely a contrast with a slow pace and… yes, I got caught out with this one! It suddenly jumps back into its bed of comfort and drags you to into its depths. It force feeds you extreme metal without the aid of on IV – this is straight for the ears and down the throat approach! if watching the video, the slow pace makes a lot more sense! Be prepared for deep impact!
'Make disciples of the Nations' if they did then it would be another hurried affair as this track is again a force to be reckoned with. Krysthla doesn't believe in doing things at a 'normal' pace, but rather one that sweeps you into a black hole and leaves one agog and not quite knowing what just hit them. 'Within the lie of all lies' throws out some thumping rhythms that nobody in their right mind, would say no to! Merging with infinitive motion, a driven command for imposing riffs and a drum beat that is futile to ignore – the magnet simply pulls everything together! 'In Death, we shall not die' the foreboding rhythms keep on pounding mercilessly while the riffs hammer out a structured path of sheer brutalism. 'Age of War' opens with a solid texture of rampant rhythms and crazy blast beats. The vocals take on a chanting ramble but still sound menacing as they wrap themselves around the ears and smother with intent – I still don't understand how Adi manages to scream in perfect tune? That is a complete mystery to me 'Eternal Oceans' No I am not getting carried away again by a slow start, although it does capture eerie very well. I was right not to fall for the slower pace gamble as this is as extreme as it gets vocally, while the music is intense and aggressively thunderous, creating a passage of metal rivets that are forced into their home on sound alone, no need for a hammer here!
Krysthla Have definitely paved their way with a ticking time bomb that their fans are impatiently waiting to go off, as it is not hard to lose yourself in the extreme creative presence that Krysthla has produced. The intensity is all powerful and gives off a raw unpredictable magnetism that is simply insatiable! Meaning you can never have too much Krysthla and what they bring to an already full table. They are still giving out their deathly non-compliant causticity, which is great for all extreme metal heads everywhere!
10/10
Track List:
The Minor Mystery of Death
Yawm al-Qiyamah
Depths
Make disciples of the Nations
Within the lie of all lies
In Death, we shall not die
Age of War
Eternal Oceans
Members:
Adi Mayes – Vocals
Neil Hudson – Guitars
Carl Davis – Bass
Noel Davis – Guitars
Wayne Minney – Drums