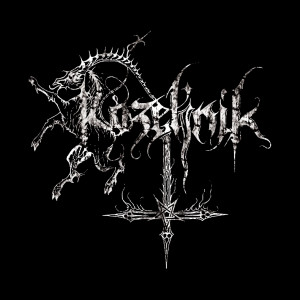 Summon: How did the band get started?
L.G.: It must be more than a decade now, that a first thought about giving breath of life to this multiform negation had been conceived. K., a member of Belgrade-based BM cult THE STONE had envisioned this entity which he linked innermost aspects of his being to, in order to express himself further, as an artist, but very much as a person, too. He started scribing down scratches of his thoughts and putting together first musical ideas, some of which later made our two-song debut EP. Although we knew each other way before that, both being active in some other musical projects, it wasn't until late Autumn 2006 that both of us agreed on making this a reality. No word of it was told to any of our friends; we recorded first two songs in complete secrecy and later on gave couple of dozen copies of the recording away. Response was great and not expected in the least. This, I'll say, encouraged us to continue this mischievous adventure, some months after that diving deep into a process of making our first full-length material. News about our first EP spread far and we signed our first record deal in 2007.
Summon: What kind of music do you play?
L.G.: We are a black metal band, deriving influences from a wide range of music styles, all, in our case, centered around the great beast that is heavy metal. I like to call music of KOZELJNIK a morbid Black metal of doom, where we have certain, well, rules if you will, established, but will simply draw from all that inspires us.
Summon: How has the fan response been?
L.G.: With this new EP we were definitely recognized by wider audience and underground media, this at the same time helped people get familiar with our previous works as well. We certainly appreciate all the mail and feedback we get. 
Summon: Where did the band name come from?
L.G.: Although the name of the band is also a full pseudonym used by our vocalist and main composer K. for more than twenty years now, it was solemnly agreed that it, too, should represent our entity. It is the name which roots are almost untraceable, but believed and taught to be of the olden lore and, in Slavic ancestry, name was attributed to divinator who could understand and look deep into human destiny by reading the entrails of the dead goats.
Summon: Introduce the band members and what they do in the band.
L.G.: Kozeljnik is a two-man band, always was, always will be. We use session musicians for all our live rituals and would occasionally have guest musicians on the recordings. The aforementioned two are: K. – manic sonic invocations and melodies of malady; L.G. – Hammering the nails into this Earth-coffin and obscene poetry.
Summon: Who writes the music? Lyrics?
L.G.: K. is responsible for all the sickening tones on our recordings. I usually write lyrics. One is impossible without the other, we arrange all our songs together.
Summon: And where do the lyric ideas come from?
L.G.: Lyrics depict my own views and experiences, sometimes visions and things collected on the astral plane. They are but words humbly aiming to present the ever-rising flame of my Will and, at the same time, Shadow of that inner Self I work lifetime to get truly connected and instructed with. It is an occult way I practice and path I meditate upon, strengthening the Vision and unveiling the spheres.
Summon: What is your view in Satanism and Occultism?
L.G.: I was ever engaged in studying, understanding and uncovering the abstruse meaning of shapeless and hidden, dark passage ways that lead to arcane. It is nothing but my own will and inquiry for knowledge, occult knowledge, that which is written (by incessantly rummaging through pages of time past and present) as well as oral; ideology and profound teachings of the left hand path transpire this in great part, where for me only deeper is the Fall in order to rise again, grow and attain to reach the individual divinity. Know Thy Self, thus spake He, whose name none shall, in the end, take in vain. Morning star, fallen to improve the will, one that keeps the (im)Balance of things, teaching us to go against the grain, to question, question everything… to Darkness primordial veiled with light.
Summon: How many albums/CD's have you released?
L.G.: So far, two EP's and two full-length albums have been released. These are, in order of appearance:
* Wrecked in Ruins of Solitude demo EP (2007, self-released; 2013, re-released as 7″ EP by Library of Hellfire Gods);
* Sigil Rust (2008, CD version by Humanity's Plague Productions; tape version by Misanthropic Intolerance);
* Deeper the Fall (2010, CD version by Paragon Records; LP version by Werewolf Productions; tape version by SDP/Darkness Shade Records);
* Null: The Acheron of Multiform Negation EP (2013, CD version by Paragon Records).
Summon: Tell me about some of the songs on the latest CD?
L.G.: On "Null: The Acheron of Multiform Negation" EP one finds not such a typical Kozeljnik sound. Like all our previous works, this one, too, brings some innovation in sound and approach, yet it is the same Shadow lurking behind frontal picture. It is definitely our Own, one can never compare it to anything else. Doomed, moody soundscape and in midst of it hidden doors that lead seeker to knowing us more and grasp a concept behind it all. If it is ever to be fully understood that is.
Summon: Do you have any side projects?
L.G.: Both of us are active with this other band of ours, THE STONE. Formed in 1996, band has 6 albums, numerous EPs and has toured Europe on many occasions. We are signed with Berlin-based Folter Records. Currently working on new album which should see the light of day in Spring/Summer 2014.
Summon: Who are some of your musical influences?
L.G.: It would take a fair amount of time to name all those artists who have had deep impact on us as musicians. My own background and music education is wholly classical, although, as long as I can remember, I was a devotee of musical beast known as rock and more so its deviant outgrowth metal. It is style of music which allows biggest variety and freedom of expression (contrary to thinking of some purists). I am always engaged in discovering new musical entities both Old and New and this is one of those things that get me through the day.
Summon: Which current bands?
L.G.: To name a few would be unjust, but since this is one of "those" questions, and frequently asked, I'm obliged to go with it and think of the most precise answer I can provide at the moment given. Groups (and individuals therein) still active, those that I think had biggest influence on my career are: King Diamond, Mayhem, any of Tom G. Warrior's incarnations, Rotting Christ, Mortuary Drape, Enslaved, Cathedral (recently laid to rest), Root, Absu, Immolation, Mortem, Craft, first era Samael, Dødheimsgard, Avenger (Cze), Katharsis, Shining… these are just a handful that first come to mind.
Summon: What is the band like when you play live?
L.G.: A live show for us is a pure ritual where we channel the energy to this finite existence, the audience present, the energy we feel contained within shell of our own creation, until the right moment to expose it is at hand.
Summon: Have you guys ever played in another country?
L.G.: So far, we managed to visit Slovenia, Germany and Czech Republic, all our other live manifestations took place in Serbia. We do have plans to travel and perform abroad again in very near future.
Summon: How big of crowd shows up at shows usually?
L.G.: Since our performances were recorded mainly on festivals, size of crowd there is quite decent. Other, smaller gigs, usually don't count more than couple of hundred people.
Summon: How is the crowd response when you play?
L.G.: Wherever we performed, we would get immediate response from them, people would turn up at our merchandise boot afterwards to discuss the show, ask about the band and engage in any kind of conversation. This kind of support is highly appreciated, as we do like to know a person who would 'fall prey' to our sonic abuse.
Summon: What do you think of the US Black Metal/Death Metal scene?
L.G.: I have quite a few personal favorites there, bands and people I've been following for years, many of them who I've been in contact with as long as I can remember. But, like any other scene, even in vast dark passages of underground, a sudden trend will appear and you will see some of them inclining to it, wanting more and trying to achieve it all the same through simple copying of someone else's style, but in turn merely resembling it; thus failing to remain unique and have their own approach. Such is the case with Black and Death metal scene nowadays, but it was not entirely different back in the day. There are still many others who tread their own path and are to be found by a persistent seeker. One simply has to know where to look. These are some of them (alive or deceased) which I hold in high respect and will often summon through my speakers: ABSU, DEMONCY, ORDER FROM CHAOS, TERATISM, NIGHT CONQUERS DAY, INCANTATION, ANGELCORPSE, INQUISITION, KRIEG, AVERSE SEFIRA, UNEARTHLY TRANCE, MORTA SKULD, NOCTURNUS, VIO-LENCE, old DEICIDE, SADUS, MORBID ANGEL etc.
Summon: What do you think of the Overseas scenes?
L.G.: If by 'overseas' you mean scenes outside of Eastern Europe (as this is where we hail from) or Europe in general, our keen interest in music, or precisely metal, had always engaged us in search of artists that have qualitative and professional approach to it, deliver powerful performance and above all, practice what they preach. No matter what their country of origin may be. As said earlier, there will always be fakers around but also, on the other hand, those who with no difficulty rise higher above.
Summon: What are some of new favorite black metal/death metal bands?
L.G.: If these we consider groups formed not more than a decade ago or so, I can momentarily think of, hm.. let's see: LVCIFYRE, NECROS CHRISTOS, FURIA (Pol), OBLITERATION, DEAD CONGREGATION, TWILIGHT (US).
Summon: When do you guys plan on writing any new material?
L.G.: Actually, we are working on something new already.
Summon: What does the future hold for the band?
L.G.: Do expect a whole lot more to come from Kozeljnik, I'll be free to say as early as 2014. Some announcements will be made in due time.
Thank you for the interview.
Contact them at: