Kaine
Holding the Line
Revival Music Group
Revival Metal Records
Release Date: 22nd November 2016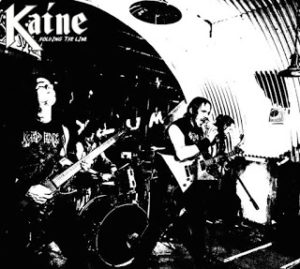 Photo courtesy of Joseph Leader
Kaine – East Anglia
Links:
https://www.facebook.com/kaineband
Buy here:
http://kaine.bandcamp.com/track/holding-the-line
The track was recorded at Threecircles Recording Studio on the 20th of November and mastered by Z-Plane on November 22nd, 2016. Both Threecircles and Z-Plane gave their time and studio for free to help support the Asylum.
Ade Hare: Producer – Z-Plane: Mastering
Genre: Heavy Metal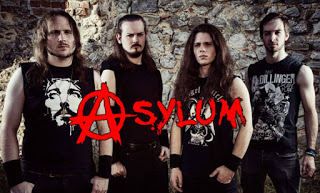 Info:
"The ambition is to raise £12,000 to keep the Asylum music venue open in Chelmsford. Please support live, underground music by buying the track and sharing with your friends on Facebook, twitter etc.
The band is optimistic that at such a low price, and with enough social reach the single could help raise a significant amount of money should people get behind it!"
~~~~~~~~~~
With so many venues closing down due to a lot of things, money and apathy being two of them, it is refreshing to know that some people are doing something to try and stop this happening and four such people are Kaine. A heavy metal (NWOBHM) speed/thrash outfit, who started their journey in 2009 and through all the adversity and struggles have remained defiant, and it's well documented that they are one of the most hardworking bands within the metal scene today.
It is no surprise that Kaine wants to do their bit to keep music live, as they, like so many other bands know of the struggles, the loss of money and members along the way and the trouble it causes, but still remain strong and forthright in their convictions.
The track 'Holding the Line' can be bought for just £1.00 (less than the price of a cup of coffee) and all money raised will go to keeping The Asylum in Chelmsford open, and keeping metal alive for future generations to come.
It's a typical Kaine track with lots of fierce chugs and vibrant momentum. It explores a real defiant nature which infuses a fantastic anthemic melody and addictive chorus. It installs the fighting nature of wanting something so badly and goes all out to achieve it! But they can't do it on their own. All the hard work has been done by Kaine – now it is up to you!
I, like a lot of others, don't live in the Chelmsford area but this will not stop me donating to a good cause and helping Kaine to achieve the goal they have worked so hard to accomplish.
Having followed Kaine from the start of their turbulent musical career, I can clearly see the progression the band have made and heard the changes along their musical path. They are certainly more vocal, more melodic and certainly more imaginative.
This track epitomises the band's steely nature, matched with their rebellious streak for defining what they are all about – Their humongous appetite for producing metal and being able to play it for years to come for eager metal heads that enjoy frequenting local venues.
£1.00 isn't much to ask, so please do your bit by donating and sharing the track where possible and help keep a venue open as well as supporting underground metal along with Kaine in their constant battle to remain present day rebel rousers!
Good Luck Kaine!
9/10
Members:
Rage Sadler: Rhythm, Lead Guitars and Vocals [Solo]
Chris MacKinnon: Drums, Keys and Backing Vocals
Saxon Davids: Lead, Rhythm Guitars and Backing Vocals
Stephen Ellis: Bass and Backing Vocals
Kaine
The Soundhouse Tapes
7 Track Live Album
Revival Music Group/Revival Metal Records
Release Date: 12th August 2016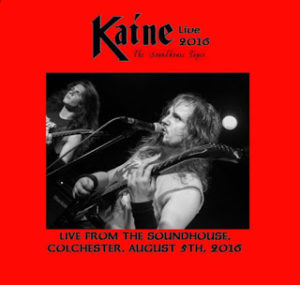 Kaine – East Anglia
Links:
https://www.facebook.com/ragesadlermetalkaine
Listen/Buy here:
http://kaine.bandcamp.com/album/the-soundhouse-tapes-live-2016
Not very mixed by Kaine
Accidentally recorded by Myopic Empire
Discography:
The Soundhouse Tapes – Live 2016,
Justice Injustice,
The Waystone,
Rock the Castle – Live 2013,
Killotine E.P. (with Osmium Guillotine),
Breaking the Surface [Live 2012],
Falling Through Freedom
Kaine E.P
Genre: Heavy Metal/ NWOBHM Revival/ Speed/Thrash
About The Soundhouse Tapes:
"The Soundhouse Tapes – Live 2016 is an official, accidental live bootleg recording of the bands set from August 5th 2016 at the Soundhouse in Colchester.
The set was recorded by mistake and features all new songs bar the 'Iron Lady' from 'The Waystone' and the 2015 single 'Justice, Injustice' This is a raw, unpolished recording meant for free download only. The tracks are presented as recorded directly on the night and the new songs may not represent the final versions that end up on future albums.
This is the first release from the line-up up Rage Sadler, Chris MacKinnon, Saxon Davids and Stephen Ellis and features music mostly written by that line-up for the forthcoming third Kaine album.
The name and artwork is a play on the famous Iron Maiden pre-fame demo, a reference to the fact Kaine is most often compared in sound and style to Iron Maiden and the venue itself, The Soundhouse!"
~~~~~~~~~~
Kaine's musical career has been a bumpy one over the years since they started out in 2009. Caused by the usual line-up changes and monetary failings, however Kaine have stood the test of time remarkably well and rose above the short-comings with resilience and determination and it has been said on many occasion that Kaine are without hesitation the most hardworking of bands on the scene today.
Only Kaine could get recorded 'by accident' it is all part of their unusual rise from fair to middling fame, meaning they may not have yet hit the big time, but they are well known in certain circles and making headway! Their sound has been compared to Maiden's on numerous occasions, but everyone has influences that sculpt their lives, it goes without saying!
The band have eight releases available on Bandcamp and each one outlines the way the band have changed over the years, becoming a stronger force than ever before, however, I still love listening to their debut E.P 'Kaine' as it brings back a host of memories after discovering them on Facebook through a link, and also 'The Waystone' because that album is a catalyst that has determined just how far the band have progressed musically since their humble beginnings in 2009. Both very contrasting pieces of work, and yet they both clearly shine and unite the genre perfectly!
Finally, after what seemed like an eternity, I got to see them play live at the fabulous Snooty Fox along with Hamerex and Promethium. Seeing them 'live' was a breath of sheer total energy, with catchy hooks and impacting sound. Kaine are indeed a 'live' experience to behold.
Each track on 'The Soundhouse Tapes' hold the Kaine stamp of erupting bruising rhythms and may, for some small part be a little off-kilter, but proving it is a raw 'live' album, warts n all!  Their sound holds a lot of chugging riffs and bludgeoning beats that are woven into the bands psyche and in itself is purely addictive, meaning once you start listening it is near on impossible to stop!
Kaine are still gaining momentum and experience playing larger festivals and recently Mearfest – (who are raising funds for the Willow Support Group to help towards finding out more about Stillbirths) and soon OgFest!
Considering Kaine's members weren't around to experience NWOBHM when it first made an appearance on the scene around 1979, and when NWOBHM truly started to seriously take off, they would have only been new born's! Taking this into consideration, I don't think Kaine have done so bad replicating the NWOBHM sound while adding their own indelible mark to the proceedings, reinventing and carrying forward a sound that truly meant something from over thirty years ago is no mean feat.
Wherever you look on the internet the name Kaine is never far away, allowing a new generation to cut their teeth and feed from the turbulent 'Kainesque' heavy metal that paved the way for what hardened metaller's of the 80's and beyond now know as NWOBHM.
The power that is Kaine exudes through this live album and lights the touch paper for an explosive and distinctive seven track 'extra' which is a persuasive brawl of melodic encounters that will definitely do their growing reputation no harm whatsoever, and thus inching them further towards their musical endeavours!
8.5/10
Track List:
Heaven's Abandonment [Live 2016]
Iron Lady [Live 2016]
A Night Meets Death [Live 2016]
Justice, Injustice [Live 2016]
Fall of Jericho [Live 2016]
Afterlife [Live 2016]
Voice in Hell [Live 2016]
Members:
Rage Sadler – Vocals, Rhythm and Lead Guitar
Chris MacKinnon – Drums and Backing Vocals
Saxon Davids – Lead & Rhythm Guitars
Stephen Ellis – Bass
Kaine
Justice Injustice
To be released 13th July 2015
Kaine – East Anglia
Links:
https://www.facebook.com/kaineband
Genre: NWOBHM
Biography:
"Justice Injustice is the new single from British Metal Revival band Kaine. The single was recorded in two days at Three Circles Recording Studio earlier this year and was produced by Ade Hare who had previously worked on the bands 2012 debut album Falling Through Freedom. The track was mastered by Z-Plane who had also worked on the bands last album The Waystone.
The song marks a return to the bands heavier routes with big riffs and harsh vocals provided by frontman Rage Sadler, epic lead guitars and solos from lead guitarists Saxon Davids and Ant Murch while being backed by the thunderous rhythm section of Dan Mailer on bass and Chris MacKinnon on drums.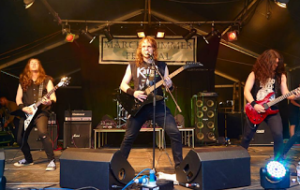 The formidable Kaine
Photo courtesy of Neil Henderson – Planet Mosh
As well as a change in musical direction from the band they have also taken a more back to basics approach with the production compared to their highly rated 2014 album "The Waystone". The single will officially be released exclusively on digital download on July 13th 2015 with a small physical run to come later and is the second release from the band this year.
The track will also appear on the bands forthcoming third album!"
A few days ago I read that Dan Mailer had made a decision to quit Kaine due to financial strains. Although I can't blame the guy and wish him a shed load of luck in his next endeavours, but it begs the question what will become of the now legendary band Kaine?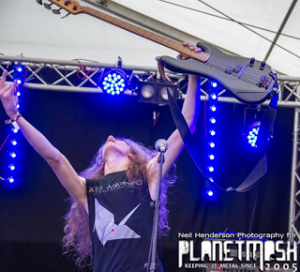 The force that is Dan Mailer
Photo courtesy of Neil Henderson – Planet Mosh
I personally, have been an avid follower of the band since around 2009 when things were particularly tough for the band and saw them come out of some tricky situations to come from nowhere right into the spotlight.
Hopefully, this will just be a minor setback and that Kaine will again rise and forge on stronger as this single, aptly named'Justice Injustice' is a magnetic pull of inflamed sonic vibrations of pure unadulterated metal!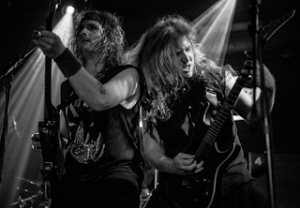 Photo courtesy of Neil Henderson – Planet Mosh
Its active riffs and pummeling unmercifully shows Kaine at their undiluted best and it is such a shame that the band have had yet another setback to endure, but despite this can still turn their attentions to creating full-on strides of metal that are powerful and provoking!
I sincerely hope the band decide to carry on their endeavours that will show further the dogged determination that Kainepossesses in enthusiastic abundance.
I personally have not seen any other band with so much resolve, conviction and fortitude, Kaine literally are a force to be reckoned with and deserve a chance to make it big, but sadly, a band can only do so much, after that, it is up to audience and the powers that be in order for a band to thrive – here's hoping this will push them further on in their careers!
Members:
Rage Sadler – Vocals and Rhythm Guitars
Dan Mailer – Bass guitar, backing vocals
Ant Murch – Lead Guitars
Chris MacKinnon – Drums
Saxon Davids – Lead Guitars, backing vocals