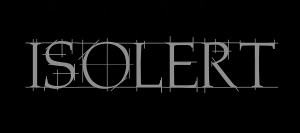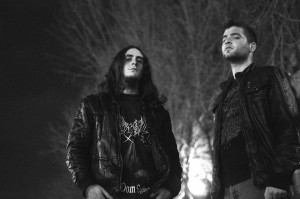 Summon: How did the band get started?
Nick: Panos and I know each other for many years. We used to play to in a lot of bands. One day I went to his home cause I haven't seen him for years and he wanted to make a black metal band. So I agreed and that how ISOLERT started.
Summon: What kind of music do you play?
Nick: Black Metal.
Summon: How has the fan response been?
Nick: The feedback that we had receive is very good if you think that we are a new band. You can make a good promotion via Internet in our days.
Summon: Where did the band name come from?
Nick: ISOLERT means Isolated in Norwegian. We were searching for a good name and when we found Isolert we thought it fit perfectly with the lyrics and the Whole concept.
Summon: Introduce the band members and what they do in the band.
Nick: Panos is the front man he is the guitarist and he is also doing the grim vocals. I am playing the drums and I am also doing the whispers and the clean vocals as well.
Summon: Who writes the music? Lyrics?
Nick: The riffs are all written by Panos. We sit down we hear the riffs and we make the orchestration together. The lyrics are written by JASON KASIOPTAS.
Summon: And where do the lyric ideas come from?
Nick: The main theme is misanthropy and darkness. Jason knows how to write lyrics so it was easy for him and we did like the result.
Summon: What is your view in Satanism and Occultism?
Nick: We don't really care about religion. That's all.
Summon: How many albums/CD's have you released?
Nick: We have released our first demo on March 28. In 2016 we will release our first FULL LENGTH album also. We have many ideas for it and I hope it will be good.
Summon: Tell me about some the songs on the latest CD?
Nick: Secretum which is the first song is also the first song that we rehearsed as a band. Empty Memory is the 2nd song of the demo and its probably our most aggressive song. Isolated Soul is the 3rd song and probably my favorite cause we mixed all of our influences on this song. The outro of Isolated Soul is with whispers so it was something that it was too risky but people like it so it is okay I think.
Summon: Do you have any side projects?
Nick: I used to play in a lot of bands in my town but right now all of them are split up. So for me I don't have any side projects. Panos used to have a band called ÌÇÄÅÍ (Zero) and maybe you will see a new release from them in the near future…We will see!
Summon: Who are some of your musical influences?
Nick: The main influence of ISOLERT is Gorgoroth and bands from the Scandinavian Scene. Bands like Burzum, Carpathian Forest, Darkthrone, Isengard and many more.
Summon: What is the band like when you play live?
Nick: We haven't played live yet but someday we will. We are not ready yet.
Summon: What do you think of the US Black Metal/Death Metal scene?
Nick: I don't listen to Death Metal so I don't know. But for Black Metal i can tell you that US have a great Black Metal scene. Judas Iscariot, Leviathan and Black Anvil are some of the bands I really like.
Summon: What are some of new favorite black metal/death metal bands?
Nick: My favorite new Black Metal band is Kriegsmaschine.
Summon: When do you guys plan on writing any new material?
Nick: We have some songs ready but cause we have many obligations we will start recording on 2016.
Summon: What does the future hold for the band??
Nick: We are not sure cause only time knows but we love what we are doing and we hope that the band will go on. The sure is that in 2016 we will release our first full length. We also hope that we will find a third member to join the band. We will see.
Contact them at:
https://www.facebook.com/Isolert
https://www.youtube.com/channel/UCddZGL052P-Y-f3Kc5FbZ6Q