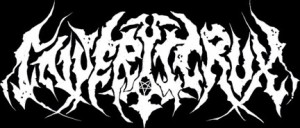 Inverticrux are a live and studio 4 piece band.
Vocalist-Raypissed. Rhythm strings & Bass-James Hellkhunt. Percussion's-M-CoffinRage. Leads-Matt Gemini.
Album title: "M.M.M.P." or Malcontent Manifestation monitoring Program released 2014
"M.M.M.P." is the band's second full length. the first band release was called "Virgin Reaper" out 2012.
All our music has always been recorded @ Opal Sound Studio's Kingston NH. and mastered @ Project Sound Studio's Haverhill Ma.
The band blend absolutely every genre and sub genre of Heavy Metal. Goth, Doom, Thrash, Black, Death, and also Punk.
Raypissed, the vocalist is also the band illustrator and main promoter.
The band is newly signed to Exalted Woe records and M.M.M.P. is our first release through them.
The band changed names and style from Vintage Flesh (BlackDoom Metal), to Inverticrux in 2011. they have two earlier releases as Vintage Flesh.
Past and present members have included founding members of such bands as Cold Northern Vengeance(NH), Grief(Ma), Disrupt(Ma), After Birth(Ma), Martyvore(NH), EERIE(NH), Stasis(Me), Eternal Embrace(NH),Vintage Flesh(Ma), Mystic Forest (France), Mongrel(NH-Ma). etc.
Inverticrux officially formed in 2006 as Vintage Flesh.
Label and CD ordering contact: EXALTEDWOE.com