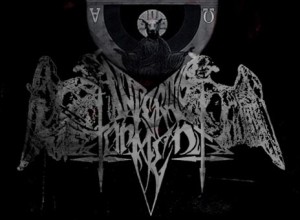 Band name: Inferius Torment.
Chosen genre: Satanic Black Metal.
Formed in: 8th of November, 2003.
Origin: Russia.
Hate to religion dominates in ideas and positions of the band… hate to unsensed religious dogmatism as spiritual and mental enslavement.
Extermination of a divine beginning in ourselves, using perversion of religious dogma… sequential transform of a bright side into a form of more destructive direction.
Sense of targets using plans of an inner perception. Reaching and overcoming of the imposed facets by the path of changing a balance between the rival sides, supporting the side of dark beginning.
Sensed riddance from a positive energy for gaining new, other properties on the path of self-development – self-destruction.  Reflection of a finished dark way in lyrics… is a reflection of a perception of the validity, which surrounding us – in hymns.  Satanism as anti-divine form of a dark reality, a form which stays in opposition to god, dual change of an adept's vector, who has chosen his way.  Inner fight against inner sheep… outside war between scum people… sheep humanity.  Spirit's domination over the flesh as chosen form of a comprehensive existence.  Expression of a Satanic Will through prism of Darkness' hypothesizes… through self-development as a ruled formula of Satanic ideals on the dying god's side.
History… 2003. First rehearsal.
Members of a band:
Inferior – vocal.
Morbid – guitar.
Sordes – bass guitar.
Necroblast – drums.
EP "Prey From Burning church" was recorded and released through "Unholy BM Records" (RUS).  In fact, the cover art is a burning church – god's cloister (Arson of Nicolskaya church – 17.06.2003).
2004.
After several concerts Sordes decides to quit the band. New bassist, Deamonion, arrived in the band. Working under the new material contributed transition from "true" sound to its much tight form. Participate in Destroy Festival.
2005.
Recording of a demo-material "War Against Christianity" in "Unholy BM Records"(RUS).  Release of recorded material through "Battle Hymn Records" (USA).  After several played concerts in support of demo, Necroblast and Deamonion have left the band.  Search of new, ideological musicians, who appropriate the conception and positions of a band.  Important live shows: Storm Sound Festival, Evil…Anger…Hate II.
2006.
New drummer, Blastbitch, who fully supports band's ideology, has joined the band.  Bassist Sordes has returned.  Joint work under the new material influenced on the sound quality. Partnership with "SnowMan Magazine" (RUS). Participate in DVD video compilation "October Blood". Participate in October Blood festival.
2007.
Work in "JIG Records" studio under the first full-length album "your god Liar". Search for a label to release recorded material Partnership with "Hellcommander Attack Magazine" (BRA). Arson of Seraphimo-Aleksievskaya chapel – 24.07.2007 Several played concert's inside Russia.
2008
Recording of a video clip for track "Infernal Hail, Satanas!", in support of an album "your god Liar".  Search for a label to release recorded material. Partnership with "Dead Center Productions" (UKR).  Contract for releasing DVD video material "…On Eyes Of The Dying god". Participate in Black Metal Kaos II festival. Partnership with "Apocalyps'Zine" (RUS). Partnership with "Antichrist Magazine" (UKR).
2009.
Partnership with "Krvestreb Fanzine" (TU). Work in "Nota" studio under the second full-length album "Evil Manifestos Of Satan". Recording of a video clip for track "Agnus Dei", in support of an album "Evil Manifestos Of Satan". Participate in DVD video compilation "Beast Night". Released DVD video material "…On Eyes Of The Dying god" on "Dead Center Productions" (UKR). Alive performance: Beast Night, Ural Black Metal Madness, shep VS shep…