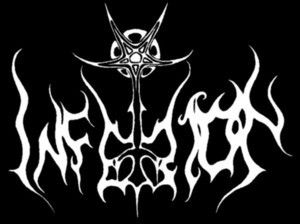 Inferion is a Black Metal band from Miami, FL. It was formed in 1996 by Nick Reyes, Juan Santiago, Juan Giraldo, Jean Alvarez, and William Barter. They began playing raw and noisy black metal and covered old Dimmu Borgir, Darkthrone, Venom, Bathory and Burzum songs.
Their First release Infinite Dying Souls was recorded in 1998.
After the release of the album Jean Alvarez, William Barter, and Juan Santiago parted ways to pursue different music projects. In 1999 Gary Bennett, Joel Cerda, and Armando Martinez joined the line-up and they released Given to the Ground. The sound was less Black Metal and more low tuned mid paced Doom/Death Metal. They distributed it mainly through DIY distros, and played shows to support the album. In 2002, The Given to the Ground line-up departed due to creative differences and The Cursed Path was released. Hjorvaard, Evil Bastard (Juan Restrepo) and Carlos Delgado joined to help rehearse new material, and play shows.
In 2003 Inferion released Firewar. It was well received among the DIY distros, fans, and college radio stations. It was raw, low-fi, and fast Black Metal. Inferion played various noise shows in Europe to promote the album.  Frank Gross (ex- Kult ov Azazel) and Armando Martinez joined the line-up to rehearse new material and play shows for Firewar. They began writing new material for The Desolate in 2005 as a four piece. Armando Martinez, and Inferion also released a split in 2005 entitled The Art of Blasphemy which contained two songs from Firewar and one unreleased track. Over the next couple of years, Nick Reyes' other musical obligations as well as his obligation with the Army delayed the release of the album.
The final mix and master was finished in 2011 by Nick Reyes and The Desolate will be available 15 January 2012 via Bandcamp.com.
Some Notable Facts about Nick Reyes and INFERION:
Nick played noise/BM shows in Norway and Sweden in 2004

Nick performed at Rock Al Parque in Bogota Colombia in a band called DDLM.

Inferion played Milwaukee Metalfest 2003, Tampa Metalfest 2004, New England Metalfest 2003

Inferion bassist Frank Gross played in Kult ov Azazel

The band's photos were taken by legendary black metal photographer Peter Beste in 2008

Nick mixed, mastered, and recorded some vocals for The Desolate while he was deployed in Iraq with his Army unit.