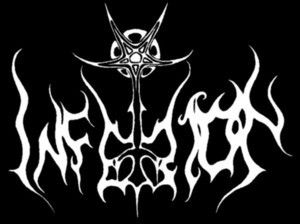 Summon: How did the band get started?
Nick: We got started in 1996 playing old Black Metal covers and playing in Miami Fl. We were the first Black Metal band in the Miami area back then.
Summon: What kind of music do you play?
Nick: Black/Death Metal.
Summon: How has the fan response been?
Nick: Positive.
Summon: Where did the band name come from?
Nick: Our former bass player Juan Santiago thought of it.
Summon: Introduce the band members and what they do in the band.
Nick: Nick Reyes- Vocals, Guitars, Drums and programming
Frank Gross- Bass
Summon: Who writes the music? Lyrics?
Nick: Generally we both do.
Summon: And where do the lyric ideas come from?
Nick: Darkness, Destruction, Religion, The Twilight Zone.
Summon: What is your view on Satanism and Occultism?
Nick: Neither are better than Xtianity.
Summon: How many albums/CD's have you released?
Nick: Since 1998 we have released 5 albums;
Infinite Dying Souls (1998)
Given To The Ground (1999)
Cursed Path (2001)
Firewar (2003)
The Desolate (2012)
1 spilt with Heave Ablaze;
The Arts of Blasphemy (Divine Hatred) (2005)
And two other albums under a different name (Farewell my Angel)
Aborted By The Sun (2003)
Palingenesis (2005)
Summon: Tell me about some of the songs on the latest CD?
Nick: Most of the songs have to do with the final moments of existence and what happens afterwards. Some songs have to do with our warring nature in our genes playing a part getting us to that destination.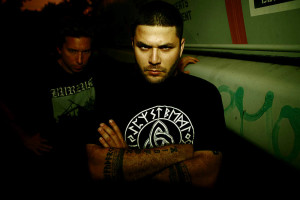 Summon: Do you have any side projects?
Nick: Yes. I have an experimental project called Cayos. We have released 2 albums "Souq" and "Shell Beach" released on Schematic.
Summon: Who are some of your musical influences?
Nick: Briefly; Burzum, At the Gates, Johnny Cash, Keep of Kalessin, Darkthrone, Tool, SLAYER, Godflesh, Dead World, Gorguts, Rapoon, Brian Eno, Emperor…
Summon: What is the band like when you play live?
Nick: We haven't played live since 2005. But back then it sounded like a black metal plane crash figuratively speaking of course.
Summon: Have you guys ever played in another country?
Nick: Yes. But not Black Metal in the convenient sense more noise and experimental forms of the music because we couldn't afford to take the entire band Therefore, I have performed in Colombia, Norway, Sweden, Amsterdam.
Summon: How big of crowd shows up at shows usually?
Nick: Changes frequently.
Summon: What do you think of the US Black Metal/Death Metal scene?
Nick: Theres definitely A LOT of great bands. Theres definitely some shitty bands. For new bands the US underground scene fucking sucks! Virtually NO ONE goes out to actually watch and support new bands, they only give a shit about the bands on major labels that have been playing forever and have toured with all the big Black Metal bands.
Summon: What do you think of the Overseas scenes?
Nick: Well the last time I played overseas it was 2004 so it has no doubt changed, but The European scene was way stronger. More ACTUAL fans of the local and smaller musicians.
Summon: What are some of new favorite black metal/death metal bands?
Nick: Gojira's new one is really good. Haven't heard a lot of new Metal unfortunately. We listen to a lot of different styles of music though.
Summon: When do you guys plan on writing any new material?
Nick: Its in the works as I write.
Summon: What does the future hold for the band?
Nick: A gypsy somewhere is sure to know.
Contact them at:
http://www.facebook.com/pages/Inferion/121467614565453