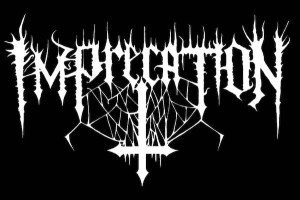 Imprecation
"Satanae Tenebris Infinita"
2013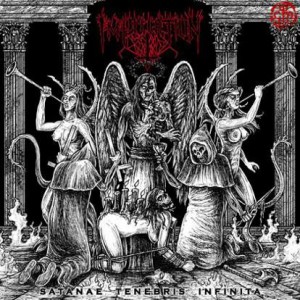 Imprecation caught me by surprise with their first full length, Satanae Tenebris Infiniata. Although I never heard of them before,this band has a long history going back to '92 which is pure awesome. They released numerous demos, EP's, splits (even they were in a hiatus for a very long time) which shows their dedication and love for what they do, supporting and and be part of the underground scene of their genre.  And that's old school death metal the way it should be.
As for their first full length, where should I start? The total baddass cover? The production that is old school and somewhat clean at the same time giving the listener no excuses to miss any of their musical ideas/riffs?
From mid tempo groovy parts to blasphemous blast beats and so on,deep growling voice that kinda reminded of the legendary Varathron and the best part for me: the black metal influences that are so well fit in their music,and makes it almost mesmerizing at times. I am also convinced that they can go their music a bit further in terms of songwritting. Not that they lack skill or anything, it's the album that gave me the impression that they have the potential to really write mind-blowing music. Plain and simple.
Bands like these,shows honesty and that's another thing to consider, they play what they want to play and thats it. Old school Death fucking metal ladies and gentlemen. If we support bands like Imprecation, we'll be living in a better world for sure.
Tracklist:
1. Blood Dominion
2. From Beyond the Fiery Temples
3. Hosanna Ex Inferis
4. Angel of Salvation's Doom
5. The Coils of Eden
6. Chapel of Rotting Flesh
7. Rancid Blood on Blackened Thorns
8. Of the Black Earth
9. Carrion Winds of Golgotha
https://www.facebook.com/pages/Imprecation/194725213915960
http://www.reverbnation.com/imprecation
Members:
Ruben Elizondo – Drums/Keyboards
Dave Herrera – Vocals
Danny Hiller – Guitars
Milton Luna – Bass
Mike Hernandez – Guitars
Jeff Tandy – Bass
Rating: 8 out of 10
~Ulverhead