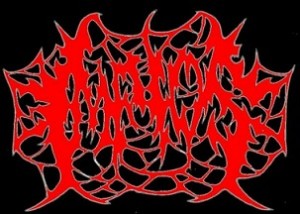 Impios
"Emperio da Morte"
2012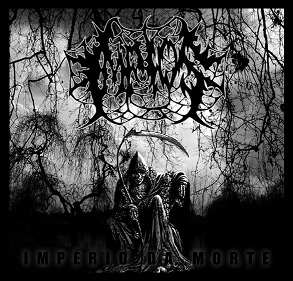 From the depths of Salvador we have Impios, who as a 3 piece have conjured up a tasty slab of early Incantation / early Autopsy worship. The sound is as Old School as hell (think of a more dirty sounding version of Incantation's "Onward to Golgotha" for production values) and the low register growls top it off to create something that sounds quite unholy.
The 8 tracks on offer have plenty of diversity and tempo changes to keep things interesting, the last 2 tracks though are of demo quality which seem to have been tagged on the end, but that doesn't matter though as they pummel you just as much as the other tracks on the album did.
I believe that this is their only release to date since their inception in 2007, its a very promising release and if they had a decent budget behind them they truly could create a mini masterpiece. HORNS \m/666\m/
Tracklist:
1. Preludio Infernal (Intro)
2. Império da Morte
3. Podre Visão
4. Rei da Hipocrisia
5. Espalhando o Caos
6. Impios
7. Semente de Ódio (Bonus)
8. Espalhando o Caos (Bonus)
https://pt-br.facebook.com/ImpiosDeathMetalRules
http://www.metal-archives.com/bands/Impios/3540349558
Members:
Emanoel Martirizador – Guitars
Daniel Killer – Bass/Vocals
Raul Barreto – Drums
Rating: 8 out of 10
~Death Metal Andy
Impios
"Emperio da Morte"
2012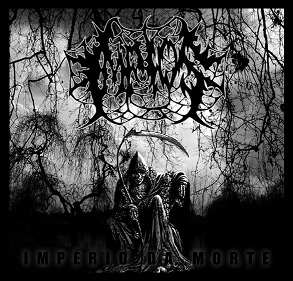 South America is home to some of the most brutally fierce death metal the genre has ever known. Brazilian death metal band Impios is here to keep the tradition alive in the South American death metal scene with their 2012 demo "Imperio da Morte." This is an intensely interesting demo that might be a little too savage for it's own good. Singer Daniel Killer's deep, growling, one note delivery keeps thing familiar, but also borders on monotonous. His vocals aren't bad, just uninspired; which is too bad because there are moments on this demo that really soar. Some dynamic guitar riffs and leads are there but tend to be drowned out in the overly loud singing. At moments when the band can let the song writing speak for itself the creativity shines through. However familiar the songs have a certain musical essence that shows that Impios has the artistic potential to stand out among the crowd. This demo is a start for this band. They may not have nailed it on their first try, but there is enough effort here that shows creativity. With a bit of fine-tuning, I feel that Impois has the ability to craft something brilliant.
Tracklist:
1. Preludio Infernal (Intro)
2. Imperio da Morte
3. Podre Visao
4. Rei da Hipocrisia
5. Espalhando o Caos
6. Impios
7. Semente de Odio
8. Espalhando o Caos
https://www.facebook.com/ImpiosDeathMetalRules
Members:
Emanoel Martirizador – Lead Guitars
Daniel Killer – Vocals/Bass
Raul Barreto – Drums
Rating: 6.5 out of 10
~Kris