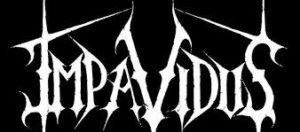 Summon: How did the band get started?
Chris: The band started in July 2015. We have all played together is some other formation in other past bands. We came together for the sole purpose of playing music we enjoyed.
Summon: Where did the band name come from?
Chris: The is Latin for "fearless".
Summon: Introduce the band members and what they do in the band.
Michelle Adamson: Vocals
Gavin Smith: Guitar
Patrick Mcbride: Bass and Vocals
Chris O'Rourke: Drums
Summon: What kind of music do you play?
Chris: We play Metal, but we don't limit ourselves to a particular sound. Don't like to be restricted to a genre. Would rather play what makes us happy and when people hear the music there's a great sense of passion gone into the song writing.
Summon: Who writes the music? Lyrics?
Chris: Michelle and Patrick normally write the lyrics. The music usually starts with a drum beat or a riff from Gav or Patrick and the band jams it out and writes the song together. Michelle is always present and has input on melody and structure throughout. This band is made of 4 people who all have an equal input, an equal voice.
Summon: And where do the lyric ideas come from?
Chris: Our lyrics are based on our opinions and views of the world and events around us. Sometimes they're based on personal experiences and sometimes they're a social commentary.
Summon: What is your view in Satanism and Occultism?
Chris: As a band we don't have a defined view of this or any other religion / cult. You can believe in whoever or whatever you choose and as long as you aren't forcing it upon someone else or telling them that your set of beliefs are more valid than theirs then it's fine or berating them for their beliefs then it's fine.
Summon: How many albums/CD's have you released?
Chris: We released our first EP in January 2016. We have studio time booked for 2017 to record the follow up.
Summon: Tell me about some the songs on the latest CD?
Chris: We chose to not tell people the specific influences for each song, instead we prefer for the listener to interpret the lyrics themselves.
Summon: Do you have any side projects?
Chris: I (our Drummer Chris) have been helping another local band Forged in the furnace of the Sun recently but other than that we don't have any side projects. We're focused on Impavidus.
Summon: Who are some of your musical influences?
Chris: We listen to a lot of different styles of music. Between us we listen to rock, hip hop, pop, metal, orchestral, electronic dance music, industrial metal, thrash, hardcore, black metal, death metal, punk….most things.
Summon: Which current bands?
Chris: Machine Head, Gojira, Sepultura, Pantera, Lamb of God, Mastodon, Tool, Decapitated, The Haunted, Deftones, NIN, ….too many to mention really.
Summon: What is the band like when you play live?
Chris: Energetic, engaging, passionate, loud
Summon: Have you guys ever played in another country?
Chris: Not yet. We only started playing gigs in March 2016.
Summon: How big of crowd shows up at shows usually?
Chris: Anything from 20 – 50 depending on the show. We've started to see some familiar faces at our gigs so we're slowly building a fan-base.
Summon: How is the crowd response when you play?
Chris: We've had a great response so far. A lot of people stand and watch, maybe because they haven't seen us before. But we've also noticed that some people are head banging and some are singing our lyrics which is amazing.
Summon: How has the fan response been?
Chris: The Fans response has been overwhelming and amazing. We have impacted in a big way in such a small amount of time. We're always gaining new fans. We've many fans from bands we've played alongside with. People are now asking us for t shirts all the time, so with this momentum it's time to give them that.
Summon: What do you think of the Death Metal scene?
Chris: The US Death Metal Scene has engineered some of the bands in history such as Death, Cannibal Corpse, Morbid Angel, Suffocation, Immolation, Obituary the list is endless. All these bands are still active playing very extreme music and some of the words most dedicated fans.
Summon: What do you think of the Overseas scenes?
Chris: Oversees, for instance in mainland Europe the scenes are a lot stronger than in the UK. It's so difficult to get people out to shows in the UK – they just don't want to spend any money. But in other countries like Germany or Belgium people just love live music and are so supportive of touring bands.
Summon: When do you guys plan on writing any new material?
Chris: We're always writing and our next batch of songs will be released in early 2017
Summon: What does the future hold for the band??
Chris: Time will tell. We're proud of the music we're creating and enjoy being in this band together. So far, the response from people has been really positive and we hope that it will continue.
Contact them:
https://www.facebook.com/impavidusuk
http://impavidus.bandcamp.com/releases
https://www.instagram.com/impavidusuk/
https://twitter.com/Impavidus2016