Immolated MoTH
This Broken Mind
3 Track EP
MoTH Music
Polymath
Release Date: 19th September 2016
By: Pagan Hel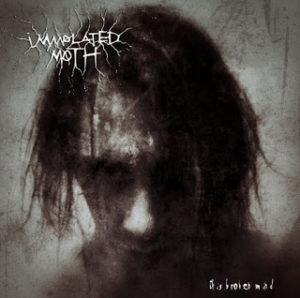 Immolated MoTH – Hell
Links:
https://www.facebook.com/immolatedmoth
Listen here:
https://immolatedmoth.bandcamp.com/releases
Genre: Doom, Death, Tech Metal
Biography:
"Pain, suffering, isolation, anxiety and fear.  Emotions that have gripped tightly at the throats of artists around the world for years. It's these awful afflictions that forced one-man musical Polymath, Thom 'moth' Bleasdale, who has been suffering with crippling fibromyalgia for the last few years, to document his struggles, both emotional and physical, in the form of Immolated MoTH. A technical death metal project, for which Bleasdale wrote, recorded and produced everything.
Bleasdale has been in various bands since the age of fourteen; ranging from synth-based rock, hard core and even hip-hop. While training to be an audio engineer at Abbey Road Studios, Thom became ill and was misdiagnosed and mistreated for nearly three years, during which time he almost died on nine separate occasions and was left bed ridden for six years.  While he's miraculously survived his ordeal, Bleasdale has been left very isolated as a result. Due to illness, he can't play live, or with other musicians, as he doesn't know whether he'll be able to function from day to day.
Despite the terrible adversities he's faced, people are already saying incredible things about Bleasdale and Immolated MoTH.  Having already secured coverage in Metal Hammer, Terrorizer and Zero Tolerance in the UK; Bleasdale is transcending the terrible illness that's gripped him for years, and used it to fuel an incredible EP with fascinating potential. Be sure to give this a listen. You will not regret it!"
~~~~~~~~~~
Overwhelm – is as technical as it gets with the familiar growl of a gruff vocal entourage. Considering this man has defied death on nine occasions I think that makes him the master of this genre and to write and produce everything hardly denotes a 'broken mind' I would say he is truly focused and possesses a strong will to survive in the face of adversity. His music is proof of that! The fact Thom has turned back to his love of music probably helps no end at pushing the pain into the far recesses of his mind in order to forget about his ordeal and give him that welcome respite. But it is sad to think he can't play live or with other musicians due to his debilitating illness.
Insignificant me – Is a title that probably should not have been used as he has not only produced an amazing EP but has done everything to make it what it is – hardly insignificant in my book! This track romps with a vibrant edge and invades the audial cavities like a swarm of bees! You can feel the emotion spewing forth as he puts every ounce of energy into his magical craft with un-resounding vigour and carnal infection. The guitar is to the extreme end of deviousness while the bass hooks niggle and are contrasted with a heavy guttural prowess.
Sleep – is what we all need but there is no sleep for metal's own 'MoTH man' as his creative endeavours are realised on this EP. Heavily ferocious and if head banging to this will more than likely produce concussion! It's impressive to say the least! The riveting beats and harsh rhythms coincide with rapturous effect making the whole deal entangled with emotion and dynamic force!
The effort he has put into these three tracks should not go unnoticed.  It is quite incredible that what he has experienced he has captured, put into musical form, coming up with a rich blend of metal that not only has atmosphere but drive too!
Stirring, emotive and heavily satisfying it is one EP that everyone should experience at least once, if not a few times! If anyone can get through adversity and come out the other side it is MoTH Man for his sheer determination and the fact he never gave in, not even when the odds were heavily against him!
9.5/10
Track List:
Overwhelm
Insignificant Me
Sleep
Member:
Thom 'Moth' Bleasdale