I Will Kill You
"Plastination"
2011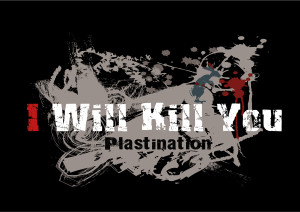 Here we have a promising E.P from I Will Kill You who plays a good mix of death/thrash with a fair amount of groove for good measure mixed in.
The music itself is well played with a good, crisp production job. What I did enjoy was the nice low vocals that appear from time to time, they're well placed and they gave the songs some bite, the main vocals that appear are pretty much in the mid/higher register range for your typical Death/Thrash outfit.
There are 6 tracks on the E.P , one is an intro and at track 4 (Senna Respiro (To Ophelia D.) we are treated to a nice interlude to break from the head banging frenzy.
This release is from 2011 and I hope there's more material on its way. Good, strong release \m/
Trackslist:
1. Plastination
2. Embalming the Human Corpse
3. Dissemble the Fault
4. Senza Respiro (To Ophelia D.)
5. Mirrors
6. Black Vendetta
http://www.metal-archives.com/bands/I_Will_Kill_You/3540335478
https://www.facebook.com/1IWKY
Members:
L.M – Guitars/Synths/Backing Vocals
Alex Imperiale – Bass
Alessandro Venders Santilli – Drums
Amonkvasir – Vocals
Rating: 8 out of 10
~Death Metal Andy