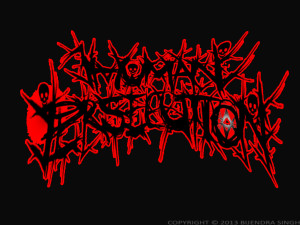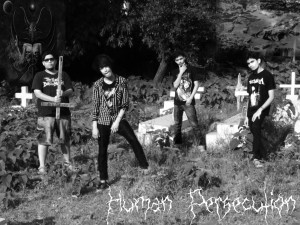 Summon: How did the band get started?
Bibek: Journey started with Bijendra and after few months later he found Abir, and then they started jamming extreme stuffs with breakdowns and shredding. Later on Atanu joined on bass and after all met me (Bibek) and then we started on with the philosophy of makin sum sick music. And nw we are ready to roll 🙂
Summon: What kind of music do you play?
Bibek: We play technical deathcore.
Summon: How has the fan response been?
Bibek: Right now we are emerging new on the scene so we are receiving positive response from other people, artists. fan following has been rising with time.
Summon: Where did the band name come from?
Bibek: Every member of Human Persecution place their disbelief towards the pattern on which our society runs. We are up to persecute humans with our music. This is how our name came up.
Summon: Introduce the band members and what they do in the band.
Bibek: Vocals- myself (Bibek) and I write lyrics as well. I love peaceful places and lots of music. I am an amateur tattoo artist as well. Drums – He is a Drumming Machine Druming like O2 for him. Apart from drumming, Bijendra is the artman of the band, he designs the sound for us. He plays lots of pc games and designs logos as well. Gguitar – He works very hard with his guitar. Abir is the man with the axe and does lots of extreme playing. On free time he is hanging with pc games,helps make good music for the band. Bass – Atanu is a good musician and Back bone of our band. Some of his knowledge helps in the making of our music.
Summon: Who writes the music? Lyrics?
Bibek: I write the lyrics. Bijendra and Abir Both work hard with the music composition.
Summon: And where do the lyric ideas come from?
Bibek: It comes from the Hatred generating in our mind for the narrow minded and Dead society.
Summon: What is your view in Satanism and Occultism?
Bibek: Satanism is not believing in god and paying heed to evil forces, I believe in it but not to a great extent.
Summon: How many albums/CD's have you released?
Bibek: We have just released our single 'Doom of Dictator' and we will be up with our Ep in a few months.
Summon: Do you have any side projects?
Bibek: No one has any side projects.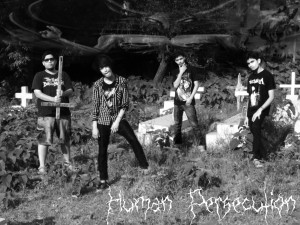 Summon: Who are some of your musical influences?
Bibek: Despised Icon, All Shall Perish, Cattle Decapitation, Beneath the Massacre, Nile, Suicide Silence, The Black Dahalia Murder, White Chappel etc..
Summon: Which current bands?
Bibek: Sentenced to Dissection, The Juliet Massacre, Atilla.
Summon: What is the band like when you play live?
Bibek: It's like a angry set of creatures raging for freedom inside a cell.
Summon: Have you guys ever played in another country?
Bibek: No.
Summon: How big of crowd shows up at shows usually?
Bibek: The scene is changing and the crowd response is growing wider day by day.
Summon: How is the crowd response when you play?
Bibek: It's been good till date.
Summon: What do you think of the US Black Metal/Death Metal scene?
Bibek: As black metal started from Norway with bands like Silenser, Mayhem, Immortal, Burzum etc. The bands in US are doing a great job by taking it further with more improvisation. Death metal scene is awsome there with bands like Faceless, Dying Fetus, Impending Doom and many others.
Summon: What do you think of the Overseas scenes?
Bibek: It's really good and we look forward making the scene here bigger.
Summon: What are some of new favorite black metal/death metal bands?
Bibek: Faceless, Dying Fetus, Brain Drill, Dark Funeral.
Summon: When do you guys plan on writing any new material?
Bibek: We are working in the music for the EP.
Summon: What does the future hold for the band??
Bibek: We are out with the view of change and we shall serve till last. The future I see us is with gigs around India and then abroad and getting signed by a major record label.
Contact them at:
https://www.facebook.com/HumanPersecution
http://www.reverbnation.com/humanpersecution