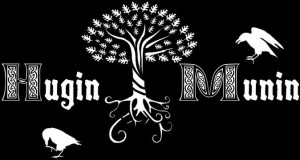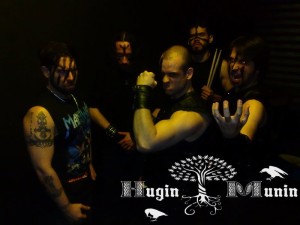 Summon: How did the band get started?
Surt: We always loved heavy metal and Norse mythology, and after a few other metal projects we had in the past, we decided it was time to bring our two great passions together. When we started making songs, we knew this is what we were born to do.
Summon: What kind of music do you play?
Surt: We play death metal. Some might say melodic death metal, if you say we are metal, there's no way you'll miss it.
Summon: How has the band response been?
Surt: Excellent! We never had a dull moment, people have always been extremely supportive, always going crazy every time we play live, and we got very good reviews too.
Summon: Where did the band name come from?
Surt: From the Ravens of Odin, one is Hugin (memory), and the other is Munin (thought). I wanted two cool sounding similar words, related to the Norse mythology theme. When Hugin Munin came to my mind, it was just perfect.
Summon: Introduce the band members
Surt: I am Surt, the singer. The others are Thorgrim and Hjalmar (guitars), Sigurd (bass) and Modi (drums).
Summon: Who writes the music? Lyrics?
Surt: I write all the lyrics and the songs are all by Thorgrim and Hjalmar.
Summon: Where do the lyric ideas come from?
Surt: From Norse mythology, and also about the heavy metal universe. There is a feeling of fellowship between headbangers that I don't see anywhere else, maybe because metal doesn't get too much attention from mainstream media. We have a great musical scene worldwide, mostly because of unity among true metal people.
Summon: What is your view in Satanism and Occultism?
Surt: I don't let any kind of religion or dogma influence me in any way. I respect people's beliefs, but I don't accept anyone telling me how to live my life.
Summon: How many albums/cd's have you released?
Surt: We have released 3 EPs so far. They are: "Ravens Empire", "Die for Odin" and "Heroes Rise". There is also "Viking Brothers", a special edition released by B & W Music from Austria, containing all the songs from "Ravens Empire" and "Die for Odin". Our first full length album called "Ten Thousand Spears for Ten Thousand Gods" is almost ready and coming out on August 13th.
Summon: Tell me about some the songs on the latest CD?
Surt: I´d rather tell you about the upcoming one! We are so excited, just can´t wait to show everyone the new songs. We have put all of our inspiration, energy and heart on this record. It will be a true metal blast, heavy as hell, killer guitar riffs and melodies, including an epic song called "Ring of the Nibelungs", inspired by Richard Wagner´s Opera.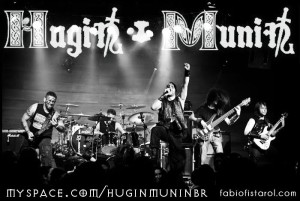 Summon: Do you have any side projects?
Surt: No, all band members are 100% focused in Hugin Munin right now.
Summon: Who are some of your musical influences?
Surt: They are many, but lets say Manowar, Pantera, In Flames, Children of Bodom, Ensiferum, Amon Amarth, Rotting Christ, Morbid Angel, Accept, Satyricon…just to name a few.
Summon: Which current bands?
Surt: There are lots of good new bands like Alestorm, Swashbuckle, Vanir, Brymir, Waldwind…
Summon: What is the band like when you play live?
Surt: We give a 100% when we play live. It is awesome to see the audience having a good time, one of the best things about being in a band. Words cannot describe the feeling, but that's okay because: SWORDS SPEAK LOUDER THAN WORDS!!! lml
Summon: Have you guys ever played in another country?
Surt: Not yet, but we have got some big plans for the near future. Stay tuned!!
Summon: How big of crowd shows up at shows usually?
Surt: Lots of brothers and sisters of metal are always there when we play…and it keeps getting bigger and bigger…
Summon: How is the crowd response when you play?
Surt: Crazy, they´re always banging their heads, making walls of death, circle pits and singing the songs, we just love our crowd, they mean everything to us.
Summon: What do you think of the US Black Metal scene?
Surt: I am not really familiar with the black metal scene in the U.S. but, some of my all time favorite bands are American, hope we can get to tour the country and know the local scene better.
Summon: What do you think of the Norwegian and Swedish scenes?
Surt: Very traditional scenes, we thank them for everything they did and still do to make metal more known and loved around the globe.
Summon: What are some of new favorite black metal bands?
Surt: I am more into the traditional ones like immortal, darkthrone, Satyricon, emperor…but my favorite new one is Esgaroth, from Brazil.
Summon: Any plans on writing any new material?
Surt: We never stop writing new material, we have got enough songs for at least two more albums and the guys are not stopping anytime soon.
Summon: What does the future hold for the band??
Surt: We are releasing the album in August, and then we want to tour as many cities, countries, continents as possible. All of our plans are only possible thanks to the Hugin Munin fans everywhere, so thank you warriors, for everything! We'll keep marching on, no matter what, so stay brutal, soon we'll meet and raise our horns. Hail, Hail, Death or Glory!!
Contact them at:
http://www.myspace.com/368454700
http://www.facebook.com/pages/Hugin-Munin/68060809213?ref=ts