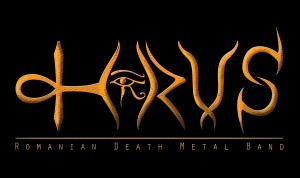 Summon: How did the band get started?
Edi: The band was first started in 2011 as the name of Bloodtide. Things didn't go well and I singed along with other bands. Even this didn't go well and I thought to restart the band with the name of Horus, with an old friend, Cristache Andrei (also in Decomposed Flesh, another of our projects, older than this one).
Summon: What kind of music do you play?
Edi: It's hard to explain, because we don't sing only one genre, we're open minded but our genre can be defined mainly as technical/melodic death metal with oriental influences.
Summon: How has the fan response been?
Edi: It's been good, although we don't have so much feedback.
Summon: Where did the band name come from?
Edi: Well the idea was to make something oriental, because we like it and thought that the name band to be related to the band's music and Horus, the Egyptian god, was the perfect name for it.
Summon: Introduce the band members and what they do in the band.
Edi: We are only 2 members for now: me, Beserman Edi as Songwriter, Vocals, Guitar, Keyboards, Bass, Drum programming, Master-sound and Cristache Andrei as Songwriter, Vocals, Drum programming, Bass, Guitar, Keyboards
Summon: Who writes the music? Lyrics?
Edi: We both write the music. As for the lyrics, I had a period when I was writing them but it's hard for me. For now a friend, Balent Adrian writes the lyrics.
Summon: And where do the lyric ideas come from?
Edi: Philosophy, Spirituality, Death, Wars, Politics etc.
Summon: What is your view in Satanism and Occultism?
Edi: Satanism is pure bullshit in my opinion. I have strong arguments to prove the stupidity of Satanism, though we need to have a religious relativism, meaning that we have to respect other people beliefs. As for occultism, it's an interesting subject to talk about, as long as it isn't bullshit stories.
Summon: How many albums/CD's have you released?
Edi: We have a demo, Hymn To Horus released in 2012 and an album, Declaration Of War in 2013.
Summon: Tell me about some the songs on the latest CD?
Edi: Go and listen to them and see if you like them!
Summon: Do you have any side projects?
Edi: Yes. We have Decomposed Flesh, an old school brutal death metal project, older than Horus, from 2010 and I have a solo project.
Summon: Who are some of your musical influences?
Edi: Well, let's start with Nile, one of my favorite bands that gives me an idea to make oriental music. Then my favorite band, Septic Flesh, a true inspiration and motivation. Then comes all kind of bands like Aeternam, Orphaned Land, Death etc even bands or artists from other genres than metal!
Summon: Which current bands?
Edi: Our brothers from Markradonn and Vengeance Within!!!And many others!
Summon: What is the band like when you play live?
Edi: Unfortunately we don't play live because we're only a studio project of 2 members.
Summon: What do you think of the US Black Metal/Death Metal scene?
Edi: It's awesome!
Summon: What do you think of the Overseas scenes?
Edi: I'm sorry, what?
Summon: What are some of new favorite black metal/death metal bands?
Edi: Markradonn, Vengeance Within, Abberation Nexus!!
Summon: When do you guys plan on writing any new material?
Edi: We have already new material. A new album, entitled Ouroboros that will be released maybe at the end of the year, beginning of 2015.
Summon: What does the future hold for the band?
Edi: Don't know! Hope it's a bright future!!
Contact them at:
https://www.facebook.com/HorusRomania
http://www.youtube.com/user/HorusOfficialBand
http://www.reverbnation.com/horusofficial#
https://myspace.com/horusofficialband
https://soundcloud.com/besermanedi